Arsenal v Borussia Dortmund: Aaron Ramsey vows to turn around poor form for Arsene Wenger
Last Updated: 26/11/14 3:50pm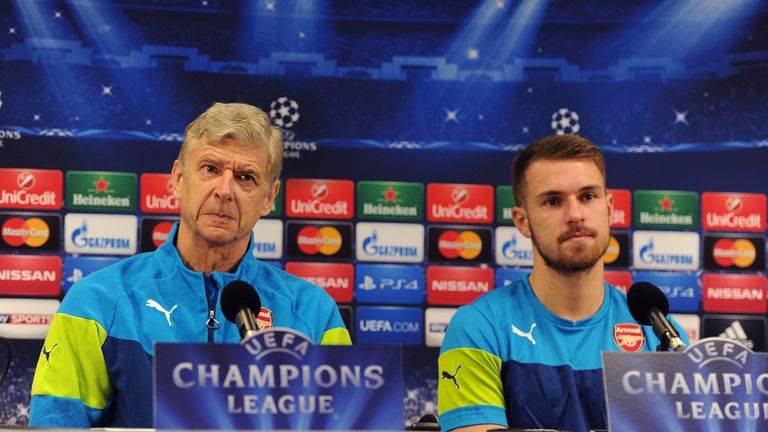 Aaron Ramsey is confident Arsene Wenger will lead Arsenal through their bad patch to a successful season.
The midfielder's FA Cup-final winner in May ended nine years without a trophy and was meant to usher in a new era of success at the club.
Instead Arsenal have made their worst start to a Premier League season in 32 years despite bringing in five new players in the summer, leading to renewed criticism of the manager from some supporters and even shareholder Alisher Usmanov.
For all that, victory over Borussia Dortmund at the Emirates tonight will secure a place in the Champions League knockout for the 15th straight season, and ahead of the game Ramsey spoke passionately about the players' enduring faith in Wenger.
He told Sky Sports News HQ: "With what he's done for this club and for us as a group of players, every time we go in we want to work for him and get results for him.
"Everybody's in it together, and we know all about our qualities. Last season we had a great year, this season we wanted to build on that and hopefully we still can."
Wenger rebuked Usmanov for the public nature of his criticism on the eve of the Dortmund game, berating the billionaire for going against Arsenal's 'all-for-one and one-for-all' mantra.
And it is that unity that will see Arsenal return to form, according to Ramsey, who said: "It is quite a testing time at the moment but one that we're looking forward to and that sometimes you face as a professional footballer.
"When you have a few bad results on the bounce a lot of things are being said, but it's important for us not to listen to that. It's important to stick together as a team. We know all about each other, we know what we have to do and now we just have to show it on the pitch."
Watch Arsenal v Borussia Dortmund live on Sky Sports 1 from 7.30pm on Wednesday.