Lyon's Alexandre Lacazette could be solution to Arsenal's striker dilemma
By Martin Laurence, WhoScored.com
Last Updated: 14/07/15 2:12pm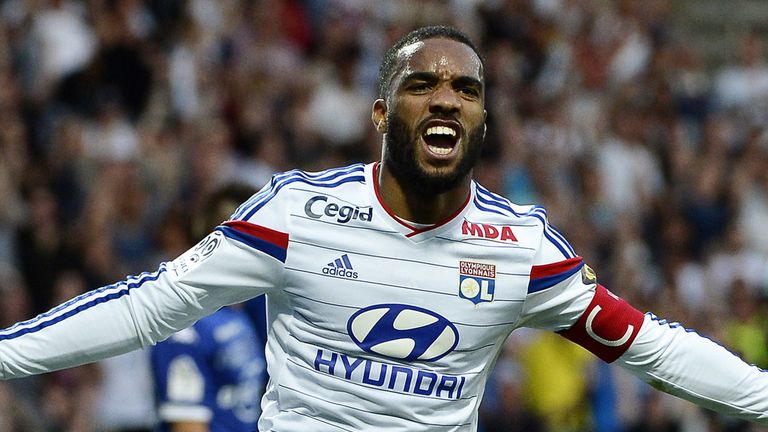 Alexandre Lacazette could be the striker Arsenal are looking for, according to the WhoScored.com stats…
In a summer which has seen Falcao, Robin van Persie, Mario Mandzukic, Jackson Martinez, Carlos Tevez and Carlos Bacca all make moves, while Zlatan Ibrahimovic, Karim Benzema, Gonzalo Higuain and Edinson Cavani continue to be linked with transfers, it seems surprising Ligue 1's top scorer in 2014/15 is yet to be the subject of a bidding war.
However, that could soon change for Lyon's 24-year-old Alexandre Lacazette, as Arsenal - along with Liverpool and Manchester United - step up their search for a forward.
Having shown promise as a winger early on in his time with the Lyon first team, Lacazette has truly flourished since a move infield.
The Frenchman nailed down a starting spot in 2012/13, making 27 starts in all, 26 in a wide position. However, the Lyon academy graduate managed just three league goals in that campaign.
Clinical finisher
Lacazette's goal haul was bettered only by Cristiano Ronaldo and Lionel Messi in Europe's top five leagues last season - but his conversion rate (28.1 per cent) was significantly higher (Messi: 23, Ronaldo: 21.3).
Veteran Lisandro Lopez left the club the following summer, though, and that allowed Lacazette to link up with Bafetimbi Gomis - now of Swansea - to start 27 league games in a centre-forward role. The move paid off and Lacazette netted 15 times.
However, the goal-scoring burden shifted onto Lacazette's shoulders in 2014/15 when Gomis moved to the Premier League - and the France international revelled in the responsibility, scoring a league-high 27 times as Lyon mounted a serious title challenge to eventual champions PSG.
Lacazette's goal haul was bettered only by Cristiano Ronaldo and Lionel Messi in Europe's top five leagues last season - but his conversion rate (28.1 per cent) was significantly higher (Messi: 23, Ronaldo: 21.3).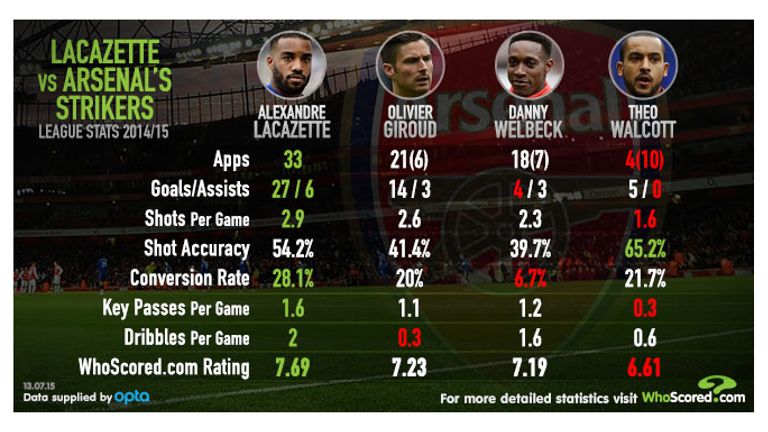 Of the 78 players to score more than 10 goals in Europe's top five leagues last season only four had a better conversion rate than the Lyon forward, while only six boasted a superior shot accuracy to his 54.1 per cent. The fact that Lacazette is deemed 'very strong' when it comes 'finishing' according to WhoScored.com's statistically calculated characteristics is little surprise.
While the vast majority of Lacazette's goals came from inside the box - highlighting his ability to pick up goal-scoring positions - a tally of four strikes from distance was also the most in Ligue 1, earning a strength of 'long shots' in turn.
With further WhoScored.com statistical strengths in 'dribbling', 'through balls' and 'holding onto the ball', his is a skill set that seems well-suited to Arsenal's style of play.
Arsene Wenger signed Olivier Giroud on the back of a top-scoring season in Ligue 1 – but Lacazette's playing style suggests he could have an even bigger impact at the Emirates than his compatriot.
Giroud's conversion rate of 20 per cent in the Premier League last season was not to be scoffed at by any means but the fact that he had only marginally fewer shots per game than Lacazette (2.6 to 2.9) for a goal tally (14) almost half that of the Lyon striker indicates that the two were some way apart.
Danny Welbeck's figures, meanwhile, don't come close to stacking up against the apparent Arsenal target after an ultimately disappointing debut campaign in north London.
The England international made an encouraging start to life in the capital but ended the campaign with just four league goals from 25 appearances and a meagre conversion rate of 6.7 per cent, hitting the target with just 39.7 per cent of his 58 shots at goal.
Another of Wenger's current attacking options, Theo Walcott, was severely restricted due to injuries in 2014/15 but did manage five league goals from just 442 minutes of action. The England international also recorded a superb shot accuracy of 65.2 per cent - the best of all Premier League players to score as many goals as him last season.
Nevertheless, Wenger remains unconvinced of Walcott's ability to lead the line and if a new front man is on the agenda for Arsenal, Lacazette may well be the perfect fit.
A WhoScored.com rating of 7.69 was enough for him to rank third in Ligue 1 last term and alongside Luis Suarez in 15th across Europe's top five leagues.
With experienced marksmen now hard to come by following a transfer merry-go-round that seems unlikely to stop anytime soon, Lacazette is arguably the leader of the crop of emerging striking talent in Europe.
Arsenal are unlikely to remain uncontested for his signature - the likes of Liverpool and United are still identifying forward targets - but if they act fast the Frenchman's arrival could, coupled with the capture of Petr Cech, help the Londoners become serious title contenders once more.
All statistics courtesy of WhoScored.com, where you can find more stats, including live in-game data and unique player and team ratings. You can follow all the scores, statistics, live player and team ratings with their new free-to-download iOS and Android app.