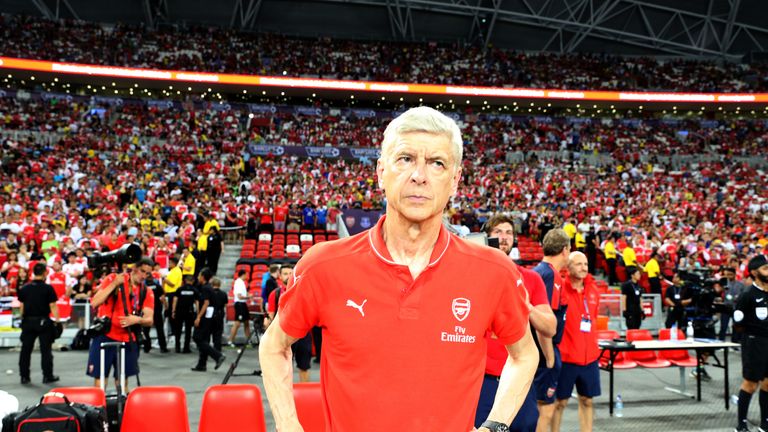 Arsene Wenger believes Arsenal's 6-0 thrashing of Lyon in the Emirates Cup proves he does not need to splash out on a new striker.
Olivier Giroud, Alex Oxlade-Chamberlain, Alex Iwobi, Aaron Ramsey, Mesut Ozil and Santi Cazorla were on the scoresheet as the Gunners coasted to victory.
Wenger has only signed Chelsea goalkeeper Petr Cech this summer while title rivals Manchester United and Manchester City have been busy in the transfer market.
And despite being linked with Real Madrid forward Karim Benzema and Lyon striker Alexandre Lacazette, Wenger believes his side are not in desperate need of another forward.
"We are open-minded but we are not desperate. Today we didn't have (Danny) Welbeck or (Alexis) Sanchez, who are big players," he said.
"(Jack) Wilshere didn't play as well, so we will have a good squad when everyone is back. We are open-minded but many clubs are on the market with big, big money.
"At the moment our squad is well-balanced quality-wise and numbers-wise.
"When you win the FA Cup final scoring four goals and score six today, it shows scoring goals is not our problem."
Arsenal scored 71 goals in the league last season, the third highest total after Manchester City and champions Chelsea.
The Frenchman added that with no major international tournament this summer, his players can made a strong start to the new Premier League campaign.
Wenger believes the Gunners' slow start to last season – which saw them draw five of their first eight games - was down to a post-World Cup hangover suffered by several of his players.
"I think we have more cohesion than we had last season and everyone has better focus," he added.
"Last season after the World Cup some players came back mentally exhausted. Hopefully we can take advantage this season.
"Football is subtle, it's not mathematics. That means everyone playing for each other, then if you have quality players you have a chance."