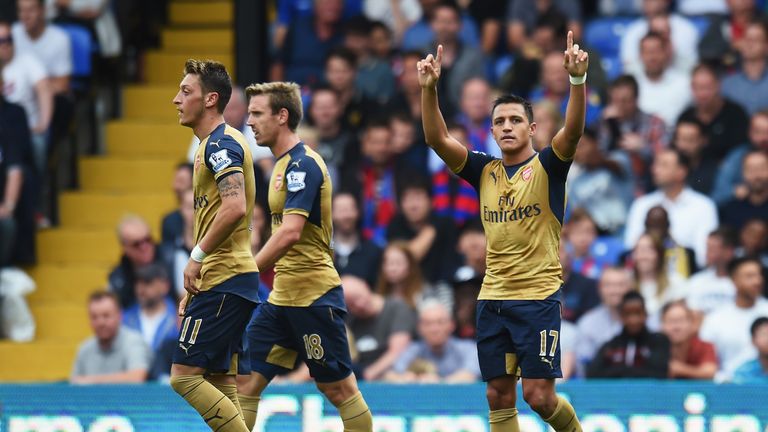 Arsenal should produce a big show against Liverpool on Monday because of their supporters, says manager Arsene Wenger.
The Premier League heavyweights go head-to-head in the Monday Night Football clash with the Gunners desperate to impress their home faithful on the back of their shock 2-0 defeat at the Emirates by West Ham in the season opener.
Having recovered with a hard-fought 2-1 win at Crystal Palace last weekend, Wenger believes it is time to deliver.
"If you want to have a successful season you want to be strong at home," Wenger said, whose side had entered the new campaign on the back of winning the FA Community Shield against Chelsea at Wembley.
"We missed our first game and we had to look at ourselves. I believe we responded very well at Crystal Palace. Now we need to come back to our usual strength that we have at home.
"For us against Liverpool is an important game because we know that a successful season is linked with our home strength and normally we are strong at home. This is an opportunity to show that."
Wenger added: "I believe that fans deserve a good home and away performance. We are here for that.
"Our job is to make people who love this club happy. When you don't do it, of course you feel guilty."
Liverpool have opened the new season with successive victories, albeit with some controversy surrounding Christian Benteke's winning goal against Bournemouth.
Benteke, a £32.5m summer signing from Aston Villa, turned in Jordan Henderson's cross despite Philippe Coutinho also attempting to score while being in an offside position.
However, Wenger is not reading too much into the early-season form of any side.
"After two games, I don't know how strong Liverpool will be," he added. "I just think we can be very strong and we want to show it in our next game."
Alexis Sanchez is expected to start against Liverpool. The forward netted a deflected goal in the second half at Palace, capping another industrious display and one which came only a few weeks after helping Chile win the Copa America.
Wenger said: "On Monday night, he will not be short of full fitness. It is surprising because when he has not got the basic fitness required, he has the mental resources to dig deep and be combative to fight. He also has the talent."
Watch Arsenal v Liverpool live on Monday Night Football, 7pm, Sky Sports 1 HD