The next generation of Europe's biggest stadiums - what can we expect to see?
Last Updated: 23/03/17 9:19pm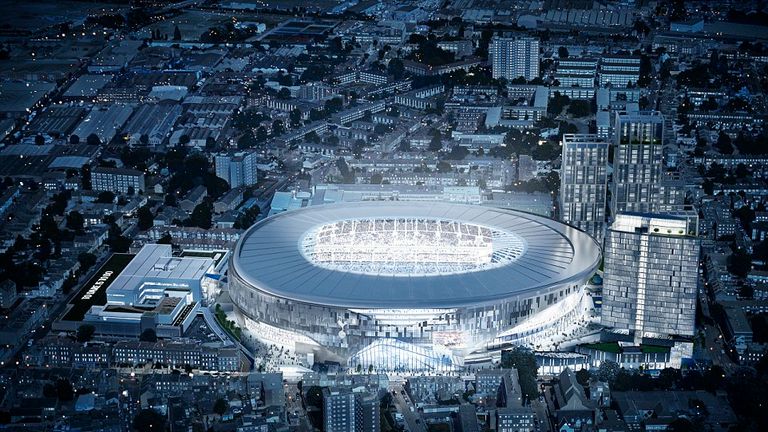 As Everton announce plans for a glitzy new stadium, we look at other developments at some of Europe's biggest clubs.
Manchester City, West Ham and Bayern Munich - to name just a few - have relocated in recent years and Everton fans will now be weighing up the sadness of leaving Goodison Park with the excitement of heading to a new ground.
Here, we take a look at some other planned stadium developments across Europe....
Chelsea
Stamford Bridge redevelopment - capacity: 60,000 | Scheduled opening: 2022
Chelsea's plans for a state-of-the-art £500m stadium at Stamford Bridge have been given the green light by the Mayor of London. The new stadium will see Chelsea increase their capacity from 41,600 to 60,000 and include a direct link to the District Line underground station at Fulham Broadway.
It was designed by architects Herzog and de Meuron, who were also responsible for the Bird's Nest Olympic Stadium in Beijing and Bayern Munich's Allianz Arena.
The stadium will be one of "world's best football arenas", according to council leaders and the entire floor space of the stadium could be close to 130,000 square metres, spread across seven floors, which can cater for up to 9,000 business seats.
Tottenham
New Tottenham Stadium - Capacity: 61,000 | Scheduled opening: 2018
Following the resolution of a lengthy legal dispute with neighbours, Spurs haven't wasted any time in fulfilling their new stadium ambitions and work is well underway at completing the 61,000-seater venue on time.
Of the 61,000 seats, 7,000 will be corporate while other key features from a number of variously priced packages include the longest bar - over 86 metres - in the United Kingdom, self-serve beer pumps in order to cut queues, while individual images of the starting XI will be projected onto screens when the teams are announced
A total of 104 'Tunnel Club' seats, within touching distance of the home dugout, will cost £9,500 each and must be bought in pairs. One club official said: "It will be the closest thing to pulling on a pair of boots and playing."
Barcelona
Nou Camp upgrade - Capacity: 105,000 | Scheduled opening: 2021
Barcelona's iconic Nou Camp with undergo a renovation worth an estimated £500m over the next five years. Once complete, Europe's largest football stadium will rise to second in the global standings with capacity increasing to over the 100,000 mark.
What's more, a roof will be erected over the currently exposed three quarters of the stadium, allowing fans to concentrate on the football rather than the elements.
Atletico Madrid
Wanda Metropolitano - Capacity: 70,000 | Scheduled opening: 2017
Following the City of Madrid's decision in 2007 to recoup the land currently occupied by the Vicente Calderon, Atletico have been slowly saying goodbye to their home of 50 years. The club have revealed that their new stadium will be called the Wanda Metropolitano. Wanda acquired 20 per cent of the club in 2015 and began sponsoring the training ground.
The ground, which originally had a capacity of 20,000, is being extensively renovated ahead of Atletico's move and will hold 70,000 spectators once complete.
Zenit St Petersburg
Krestovsky Stadium - Capacity: 68,000 | Scheduled opening: 2017
Zenit fans have had to be patient for their new stadium to be built - it was supposed to be completed in 2011 but issues including soaring costs, fraud investigations and frequent delays has held back the completion date.
But the end is in sight with the stadium down to host games in the Confederations Cup in Russia this summer and games in the 2018 World Cup.
The stadium's spaceship-like design and lighting abilities are bound to pull in the crowds for a look.