Swansea's Gylfi Sigurdsson has been linked with a £50m move to Everton. The Iceland international boasts some impressive statistics, but could they be misleading? Adam Bate delves deeper into the data to find out.
There is no doubt that Gylfi Sigurdsson played a key role in Swansea's survival. With nine goals and 13 assists, he was directly involved in more of the Swans' strikes than any other player, scoring winners against Liverpool and Southampton and a late equaliser at Old Trafford. He was duly named player of the season by both supporters and team-mates.
So perhaps it should be no surprise that Everton are interested in taking Sigurdsson to Goodison Park. They will be further encouraged by the fact that the 28-year-old attacking midfielder covered more ground than any other Premier League player last season. He ranked third in the country for assists and was seventh for total chances created.
But curiously, there are doubts about the robustness and repeatability of what Sigurdsson achieved at Swansea. In particular, a deeper look at those assists raises issues. According to Opta, although Sigurdsson registered 13 of them, the number of goals that Swansea might have expected to score from the opportunities he fashioned last season was only 6.85.
What are expected assists?
Opta says: "The Expected Assist Model measure the likelihood that a pass will be a goal assist based on where the pass was received, what type of pass it was and a variety of other factors."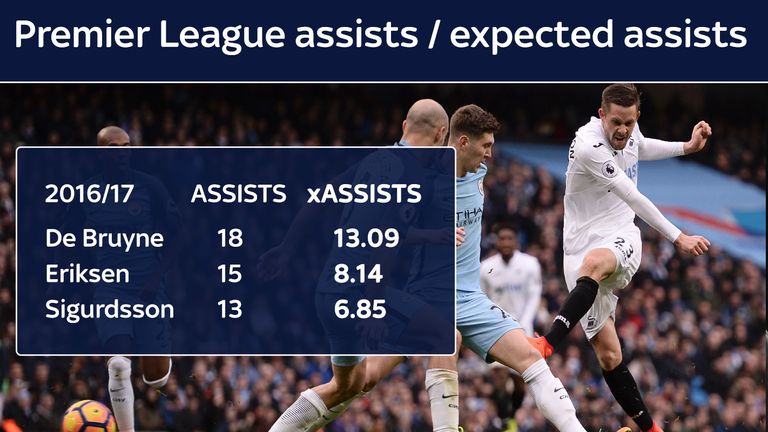 The reason for this is that the quality of chance being created by Sigurdsson was not particularly high. This is largely because an extraordinarily high number of them came from set-pieces rather than open play. Fifty-two of the chances Sigurdsson created were from dead-ball situations - nobody else in the Premier League could come up with more than 40.
In fact, Sigurdsson was credited with 38 chances created from corner kicks alone. There are a number of reasons why this could be problematic. While Sigurdsson's delivery is undoubtedly impressive, these are generally considered difficult opportunities to convert - often headers that are being won under pressure amidst a crowd of bodies.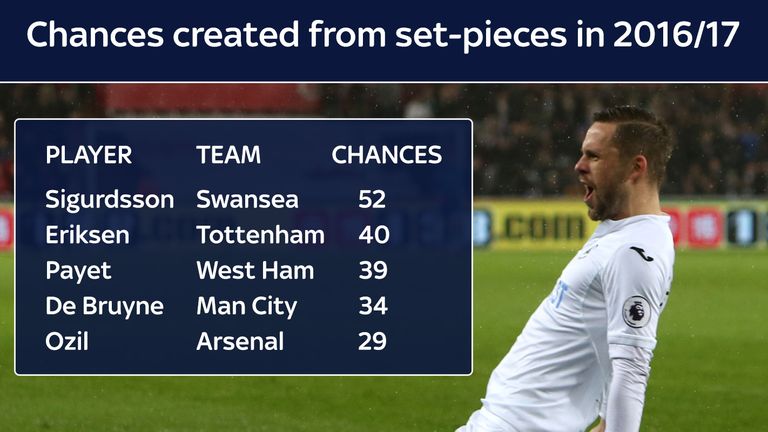 That the number is so high surely owes much to the abilities of his targets in the penalty box. Eleven of those chances created from corners found their way to 6'4" striker Fernando Llorente, renowned for his heading ability. A further 13 were to Alfie Mawson, a young defender who scored seven goals in a season at both Barnsley and Wycombe Wanderers.
Next on the list? That's Mawson's fellow defender Federico Fernandez. Indeed, defenders were the recipients of the majority of these chances - a reflection of the fact that more than two thirds of all chances created by Sigurdsson were headers. Fernandez got on the end of five corners without finding the net. In fact, only one of them was even on target.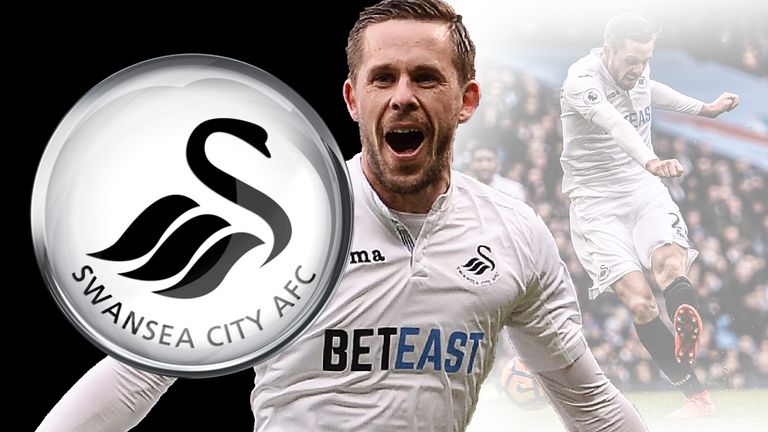 Just because Llorente, Mawson and Fernandez are capable of diverting an outswinging corner in the general direction of the goal - and 28 of these 38 chances were from right-wing corners - does not necessarily mean the numbers are transferable to another club. Tellingly, only three of these corners actually resulted directly in Swansea goals.
Of course, expertise from set plays is not a negative. The fact that Swansea ranked in the top three in the Premier League for both headed and set-piece goals was a huge factor in their survival. Everton would surely look to put Sigurdsson on corners and free-kicks in the expectation that he can help to boost their own numbers in this regard.
Moreover, the fact that this skill is such a big part of Sigurdsson's game adds context to the question marks over his age relative to his price. While he could be on the cusp of a downturn in output at 28, his set-piece delivery is unlikely to suffer into this thirties. That will bring confidence that he will be a useful asset for the full length of his next contract.
However, it is vital that Everton appreciate what they would be getting for their £50m investment. While the headline numbers put Sigurdsson in the top bracket of Premier League creators alongside Kevin De Bruyne, Christian Eriksen, Mesut Ozil and David Silva, the type and quality of the chances they supply for team-mates are actually very different.
To illustrate the point further, there are 71 players who created more open-play chances than Sigurdsson in the Premier League last season. That included Kevin Mirallas and three other Everton players. Ross Barkley created 54 such chances. Sigurdsson managed only 25 - the same number that Gareth Barry and Idrissa Gueye produced in fewer games.
Even from set plays, it is uncertain how much of an impact that Sigurdsson might have at Everton given that Barkley, Mirallas and Baines shared the team's set-piece duties last term, creating 51 opportunities in the process - only one fewer than Sigurdsson. A quality player then, but one whose £50m signature comes with considerable caveats. Buyer beware.