Ross Barkley's improvements at Everton hint at his great promise
Last Updated: 03/08/17 11:33pm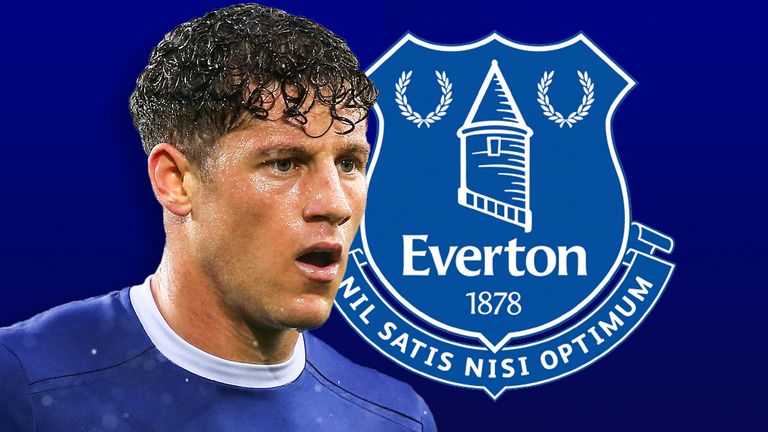 Has Ronald Koeman's brand of tough love succeeded in improving Ross Barkley? Despite some criticism of his progress, the statistics are encouraging. But with the Dutch manager saying the player is on his way out of the club, Barkley must take the next step in his development, writes Adam Bate.
Ross Barkley. Everton's diamond or so the song goes. But attempts to polish the rough edges have not always appeared welcome. After being drenched with praise by former boss Roberto Martinez - "phenomenal" and "the best English talent I have seen" - he was on the receiving end of more sober analysis from current coach Ronald Koeman.
"Of course the player needs to improve," he said of Barkley in December. "He needs to improve the tactical aspect of his football, out of his position. He needs to be more clinical and have more creativity in the offensive part of the team." While he stressed that he would do all he could to help, Koeman made it clear that the responsibility for this lay with Barkley.
The Dutchman had high expectations, his brand of encouragement rather different to his predecessor. Barkley was asked to take on greater responsibility and not just because he was put on set plays. Koeman demanded better decision-making and expected Barkley to respond. On the face of it, that was successful for the team and the player.
Barkley ranks among the top dozen players in the Premier League for assists in each of the past two seasons. The only other men to register at least eight assists in each of those campaigns? Mesut Ozil, Christian Eriksen and Kevin De Bruyne. He is in good company but still managed to lose his place in the England squad - and test the patience of his fans.
The man who gave Barkley his England debut continues to view him as a maverick. "He's a risky passer, a midfielder who will turn with the ball, take players on and attempt a shot from 20 yards," said Roy Hodgson this week. "Some of the 20-yard shots will fly over, some of the turns in midfield will be dispossessed and some of the risky passes will be cut out."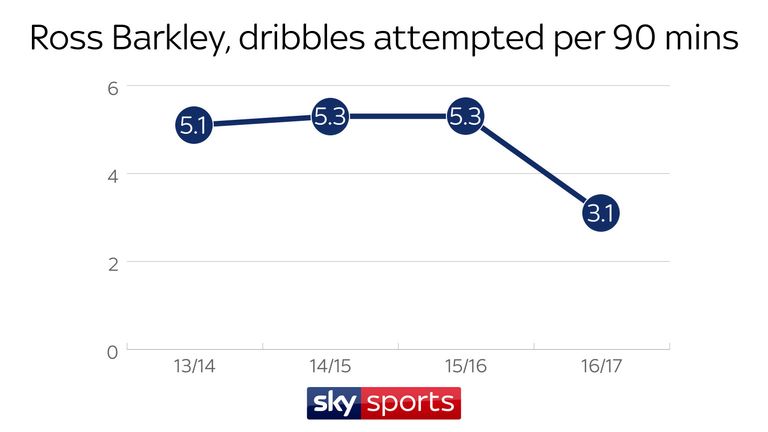 However, is this view outdated? Has Barkley progressed in the period since Hodgson worked with him? He might have found Koeman's 'tough love' challenging, particularly against the backdrop of a contract dispute, but the familiar complaint that his potential is no closer to being realised is not supported by the stats. The signs that his game is changing are clear.
The perceived immaturity in his dribbling is being addressed. As Sky Sports statistician Matt Cheetham has noted, after attempting more than five dribbles per 90 minutes for three seasons in a row, Barkley's numbers dropped to nearer three per 90 last season under Koeman. Still more than most but he is letting the ball do some of the work instead.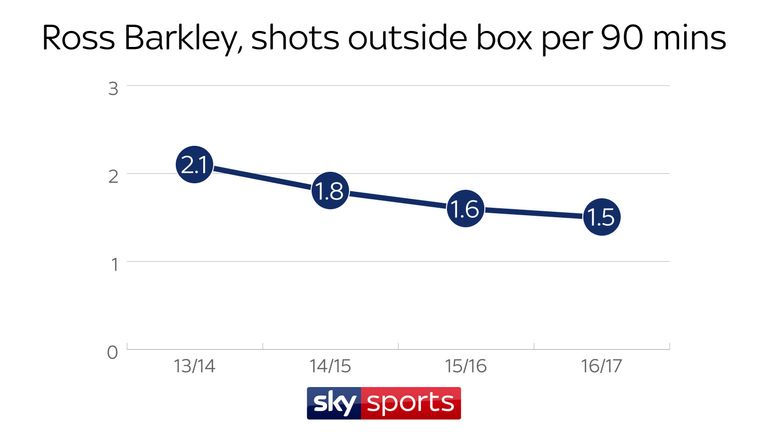 It is not only dribbling that Barkley has refined. Another symbol of the impetuousness of youth - the 23-year-old midfielder's penchant for long-range shooting - has also been reined in. The number of shots that Barkley has attempted from outside the box per 90 minutes has dropped steadily throughout the past four seasons. Meanwhile, the number of shots from inside the area has increased.
Perhaps this too is an indication of a growing awareness of the need to make the right decisions when in possession. Barkley is now eschewing shooting opportunities from distance in favour of better alternatives. Tellingly, the number of chances created per 90 minutes has increased year-on-year through those same four seasons.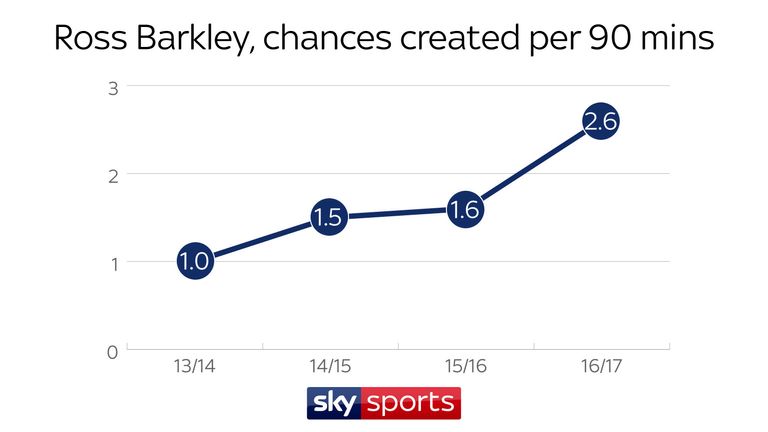 Some of that increase is due to Barkley assuming set-piece duties. However, his tally of 56 chances created from open play last season was still a career high that put him among the top 10 creators in the Premier League. He not only ranked above his proposed replacement at Everton, Gylfi Sigurdsson, but also England rival Dele Alli too.
The latter comparison puts an interesting slant on Tottenham's interest. While Alli has clearly overtaken Barkley, it highlights the fact that the Everton man remains a talent - and getting the best from such talent is a feature of Mauricio Pochettino's coaching career. He likes young players. But most importantly, he likes young players who are willing to learn.
Barkley's natural gifts are obvious. But it is the sign that he is adapting his approach that is likely to intrigue Pochettino most. Can he develop further? That would really give the Spurs boss something to work with - making him a useful asset and a good fit alongside potential England team-mates in a young and hungry environment.
Tottenham can offer Barkley the chance to test himself in the Champions League. For all the frustrations, that is where he belongs. Barkley has enjoyed the praise of Martinez and endured the criticism from Koeman. Perhaps now it is time for him to complete his education under Pochettino. And for the rest of us to discover just how good he can be.