Gylfi Sigurdsson: From Everton ball boy to club's record signing
Last Updated: 21/08/17 7:46pm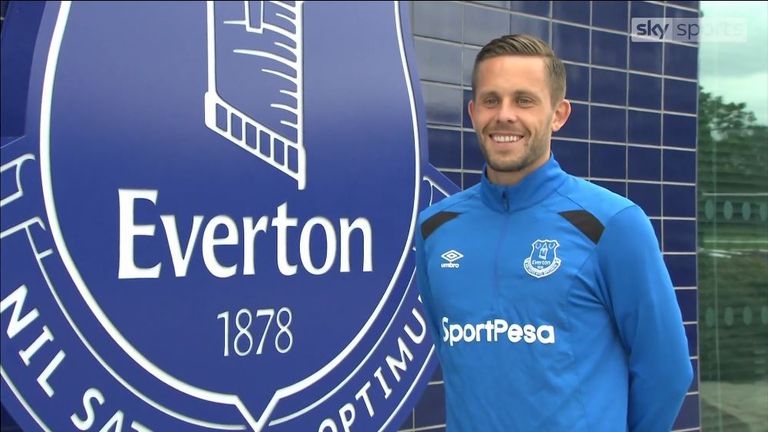 Gylfi Sigurdsson became Everton's £45m club-record signing last week but he was almost a Blue long before that. Nick Wright speaks to the former youth coach who sent him on trial to the Merseyside club when he was a boy.
Gylfi Sigurdsson's move from Swansea to Everton became one of the summer's longest transfer sagas before its completion last week. The protracted negotiations and painstaking delays were enough to test the patience of club officials and fans alike, but it could all have been avoided if things had worked out differently 16 years ago.
In 2001, a 12-year-old Sigurdsson travelled to England for a trial with Everton. Much has changed in the years since the Toffees decided against signing the talented young midfielder from Icelandic club FH Hafnarfjordur, but Leifur Sigfinnur Gardarsson, the former youth coach who made it happen, remembers it like it was yesterday.
"Gylfi is a very good friend of my eldest son and they both came through the youth ranks at my local club, FH, where I was coach for many years," Gardarsson tells Sky Sports. "I didn't actually work with Gylfi that much myself, but I knew about him from being around the club and coaching other young players."
Sigurdsson stood out for his application as much as his ability in FH's youth ranks. "He was a special talent but he was not phenomenal or anything like that," says Gardarsson. "He was so enthusiastic and dedicated. He was always staying late on the training pitch to practice his free kicks. A lot of young players have talent, but he really did put the extra work in as well."
Sigurdsson soon set his sights on a move to England, and Gardarsson resolved to help him get there. "I was previously at another club, KR Reykyavik," he explains. "KR had a special relationship with Everton having played against them in Europe in 1995. That's how I got to know Ray Hall, the director of their academy at the time.
"I went to Everton for a visit, then Ray invited me back to watch training and help out for around 10 years in succession. Because of that, I was able to tell him about Gylfi and get him a trial. On his first trip over there he went on a tour to Germany with their U12s or U13s. He was also a ball boy at Goodison Park for one game."
Sigurdsson was invited back for a second trial, but a change of circumstances at Everton wrecked his prospects of earning a move. "They were very interested in signing him, but before his second trial they changed the academy coaching set-up. After that, it seemed they had different opinions about what type of players to bring in."
Gardarsson's Everton connections would see more young FH hopefuls travel to Merseyside for trials, including Bjarni Vidarsson, who signed for the club in 2004, and Emil Hallfredsson, who went on to join Tottenham, but Sigurdsson returned to Iceland without an offer.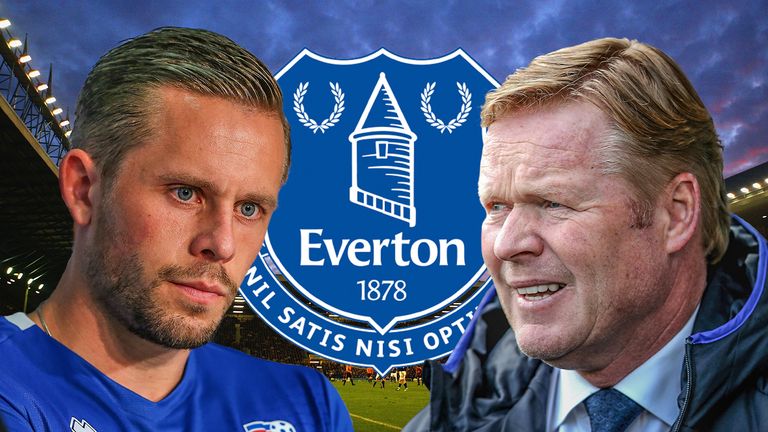 It was typical of Sigurdsson, however, that rather than dwelling on the disappointment, he applied himself with even greater determination. "I can't say he was disappointed because he was still so enthusiastic and focused on being a pro," says Gardarsson. "He knew his hard work would pay off."
Sigurdsson got his break when he joined Reading's academy four years later in 2005, and made his first steps into senior English football on loan in the unglamorous surroundings of Shrewsbury Town and Crewe Alexandra a few years after that. Soon enough, he was key figure for Reading in the Championship.
There was a productive stint at Hoffenheim and a more difficult one at Tottenham, but his best football came in his two spells at Swansea. It is only now, 16 years on from that first trial at Everton, that he returns to Goodison Park as the most expensive player in the club's history. For Gardarsson, who still speaks English with a distinctive Scouse twang, it is long overdue.
"Back then the transfer fee would not have been quite as high as it is today," he chuckles. "He jokes about it now, of course, but his success hasn't surprised me. He's just an honest, laid-back lad. He doesn't drink. He takes care of himself. He's also an excellent golfer. I think he has a handicap of one or two. It shows you that whatever he does, he does well."
Sigurdsson has come a long way since his days in the FH academy, but according to Gardarsson, he is completely unchanged by the fame and stardom. "That's another of his qualities," he says. "He doesn't let it get to his head. He is just a down-to-earth guy. He keeps in touch with my son and all his friends. They go over to visit and watch games. He really takes good care of them."
Gardarsson now works as a head teacher back in Hafnarfjordur, but he plans to visit him too. "Ray is no longer working at Everton so I just go to matches now," he says. "I don't get as many chances as I would like, but I will definitely be going this season... I think Gylfi will be getting even more requests for tickets now."