Everton must win ugly against Arsenal, say Phil Jagielka and Ronald Koeman
By Nat Hayward and Greg Whelan
Last Updated: 22/10/17 1:20pm
Phil Jagielka and Ronald Koeman have both called on Everton to grind out a result against Arsenal at Goodison Park on Sunday as they look to halt the club's poor start to the season.
Everton head into the Super Sunday clash sitting 16th in the table having collected just eight points from their opening eight top-flight fixtures, their worst-ever start to a Premier League campaign.
And with the team having also registered a meagre two wins in 12 matches in all competitions, the pressure has gradually been mounting on Koeman and his players in recent weeks.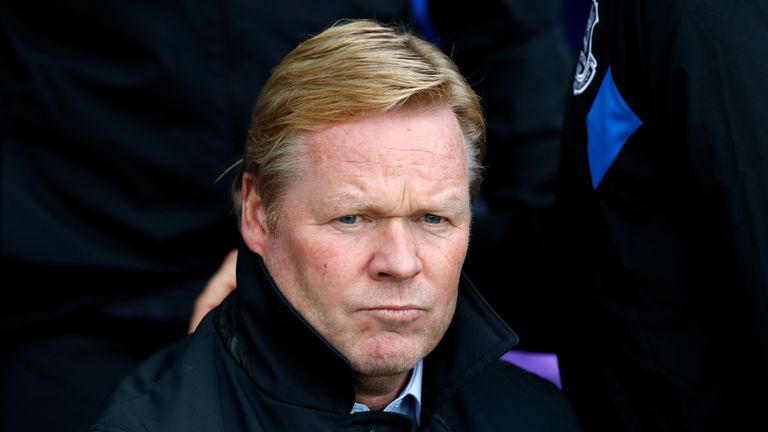 Maybe an ugly win is the best for this Sunday.
Ronald Koeman
As a result, the Everton captain has called on his team-mates to do whatever they can to get the three points this weekend.
"It's a case of trying to win ugly when you are not particularly playing well and hopefully give yourself that little bit of momentum and that little bit of extra time eventually for the squad to click," Jagielka told Sky Sports.
"It's going to be a tough game, you know they are under a little bit of pressure as well. They won't be as confident as they have been previously and it's up to us to come out of the traps and make the atmosphere as intimidating as possible.
"And the only way we can do that is by playing good football, strong football, fair football and hopefully not concede the first goal and build from there."
Koeman, meanwhile, has emphasised the importance of the game this weekend for his own shaky position at the club.
"It's crucial. I made good contact with the board of the club but everybody knows I'm not stupid," said the Everton manager.
"Finally you need wins and you need points. Maybe an ugly win is the best for this Sunday.
"I have really good contact with the board but if there is unhappiness around the club, and if the team is not winning, finally the manager will always pay the bill and that's football and I accept that."
The pair feel the disrupted pre-season as a result of having to qualify for the Europa League group stage and notable changes in personnel have both impacted negatively on Everton's form at the start of this season.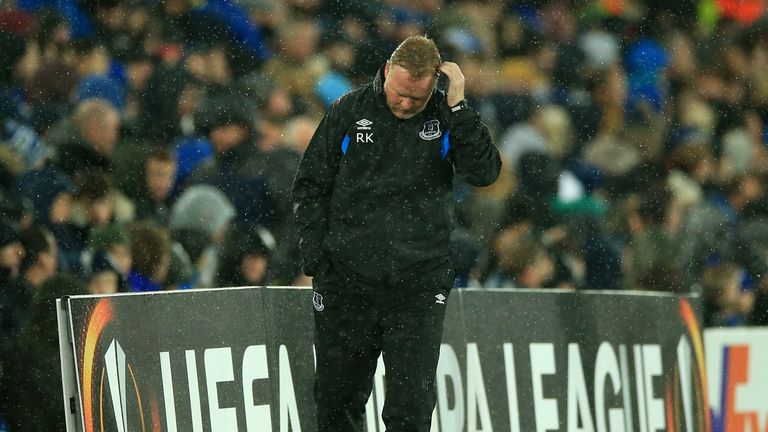 "I think it's a difficult situation because we did not have a usual pre-season because we had to play the last two rounds of qualification for the Europa League," said Koeman.
"Normally you have two weeks more to prepare the team for the start of the Premier League. With a lot of new players it was tricky with their confidence because if you have one or two new players, I think it's less difficult to get that formation from the beginning.
"And we had eight or nine new players and that makes it even more difficult. Everybody knows that new players need time to adapt to the Premier League, to the competitions."
Jagielka agreed with the Dutchman, adding: "We were hoping we got them in early enough to settle everyone down.
"I think the fact our pre-season wasn't a normal pre-season, with competitive games so quickly, did probably mess with us with giving people game time and getting to know each other a little bit more. Because obviously there was a lot more to play for in the pre-season games.
"But, as I say, we were hoping we got them in long enough to train and get to know each other. We can't quite strike the right sort of chemistry. It will take time but you and I both know in the Premier League there are no easy games, you're not going to get any time."
Watch the full interview with Phil Jagielka and Ronald Koeman ahead of Everton's game with Arsenal on the Sky Sports Premier League channel from 12.30pm on Sunday