Gary Neville: Everton's defending against Leicester was 'ridiculous'
Last Updated: 30/10/17 8:41pm
Gary Neville expressed his frustration at Everton's "absolutely ridiculous" defending against Leicester on Sunday, saying the players are to blame rather than manager David Unsworth.
Unsworth, who has been in temporary charge since Ronald Koeman's sacking last week, saw his first Premier League game end in a 2-0 defeat at the King Power Stadium.
Both goals were scored in the first half, with the opener coming from Jamie Vardy after a quick counter-attack that the Foxes have been renowned for in recent seasons.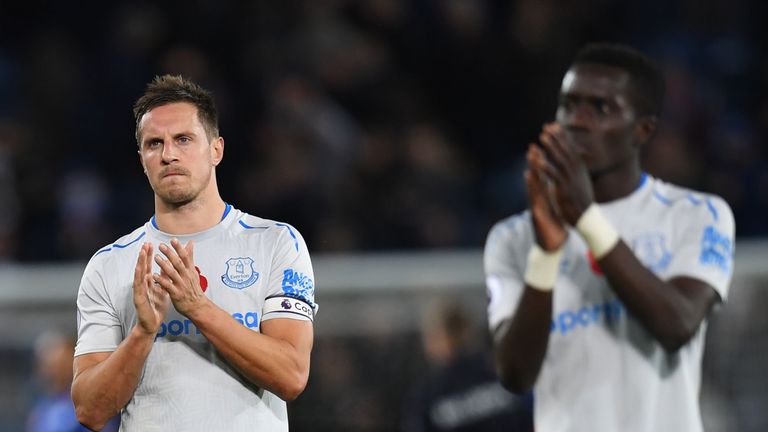 While Unsworth has come in for criticism, former England and Manchester United defender Neville said on Monday Night Football the players were at fault against Leicester.
"Those experienced players at the back disappoint me continuously. I think they should take responsibility - and they don't. They shy away from responsibility," said Neville.
"It's easy to point at the manager, but you're not telling me that David Unsworth, in the seven days he's had with the players before that game, has told them to leave big gaps between the full-back and centre-back?
"They should know; how many games have those lads played? [Leighton] Baines, [Phil] Jagielka, [Ashley] Williams…they have played 100's of games. Close the spaces between the gaps. It's ridiculous."
Unsworth himself said the first-half performance against the Foxes was "not acceptable".
Neville added: "David Unsworth is a young manager who has been in a job seven days, doing the club a favour, without being disrespectful. He has come up, he's been in a good job bringing young players through from the reserves and youth team and we are killing him because he's lost a couple of games, it's ridiculous. Absolutely ridiculous.
"To leave the gaps behind the defence, to leave Jamie Vardy space to run into… have they not watched Jamie Vardy for three years?
"I am sure David Unsworth said before the game if they have time on the ball then drop off; he didn't say step up and try to play offside.
"We sit here quite often and criticise managers and I get that, and he is an inexperienced guy in Premier League terms, but is he at fault for that? No he's not."