Ref Watch: Dermot Gallagher's verdict on Dominic Solanke's disallowed goal
Last Updated: 14/12/17 4:00pm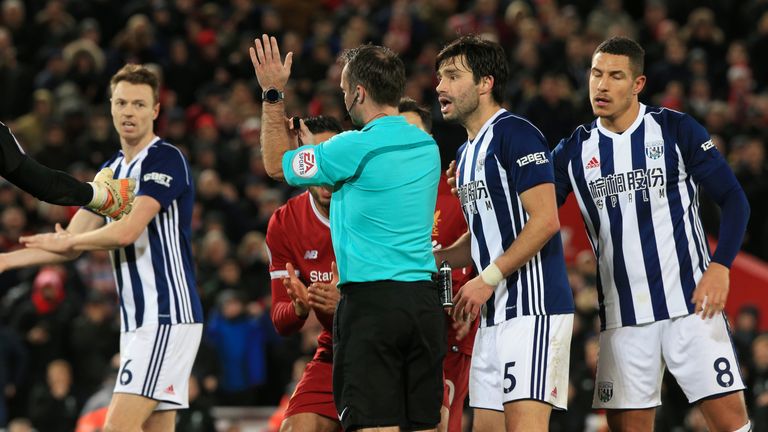 Should Dominic Solanke's disallowed goal have stood against West Brom? Dermot Gallagher has his say in this week's Ref Watch.
Solanke's late goal was ruled out for handball as Liverpool were left frustrated again in their goalless draw with West Brom.
What did Dermot make of it?
Read on to see his verdict on the week's biggest incidents and if they were handled properly by the officials...
INCIDENT: Solanke looked to have bundled home a winner on 82 minutes with a slight touch off his hand from close range after Joe Gomez's cross.
DERMOT'S VERDICT: Correct call.
DERMOT SAYS: It did go off his arm and go in. There's no doubt about that because it changes direction. I think the problem for referees is the moral dilemma that it isn't acceptable to score with the hand or the arm. It just doesn't sit right.
I use the term 'moral dilemma' because in law a handball has to be deliberate, but it doesn't sit right for it to go in off the hand and it doesn't look right. It's not permissible to score with the hand anyway in law, so you are covered in that department. It has gone in off his arm, whether he likes it or not. It has flicked up and it's quite clear that it goes in off his arm because it changes direction. I don't think the referee has got any other choice but to disallow the goal.
That just shows how difficult it is to be a referee because one manager says he's very brave and one manager says he's incorrect. I think, and most other football supporters and referees would think, he's got that absolutely right.
INCIDENT: Romelu Lukaku scores Manchester United's winning goal but did Anthony Martial foul Adam Smith in the build up?
DERMOT'S VERDICT: Correct call.
DERMOT SAYS: This is an interesting one because the referee plays advantage, so I think he's saying Smith tried to block Martial off. When the player was on the floor my first reaction was whether the referee was going to stop it for a head injury - but when the ball went in the player was up I think the referee judged that Smith was actually the person that committed the foul and I think he's right. He says Smith has gone to block him off and Martial has run into him.
INCIDENT: Junior Stanislas avoids receiving a card for a studs-up challenge on Manchester United defender Luke Saw.
DERMOT'S VERDICT: Red card.
DERMOT SAYS: I wouldn't have been surprised if he'd been sent off. It's the height and the fact it's a stretched leg. What I would say is that it's a minimum yellow card and yet he didn't get any punishment at all whatsoever. It's gone from one extreme to the other. On that tackle, it had to be a yellow card if the referee felt the tackle was dangerous and only he would know the force he's gone through with. Only the referee can judge if that was serious foul play. Once you blow you have to judge whether it's careless, reckless or seriously endangering the safety of another player. I would say that's at least in the middle band.
INCIDENT: Eddie Howe thought Romelu Lukaku should have been sent off for two bookable offences for challenges on Nathan Ake and Harry Arter.
DERMOT'S VERDICT: Only a booking.
DERMOT SAYS: He shouldn't have been sent off because it's the wrong way round. The only time you can criticise a referee is if he gives a yellow card and then fails to give a second yellow card. Because he didn't give the first yellow card, all he has done is affected the play. If he saw the first tackle on Ake like we've seen it on television then he would have given a yellow card. He hasn't seen the angle we've got. Lukaku's body shielded him when he went into the tackle and Ake got up so quickly it would have told the referee, the ball was just running out of play.
INCIDENT: Jonjo Shelvey is dismissed for two yellow cards - his second sending off of the season already.
DERMOT'S VERDICT: Correct call.
DERMOT SAYS: There's no need to make the first tackle - the Everton play has got lots of space to run into. The second one is also a yellow card any day of the week. There's nothing I can say to defend him.
INCIDENT: Neil Lennon hit out at referee Kevin Clancy for denying his Hibernian side a "blatant" penalty on Wednesday when Rangers substitute David Bates appeared to get away with handball inside the box 15 minutes from time.
DERMOT'S VERDICT: Wrong decision.
DERMOT SAYS: The face he leans in, it's a penalty. The only mitigating circumstances is the position of the referee - can the assistant help? It looks an easy penalty to give but that's the unfortunate thing about being a referee, you don't always have that brilliant position to see an incident. The amount of times when you say 'if only I moved to there or stood there' but in the natural flow of play it's not always possible.