Ref Watch: Stoke midfielder Charlie Adam right to be sent off, says Dermot Gallagher
Last Updated: 19/03/18 5:02pm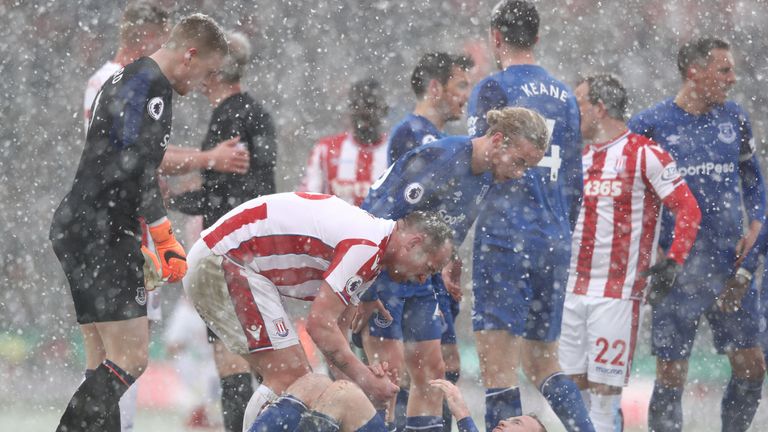 Dermot Gallagher returns with this week's Ref Watch and says Charlie Adam was right to be sent off for his tackle on Wayne Rooney.
There were just four Premier League games over the weekend but still plenty for Dermot to get stuck in to, with two incidents apiece from Everton's 2-1 win at Stoke and Bournemouth's victory against struggling West Brom.
Roberto Firmino's superb strike in Liverpool's 5-0 win against Watford is also analysed as well as incidents from Crystal Palace's victory at Huddersfield, plus the MLS.
Read on for Dermot's verdict in this week's Ref Watch...
INCIDENT: At a snowy bet365 Stadium, Charlie Adam jumped into a tackle on Wayne Rooney, catching the Everton forward's knee with his studs. Martin Atkinson shows him a red card.
DERMOT'S VERDICT: Correct decision.
DERMOT SAYS: The replay angles alone show you if it is right. If you're a young referee learning, you think 'heavy touch, be aware of the player over-reaching for the ball' and that's exactly what he does. He's left the ground and over-reached with a straight leg and he's caught Rooney with his studs. I think Atkinson is absolutely correct to send him off.
INCIDENT: Mo Salah crosses into the area from the right of the box which Roberto Firmino acrobatically puts into the net with his thigh. There are some questions about whether he was offside, although no flag was raised.
DERMOT'S VERDICT: Correct decision.
DERMOT SAYS: I think this is absolutely brilliant by the assistant because when you initially see it, you think he's offside. But when you see it from the assistant's point of view, he is actually behind the ball. The ball is the key thing, you have to be behind it and he is, therefore when the ball is played, he is onside. It's a tremendous spot because you've got to make that position and also identify very quickly where he has come from.
INCIDENT: As the ball is played into the area by Yannick Bolasie, Cenk Tosun heads the ball towards goal, but is denied by Jack Butland. However, he scores from the rebound after an attempt from Dominic Calvert-Lewin, although he looked to be offside at the start of the move.
DERMOT'S VERDICT: Incorrect decision to let the goal stand.
DERMOT SAYS: He's just offside and this is exactly where VAR would correct things. It's difficult for the assistant because he has just gone ahead and it is very, very tight but that's the key issue. That would go to VAR to be checked and it would rule the goal out.
INCIDENT: Salomon Rondon crosses the ball into the box and it is initially cleared by Steve Cook, but the striker latches onto the loose ball before being tackled by Nathan Ake. No penalty is given.
DERMOT'S VERDICT: Incorrect decision, but hard for the officials to see clearly.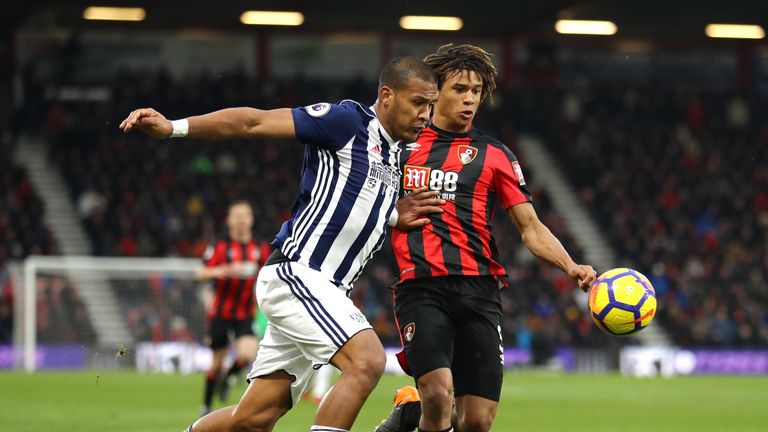 DERMOT SAYS: For this one, when you see it from behind the goal, it's the only place you get a clear view. When you first look at it, you think Ake has played the ball, but when you see it from behind - which is the view the spectators have got - you can see that he doesn't actually play the ball. The key for me is the ball goes one way and everyone anticipates that Ake has played it. You'd have to be in that position to see it.
INCIDENT: Adam Smith and Jake Livermore go in for the ball, although the Bournemouth midfielder comes off worse and is expecting a yellow card for Livermore. However, referee Graham Scott books both players.
DERMOT'S VERDICT: Correct decision.
DERMOT SAYS: I think the referee believes both players have gone in recklessly. Smith certainly has and he thinks Livermore has gone in first. I think Livermore goes in initially and Smith sees that and goes in just as hard. Scott thinks both are equally as guilty and gives them yellow card which is well within his rights.
INCIDENT: Andros Townsend is fouled by Mathias Jorgensen in the area, swiping at the legs of the Crystal Palace forward. Mike Dean instantly points to the spot.
DERMOT'S VERDICT: Correct decision.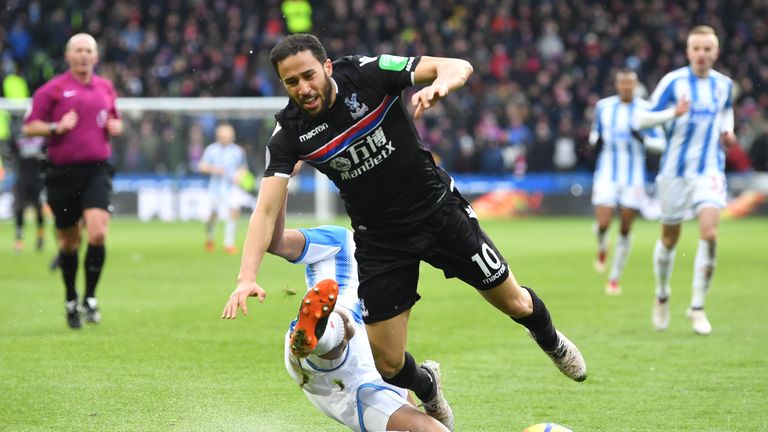 DERMOT SAYS: It is an easy penalty to give if you recognise it and we talk about it all the time - do you recognise if it is a foul? The ball moves, he goes in for the tackle and it is a penalty. He doesn't get the ball and the minute the forward touches the ball, the referee has to give a penalty.
INCIDENT: In a packed penalty area, Clint Dempsey is grabbed from behind by Dallas' Jacori Hayes which the striker reacts to by swinging his arm back. The referee does not see the initial incident, but after consulting with VAR, Dempsey is sent off.
DERMOT'S VERDICT: Correct decision.
DERMOT SAYS: I think he gives it for Dempsey swinging his arm back. If you look at it, there's so much happening in this incident and he goes across to VAR, sees the arm swing back and that's what he sends him off for.