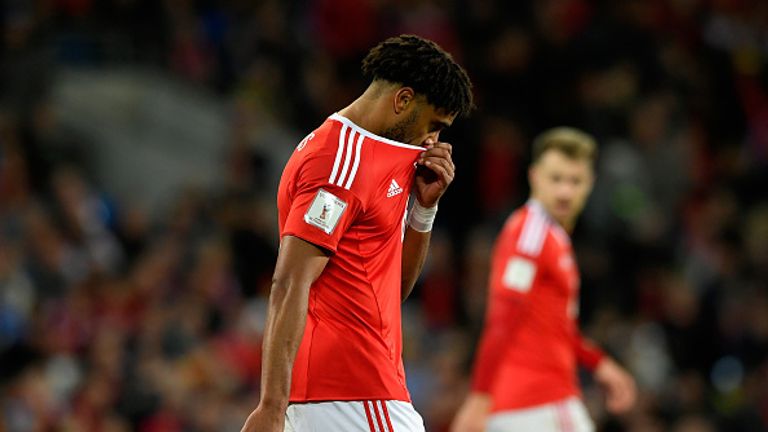 Ashley Williams admits he considered retiring from international football following Wales' failure to qualify for the World Cup.
Wales finished third in Group D behind winners Serbia and the Republic of Ireland, who defeated them 1-0 in Cardiff in October to seal their fate.
The 33-year-old defender admits the heartbreak of that defeat made him consider his future with Wales.
"It was just so disappointing missing out on that (the World Cup) that I had to think about retirement," Williams said.
"I spoke to the people closest to me, I didn't want to retire or anything like that.
"But I felt like it was something that I should've thought about and seen where I was at with club and international football and life in general.
"I did give that a thought, but then I decided I wanted to keep doing it anyway."
Williams is poised to win his 77th cap against China on Thursday in new Wales manager Ryan Giggs' first game in charge since succeeding Chris Coleman.
The Wales captain met with new manager Giggs and his coaching staff earlier this month, the day after he was sent off in Everton's Premier League defeat at Burnley.
He has not played since because of suspension and is relishing the chance to take part in the four-team tournament in Nanning, which also includes the Czech Republic and Uruguay.
"The gaffer (Giggs) wanted to know my thoughts on certain things and told me his view about going forward," Williams said.
"So it was an important thing to do before the camp, to help the gaffer to come into a group that's been together for so long.
"As the captain, it's my job to help knit that together I suppose.
"It's a new start and we want to do that by playing to our best and to our full potential.
"We've made it clear we want to win this tournament and, as strong as the opponents are, when else do you get to play an international tournament without so many teams in and with a chance to win a cup?
"It would be great for us to take it back to Wales."