Theo Walcott & Alex Oxlade-Chamberlain: Ex-Arsenal team-mates turned Merseyside derby foes
Last Updated: 07/04/18 11:46am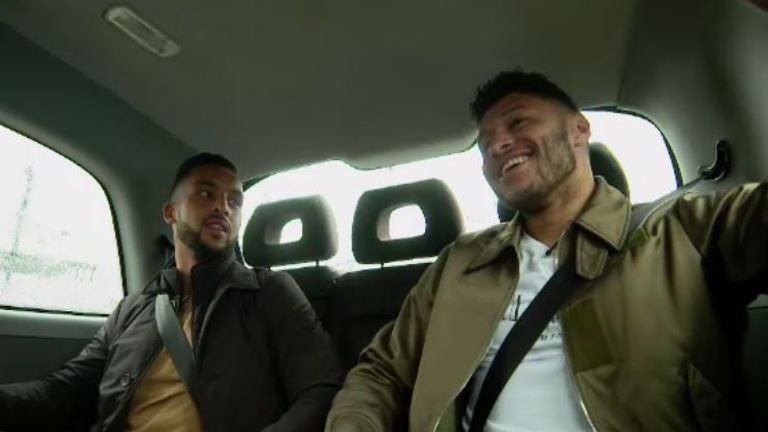 Theo Walcott and Alex Oxlade-Chamberlain were Arsenal team-mates last season. This weekend, they go head to head as Merseyside rivals.
Oxlade-Chamberlain ended a six-year stay in north London when he joined Liverpool last summer, while Walcott followed him to Merseyside in January when he called time on 12 years at the Gunners to sign for Everton.
Ahead of Saturday's Sky Live showdown, the long-time friends preparing to turn derby foes are reunited on a taxi tour of their new city as they lift the lid on their Arsenal exit, respond to their critics and explain why their "biggest game of the season" means putting niceties to one side...
'Big brother, little brother'
Oxlade-Chamberlain: "The first time I remember Theo, I was an U14 at Southampton; he'd just moved to Arsenal but came back to speak to us. He was a superstar and he gave us a pep talk which geed me right up. It was a big inspiration and then when the opportunity came for me to follow his footsteps, I was keen to do it. I met him on the first day and he stuck me straight under the wing. Even when I moved here, he gave me some really good words. It is definitely a big brother, little brother relationship.
Walcott: "We just hit it off. I wanted to encourage Alex to express himself pretty much straight away at Arsenal and it worked, without a doubt. We had good times on and off the field."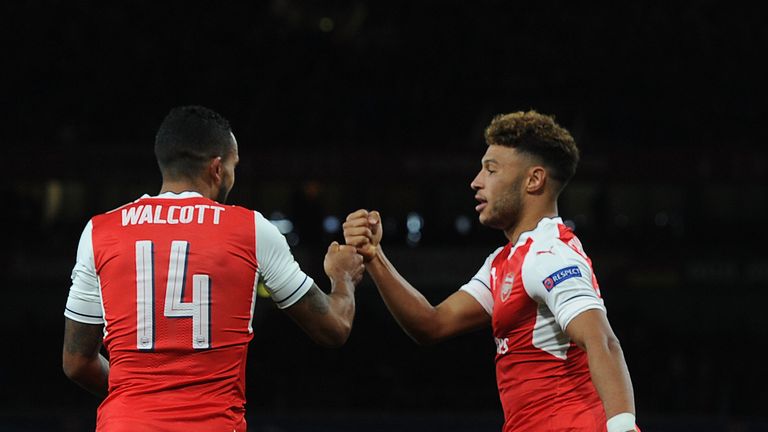 On leaving Arsenal
Oxlade-Chamberlain: "It was a really hard decision. It's an honour to play for a club like Arsenal. It's an amazing place to play, it was stable, you build relationships, but I felt I had to do it for football reasons to try and better myself. I've loved every minute so far. It was always horrible coming here as an opposition player but the crowd gives you goosebumps. To hear them singing for you is unbelievable."
Walcott: "I feel it was the right time. The loyalty I had for Arsenal and Arsene Wenger meant I could do it the right way. It was time for me to experience something different but still be competitive. The season didn't start off how we wanted but Everton are going in right direction.
"I never knew what it was going to be like having been at Arsenal for so long and coming to somewhere completely different, but the fans have taken to me and been so welcoming. I'm pleased with how passionate they are, it's one reason why I came here because I feel like they're competitive and want to improve. The first time walking about at Goodison Park... you can't explain it. Then, when I scored my first goal, the emotion came out. It was about enjoying my football again."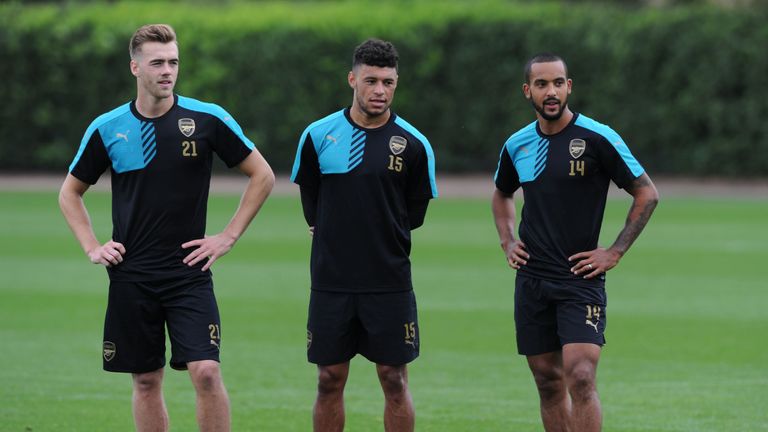 On scrutiny and criticism
Oxlade-Chamberlain: "I've learnt it can be tough when you are playing for a top club. There are a lot of people who have got a lot of things to say constantly. Sometimes they are true and sometimes they are not. For me, when they are true, I don't mind hearing it. I'm good at taking criticism and I agree with it when it's deserved. It's when people start saying stuff that's not really true that's when it can become frustrating. You learn to block it out and accept you can't make everyone happy. That's the key for me. Some people are going to think I'm good and others are going to think I'm not that good, that's as simple as it is.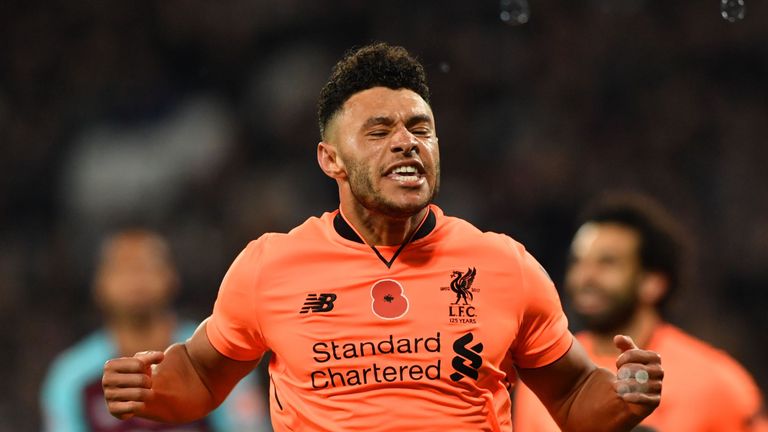 Walcott: "If you are doing everything right it will show. I'm someone who blocks it out. Some players can feed off it and enjoy that sort of pressure of people giving you stick because they then want to make a point to prove them wrong. Every player wants to prove people wrong but if you do it for yourself and you are happy in yourself, your family is happy, your coach is happy and all the people you trust are happy, then that's the most important thing."
'No friends on a football field'
Oxlade-Chamberlain: "At what point does the friendship get put on hold for the weekend? Probably when we leave the cab! The fact he's got an Everton shirt on it won't be hard to put the friendship on hold."
Walcott: "I have respect for Alex and I'm not going to be rude to him, but I know there's a job I need to do. I'm going to be focused on what I need to do to help Everton try and get a result which has not happened for a long time. Alex is a good friend but as soon as the referee blows that whistle there's no friends on a football field. We won't know what it's going to be like because we've never experienced it. It's going to be interesting. But we're going to want to win for our teams, it's as simple as that."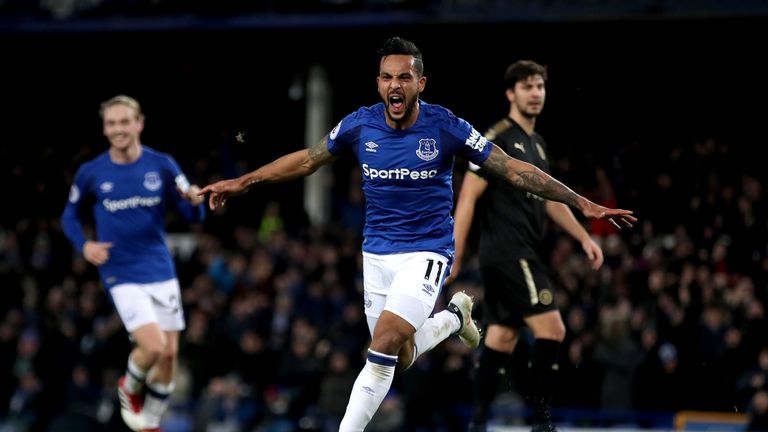 'Game of the season'
Oxlade-Chamberlain: "Every time we play Everton it's the game of the season. You can say that if we do well in the Champions League ties and go further, those games will be, but for Liverpool and Everton, this derby is the game of the season. We were a bit disappointed not to have come away with three points in the first game at Anfield so we'll be going out there to get our revenge. It'll be really exciting, fans out on the streets, going out to warm up and hearing the boos... it gets you going! Liverpool fans will be singing their hearts out; hopefully we can give them something to shout about and ruin Theo's day!
Walcott: "You might get drowned out, though - it's been so loud at Goodison. It'll be a very passionate game. I'll be relaxed until I step off the coach and get into the dressing room. That's when my game face is on. Up to this point it doesn't matter what has happened this season. This is the game and it's my first derby here. I can't wait."
Watch Walcott's Everton take on Oxlade-Chamberlain's Liverpool in the Merseyside derby this Saturday. Coverage starts from 11.30am on Sky Sports Premier League and Main Event.