Dermot Gallagher
Former Premier League referee
Ref Watch: Willy Boly's goal should have been disallowed
Last Updated: 27/08/18 12:40pm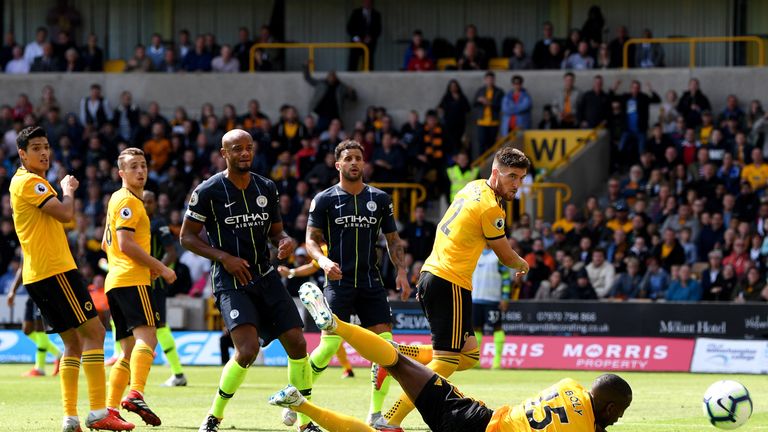 Should Willy Boly's goal have been disallowed? Was referee Paul Tierney correct during Newcastle v Chelsea? After a busy weekend, Dermot Gallagher returns with Ref Watch.
There were four red cards on Saturday alone, with plenty of other controversial incidents giving the officials some tough decisions to make over the last few days.
Here, former Premier League referee Gallagher gives his views on the big decisions...
INCIDENT: Willy Boly scored the opening goal of the game for Wolves in the 57th minute, appearing to use his hand to turn the ball home from a Joao Moutinho cross. The officials did not see the handball and the goal stood.
DERMOT'S VERDICT: Goal should have been disallowed.
DERMOT SAYS: The only time this was spotted on Saturday was on the replay. When it went in, I've thought 'what a good header'. But when the replay is shown, it's gone in off his arm. It's impossible for referee Martin Atkinson to see because of where he is when the ball comes across. I did feel for the assistant because he's looking at Matt Doherty to see if there's an offside. He can't be clear in Boly's headed that ball and when you look at the replays, it's gone in off his arm.
Two years ago, when Laurent Koscielny scored at Burnley, there was such a furore after the match about the ball going in off his hand, but everyone accepted it was not permissible to score with your hand - it is not acceptable. Over the last two years, we've seen that when it goes in off the hand, it is disallowed.
It's not unique to England. On Friday night, Thomas Muller for Bayern Munich, he turned his back and the ball struck his elbow before going in and the referee said 'it's gone in off his hand, it's disallowed'.
You could argue it is within the laws of the game because in the offside law, it shows a diagram of a player level with another player and his arm is ahead. It says you can't give offside because you can only give it as offside if he can score with that part of the body. So that infers that you cannot score with your hand.
INCIDENT: Manchester City had a penalty appeal turned down by referee Martin Atkinson as Ruben Neves tripped David Silva in the area.
DERMOT'S VERDICT: Correct decision.
DERMOT SAYS: My initial reaction was yes, it's clumsy. When I saw a replay of Martin's view, I think Silva actually kicks the Wolves player [Neves] and then trips himself. I think Martin sees the push, and from his angle - which is what I like to see - he clearly kicks Neves.
The first view I've got as a spectator is looking in and my gut reaction was to give a penalty. But when you see it from Martin's angle, it is not a penalty.
INCIDENT: In the 75th minute, referee Paul Tierney penalised Fabian Schar for a trip on Marcos Alonso, despite the Newcastle defender appearing to get a touch on the ball, awarding Chelsea the penalty. Eden Hazard converted from the spot.
DERMOT'S VERDICT: Correct decision.
DERMOT SAYS: I think it was a penalty. He definitely touches the ball, there is no doubt whatsoever about that, but he wraps his legs around him, he scissors him and with the pre-season meetings with the players and clubs, everybody was told that just because you get the ball, it doesn't negate action being taken.
INCIDENT: DeAndre Yedlin caught Olivier Giroud in the face with his elbow in the 83rd minute, leaving the striker on the floor clutching his face. The Newcastle defender's cross just after the incident was headed home by Joselu, with no free kick or cards shown.
DERMOT'S VERDICT: Correct decision.
DERMOT SAYS: This is going to split opinion. I don't think the player [Yedlin] has done a lot wrong. I don't think he should have his arm up that high, but Giroud comes into his ground and encroaches on his territory. Ian Hosin, the assistant, has the best view of that. He is literally yards from it, has a direct look at it and he says no. He would have said that to the referee via the communication kit and Paul Tierney lets play continue.
I'm not convinced he swings his arm because I think Giroud goes into him. He puts his arm up, there is no doubt about that, but there is a massive difference between that and pushing an elbow into someone's face.
INCIDENT: After a good start to the season, Richarlison was sent off in the 41st minute. He squared up to Adam Smith in the area, with both placing their foreheads against each other, before the Brazilian forward appeared to lean his into his opponent. Referee Lee Probert gave him an instant red card.
DERMOT'S VERDICT: Correct decision.
DERMOT SAYS: The referee has got no choice but to send him off. I can't explain why a player wants to do that. You have to send a message because if you allow a player to do that, everyone will push things a little bit further so the next week, someone thinks 'oh he got away with that, I can push it a bit further' and there has to be a stop point. I think that point is just don't do it.
INCIDENT: After a studs up challenge on Wilfried Zaha early in the game, Etienne Capoue was only shown a yellow card rather than a red, much to the dismay of Crystal Palace.
DERMOT'S VERDICT: Incorrect decision.
DERMOT SAYS: I think it's a red card for two reasons. Firstly, he starts to go with two feet so he's out of control and he rakes his studs down Zaha's Achilles, which is very, very dangerous and dangers the safety of the opponent. What I would say in the defence of the referee when we saw it first of all yesterday, we didn't realise the severity of it and secondly, I wonder if the referee is on top of it. He's just a bit too close.
INCIDENT: In the area, Jonathan Hogg and Harry Arter confront each other with their foreheads, with Hogg using more force to send Arter to ground. The referee gives the Cardiff man a yellow card while the Huddersfield defender is sent off.
DERMOT'S VERDICT: Correct decision.
DERMOT SAYS: I think the referee does really, really well here. The referee Michael Oliver hasn't rushed the decision, he's gone to get some information from his assistant Simon Bennett and collected the full pot. In that, Simon has said to him 'Arter is guilty of the first foul, it's a yellow card offence, he's provoked the guy into doing that'. But without a doubt, Hogg just loses discipline and he gets a red card for violent conduct. The game restarts with a free kick to Huddersfield, which is correct because it can't be a penalty as the first foul was committed by Arter.