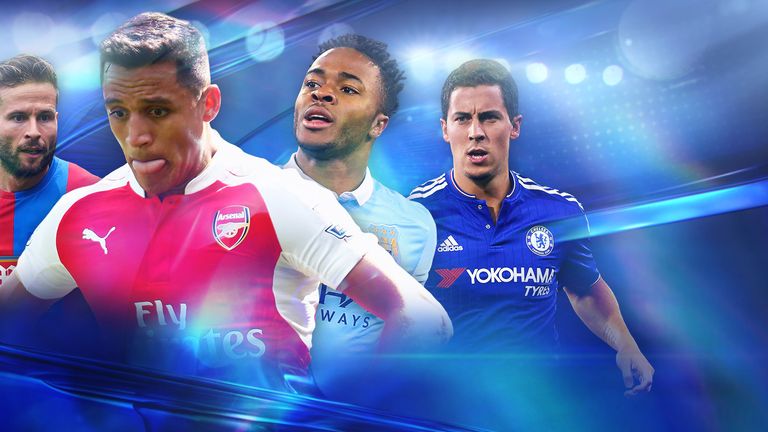 Did YOUR favourite Premier League team live up to expectations this weekend?
We've asked Sky Sports Now guest Danny Higginbotham to give each side a grade based solely on their 90-minute performance over the weekend.
So did your team get an A+ or an F, or somewhere in between? Read on to see how your team has been ranked.
Weekend results
Aston Villa 0-1 Man Utd
Crystal Palace 1-2 Arsenal
Man City 3-0 Chelsea
Southampton 0-3 Everton
Sunderland 1-3 Norwich
Swansea 2-0 Newcastle
Tottenham 2-2 Stoke
Watford 0-0 West Brom
West Ham 1-2 Leicester
Man City (A+)
What's the highest that you can give? They were outstanding against Chelsea. Raheem Sterling and Jesus Navas were getting forward, creating space for the likes of David Silva and Sergio Aguero. Yaya Toure coming from deep was sensational.
Everton (A)
Against Southampton they were everything you would want to see from an Everton side, with the players they have available. They were not afraid to stretch the game a little bit, as Romelu Lukaku did, which gave space for the likes of Ross Barkley to dictate. 
Leicester (A)
Claudio Ranieri has come in there, and they are on the crest of a wave. There was great movement all over the pitch against West Ham, and a real togetherness in the squad.
Arsenal (B+)
Arsenal were much better than last week. Their 2-1 win over Palace was quite an open game, and they came out on top. I'd have to give them a B.
Swansea (B+)
It was an excellent win against Newcastle. Both of the forward-thinking players in Bafetimbi Gomis and Andre Ayew have now scored two goals in two games. Garry Monk brings in players that fit the system, fit the style that Swansea play. Good team to watch.
Norwich (B)
The win at Sunderland was a big improvement on the first game, and that was brought about by the manager bringing in Nathan Redmond and Cameron Jerome. They didn't play in the first game, which was baffling. Second most assists in the Championship for Redmond, and Jerome was top goalscorer. They were a threat.
Stoke (B)
They were not great first half against Spurs, but came back into the game. Some people have questioned the balance in the squad, but they showed great character and spirit to come back into the game.
Crystal Palace (C+)
I don't think they used Connor Wickham as well as they should have done in the defeat to Arsenal. He should have been the focal point up front. I think they are actually a better team away from home.
Manchester United (C+)
They got the job done in the win against Villa, and you would hope that they are going to play better in the weeks to come. A lot of new players and partnerships are building. They can do much better though.
Tottenham (C+)
I give them A+ for the first half against Stoke and F in the second. They were 2-0 up and cruising. Harry Kane went off and the whole emphasis of the game changed. To throw a two-goal lead away at home is something you cannot be doing in the Premier League.
Watford (C+)
Their unbeaten start to the Premier League continued against West Brom, so they would be happy with that. They will be disappointed they didn't take advantage of their few chances though.
Aston Villa (C)
The defeat against Manchester United wasn't the greatest of games. They had a couple of chances. I thought Rudy Gestede should have been used sooner, but it wasn't to be.
Newcastle (C)
There were a lot of new faces in the side against Swansea. Daryl Janmaat didn't help matters with his sending off, but there were positives to take away.
West Brom (C)
After being stuffed by Man City last week, Tony Pulis would have wanted to get a clean sheet against Watford, and he would have been delighted with that reaction from his players.
Southampton (D+)
They are an interesting one. They have lost a lot of players over the last few years, and managed to compensate for them, but Morgan Schneiderlin has been a huge miss. They are paying the price a little bit for his departure as we saw in the home defeat to Everton.
West Ham (D+)
Leicester really surprised them. West Ham still looked good going forward in particular. They will be disappointed in the manner in which they lost the game.
Chelsea (D)
There are no major issues as we are only two games in, but basing it solely on Sunday's poor showing at Manchester City, I have to give them this mark. 
Sunderland (F)
I don't know where you start with them against Norwich. They have a collection of players from different managers, different styles, but they seem to have too many players that are not hungry enough. Players are switching off. I have to give them an F.
Liverpool and Bournemouth play on Monday Night Football from 7pm on Sky Sports 1.