Portsmouth deal: Pompey Supporters' Trust now own Fratton Park
Pompey Supporters' Trust has agreed a deal with Balram Chainrai over the purchase of Fratton Park.
Last Updated: 11/04/13 6:46am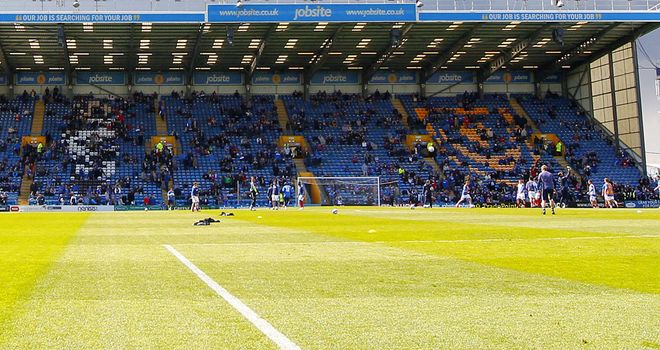 The deal was completed following a hearing at the High Court in London on Wednesday afternoon and means the PST have been given the go-ahead to take control of troubled League One club.
Portsmouth chairman Ian McInnes praised Chainrai and Trevor Birch of administrator PKF International for their hard work in helping the deal go through.
McInnes said: "I've always actually believed we would do it. I felt we were the right bid for the football club. And today is for the fans.
"We came to what we call a compromise. And I'd like to say, and go on record and say, that we were actually helped very much by quite a bit of give from the other side
"It was always going to be a difficult agreement this because basically it was a group of people trying to save a football club and a group of people who felt they were entitled to get their money back.
"And it's been a long drawn out process. I think we're all glad that it's over and without the help of the opposition, if you want to call them that, and the administrators and Trevor Birch in particular this wouldn't have been a historic day at all."
The development ends 14 months of stagnation after Portsmouth entered administration for the second time in three years in February 2012.
Next chapter
A High Court judge had been due to analyse issues relating to the sale of the ground at a hearing in London.
But lawyers told judge Mr Justice Peter Smith that an agreement had been reached between BDO - the firm acting as administrators - and the club's former owner.
The judge said he was pleased that an agreement had been reached and that Portsmouth would be preserved.
Fans who had travelled to the High Court from the south coast applauded and cheered when the hearing ended.
PST chairman Ashley Brown welcomed the agreement, saying in a statement: "This is a historic day for Portsmouth Football Club and for Pompey fans everywhere.
"At last, the tough work done over the last year is over and we can start to rebuild our club. Pompey fans are now days away from owning and running our club and becoming the biggest community owned football club in the country.
"We have a lot of people to thank, and much more to say, but will do that once the details of today's settlement are finalised.
"For now, we would like to offer heartfelt thanks to Pompey fans all over the world who have pledged money and have saved our club from liquidation.
"Now the next chapter of hard work begins to transform our club into something the community of Portsmouth can be proud of, both on and off the field."