Shaquile Coulthirst taking inspiration from Harry Kane at Barnet
By Nick Wright
Last Updated: 06/10/17 11:44am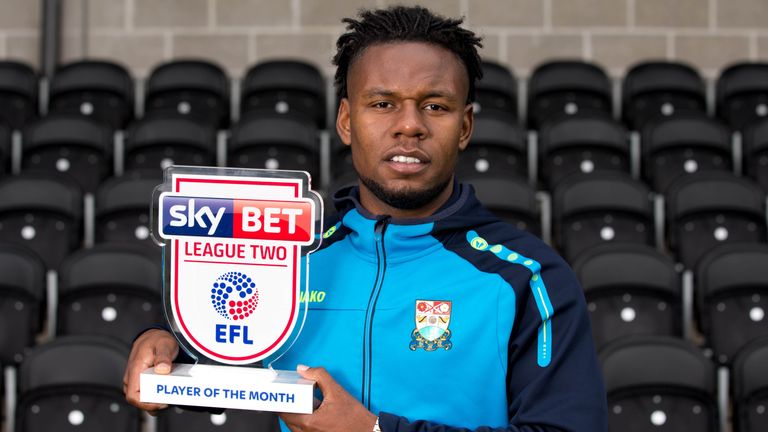 Barnet's Shaquile Coulthirst has just been named League Two's Player of the Month. The former Spurs forward talks to Sky Sports about hitting goalscoring form, taking inspiration from Harry Kane, and how he's trying to help other young hopefuls make it in the game.
Shaquile Coulthirst is only 22 but he has already packed a lot in. He spent over a decade rising through the youth ranks at Tottenham, making his debut in a Europa League tie with Anzhi Makhachkala in 2013, and four years on he stands in the dugout at Barnet, the ninth club he has represented in an eclectic career so far.
Coulthirst is back in north London, just a few miles from his Hackney roots. It is a brisk Wednesday morning and he has just been posing for photos with the League Two Player of the Month award for September. Barnet sit 18th after a difficult start to the season, but Coulthirst, a fast and skilful forward, has scored five goals in his last seven appearances.
"It's always good for your form to be recognised by other people," he tells Sky Sports. "I'm just looking to kick on from here and score more goals for the team." Indeed, with six in the league and eight in all competitions, Coulthirst is already thinking about topping the League Two scoring charts. "I'd be lying if I said I wasn't," he says with a smile.
Coulthirst signed for Barnet on a permanent contract from Peterborough in the summer. Either side of his stay there, he had loan spells at Leyton Orient, Torquay, Southend, York, Wigan and Mansfield. It was a challenging period with ups and downs along the way, but he has "no regrets" about the lack of first-team chances at Spurs. Instead, he received an education in the realities of men's football.
"It was really about understanding the game and what you need to do," he says. "The different managers, the different players you come across and the different messages - all of that helps. There's a lot of moving, you're not used to your surroundings and you're not used to the people, but now I'm back in my hometown. It's nice to be settled."
Coulthirst did not simply choose Barnet for the sake of familiarity, however. Under Rossi Eames, the youngest manager in the Football League at 32, the club are aiming high. "I spoke to the manager and the chairman about their ambitions for the club," says Coulthirst. "I could see the new facilities around here. Everything is on the up and that's what I want to be doing - going up the league."
Coulthirst wants to help Barnet achieve promotion this season. They have been hit by a wave of injuries and their performances have suffered, but they showed their potential in a 4-1 thrashing of Swindon at the start of last month - a game in which Coulthirst scored a superb hat-trick.
"When we bring it all together we're a good team," he says. "We've seen that in the wins that we've got. That's the thing that's been missing with the injuries. We need to bring it together as a team and get some results, especially at home, then we can sort out the away games."
Once regarded as a rising star at Spurs, Coulthirst still hopes to work his way up to Championship and Premier League level. He takes inspiration from former team-mate Harry Kane, whose rise from unfancied Football League loanee to Spurs and England talisman has taken everybody by surprise.
"Harry was a little bit older than me so going through the age groups, we didn't have that much contact, but as I got older I played with him a few times," he says. "He went on loan a few times, then as I got to 18 I started going on loan as well. So we had similar paths.
"People doubted him after the first season but everyone around him knew that he was always going to score goals. If you put him centre-back he would probably still score. It's something that has inspired me. You never know what can happen in football. If you keep doing what you're supposed to be doing, you will get where you want to be."
Coulthirst is grateful for the years he spent at Spurs - "I got to learn from some great players and some great coaches," he says - and having grown up in a tough neighbourhood in inner-city London, he also knows he was one of the lucky ones. Coulthirst was scouted at the age of nine but for many others the opportunities simply weren't there.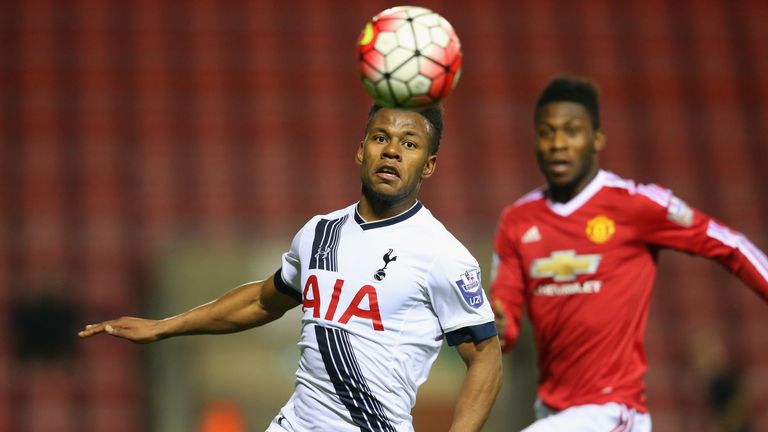 It's why he has helped set up PASS Soccer School with his childhood friend Patrick McCreanor. PASS aim to provide affordable coaching courses for youngsters from poor backgrounds, with the first taking place near McCreanor's home in Eastbourne, Sussex, later this month. Coulthirst has paid for the pitches and kits himself and asked for nothing back. The intention is to roll the courses out in London and beyond.
"It's for the little kids, really," he says. "When I was growing up there weren't really many opportunities to showcase your talent in my area. I've been blessed with this opportunity to play football and do what I love and there's loads of kids that want to do the same. I think everyone deserves an opportunity."
Coulthirst is certainly making the most of his own opportunity at Barnet. A minor injury means he faces a race to be fit for Saturday's game with Coventry live on Sky Sports, but he's optimistic about the future. "My target is to score 20 goals," he says. "After that we'll see where we are."
Watch Barnet v Coventry live on Sky Sports Football from 12.15pm on Saturday