Football Expert & Columnist
Jamie Redknapp on how Tottenham star Christian Eriksen can take the next step
Last Updated: 20/10/17 6:15pm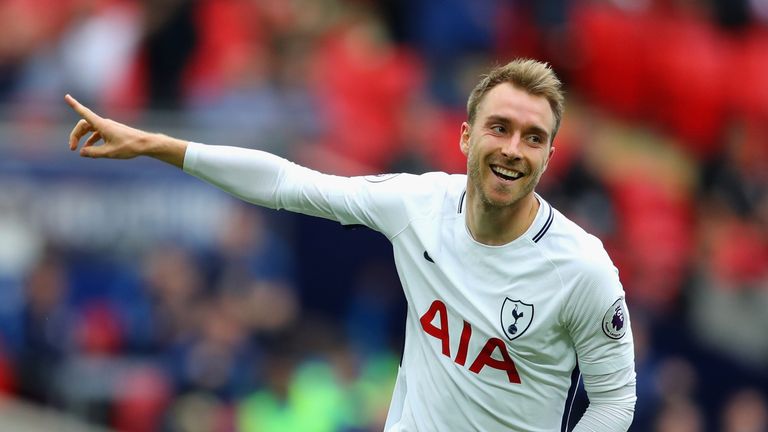 After his Match Zone analysis with Christian Eriksen, Jamie Redknapp explains how the Tottenham star can go to the next level...
Ahead of Tottenham's Super Sunday game with Liverpool this weekend, I sat down with Christian Eriksen in the Sky Sports Match Zone, and it was fascinating to chat to him about what goes through his mind on the pitch.
Eriksen created more chances than any other Premier League player last season and has got off to a good start again this year. We all know him for his assists but he's already got three Premier League goals and I've noticed a new desire from him to get into the box.
I asked him if that is something he consciously tried to do and he said yes, that he wants to get more goals. He's scored plenty from outside the box in the past - and it was fun to go through some of his best free-kicks with him on the touchscreen - but it's those tap-ins and close-range finishes which get you up to 15 goals in a season.
They're the ones the likes of Frank Lampard and Steven Gerrard made a habit of scoring. Yes, they got the blockbuster goals too, but they were always running into the box to get on the end of things. When you can do that it takes you to the next level.
It's not as easy as it looks and if you keep getting in there but the ball doesn't fall your way it can affect your confidence and desire to go again. But you watch players like Lampard and it would always seem to fall to him. Was that luck? It's skill. The more you run into the box, the better you get at anticipating where the ball will go.
If you can add that to your game you go from someone known for playing pretty passes to someone who is a complete player. It feels to me as though Eriksen has thought to himself that if people are to really talk about him like they do about Dele Alli, then he has to get more goals. He's still only 25 and has got time to get better and progress.
Of course, we all know about Harry Kane's scoring rates but Spurs can't afford to be complacent and over-rely on him. They need people like Alli and Eriksen chipping in regularly.
I thought it was very disrespectful of Pep Guardiola to call them the 'Harry Kane team' the other week. Tottenham are a team from front to back and they answered anyone who doubted their strength in depth with that very impressive performance at Real Madrid on Tuesday.
It was a big moment for this group. They got that draw without Alli, Moussa Dembele, Victor Wanyama, Ben Davies and with Danny Rose starting on the bench. Harry Winks came in and did very well and Fernando Llorente looked ok, too.
I bet they will be bouncing at their training ground this week in the build-up to this Liverpool match. It will be the same at Melwood, after their 7-0 win over Maribor. And that is a great sign ahead of Sunday's game.
It's almost two years to the day since Jurgen Klopp's first game in charge, a 0-0 at White Hart Lane, but I'd be surprised if it's the same score this week. While Liverpool have struggled to unpick teams who sit back against them - as Manchester United did last week - Tottenham will come out and play and it should be exciting.
These are two fairly evenly matched teams but if Tottenham can get the win, that will give them a real confidence boost - and belief they can do it at Wembley. They lost to Chelsea there earlier this season - it was a travesty, they should have won - and they're still looking for that 'blue-chip' win over one of the big boys at their temporary home.
And if they can pull that off, we can start talking about Tottenham as genuine title contenders.
Everyone is already talking about Manchester City as though we should give them the trophy already - but the Premier League doesn't work like that. A team which starts well doesn't always go on and keep it up. City have started well in many seasons recently and not always converted it. There's a long way to go.
I'm going for a 2-2 draw in this one. I think it's going to be a great one to watch, with two talent attacks going at it in front of a big crowd at Wembley.