Football Commentator & Columnist
Martin Tyler's stats: Man Utd's newly-promoted problem and Heung-Min Son leading the way
Last Updated: 25/10/17 2:59pm
How many times have Manchester United lost to newly-promoted sides? Has any Asian player scored more Premier League goals than Heung-Min Son?
Sky Sports commentator Martin Tyler has the answers to those questions and more - plus don't forget to try his tricky teaser on hat-trick scorers with a surname starting with the letter 'K'.
Got a question for Martin? Tweet @SkySportsPL with #TylersTeasers.
Starting Stats from Tottenham 4-1 Liverpool
Harry Kane has now scored 45 goals in 2017 for club and country. He had scored his previous 13 league goals away from home before his two against Liverpool. Prior to those 13 his previous 12 top-flight goals had all been scored at home - so maybe he's about to embark on a home scoring streak?
The goal scored by Son Heung-min was the 1,000th Liverpool have conceded in the Premier League - the sixth club to do so after Tottenham, Everton, Aston Villa, West Ham and Newcastle.
The win took Tottenham's run to six unbeaten at Wembley in all competitions and the goal scored by Mo Salah is the only time they have conceded in that run.
It was Spurs' first win over Liverpool since November 2012 and only Hugo Lloris and Jan Vertonghen played in both games. Jordan Henderson is the only surviving Liverpool player from that 2-1 defeat at White Hart Lane. Liverpool had been unbeaten in the previous nine Premier League meetings.
Mauricio Pochettino has now beaten all the clubs he has faced in the Premier League as Tottenham boss. He is yet to face Brighton this season.
This was Liverpool's sixth competitive game at the new Wembley - and after winning the first two they have lost the last four (not counting their pre-season win over Barcelona in July 2016).
Red redemption?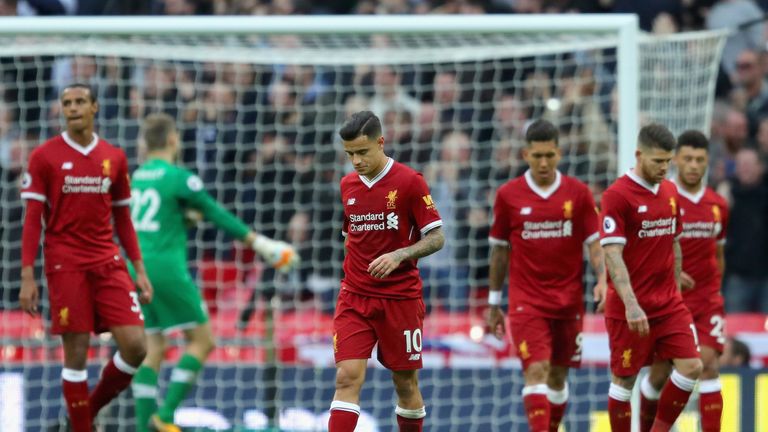 Liverpool have let in 16 goals already this season. Has a team ever finished in the top four after doing that? Jeff
MARTIN SAYS: The 4-1 drubbing at Wembley means Liverpool have let in 16 goals in nine matches so far - but there is hope for Jurgen Klopp's side when you look at the stats.
One side has actually won the Premier League after conceding 17 goals in their first nine matches!
That side was Leicester in 2015/16. However, after nine games of that campaign, they had 16 points - three more than Liverpool currently do - and famously went on to win the title.
Two more clubs have finished in the top four after conceding a similar number of goals to Liverpool.
Manchester United finished third in 2001/02 after conceding 16 goals in their first nine games. However, they had 17 points (four more than Liverpool) and were fourth in the table after those fixtures.
Arsenal conceded even more goals - 18 - in their first nine matches in 2011/12 and were on 13 points, which is the same as Liverpool now. They went on to finish third - so there is hope for Liverpool. However, it's worth pointing out that eight of the 18 goals Arsenal conceded came in one game against Manchester United!
Salah settling in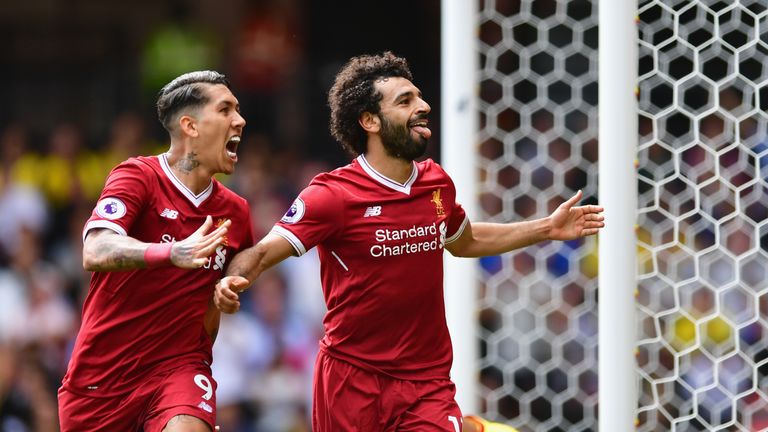 Mohamed Salah now has five goals in his first nine Prem Lge apps for Liverpool. Does anyone have more? Tommy F
MARTIN SAYS: Only one player has scored more goals in his first nine Premier League appearances for Liverpool: Robbie Fowler (6).
After making his league debut against Chelsea on September 25, 1993, Fowler scored his first league goal against Oldham a few weeks later. He soon followed that up with a hat-trick against Southampton and then goals against Aston Villa and Sheffield Wednesday. Fowler would finish his career with 163 goals.
Dirk Kuyt also made a bright start at Liverpool, scoring five times in his first nine league games. He scored his first Liverpool goal against Newcastle at Anfield then netted against Tottenham in the next game. He scored against Aston Villa a month later and then got both goals in a 2-0 win over Reading.
Salah started his Liverpool career with a goal on his Premier League debut against Watford. He then netted against Arsenal, Burnley and Leicester before scoring in the 4-1 defeat to Tottenham on Sunday.
Eight players have scored four goals in their first nine Premier League games for Liverpool: Sadio Mane, Patrik Berger, Nigel Clough, Christian Benteke, Don Hutchison, Daniel Sturridge, Fernando Torres and Milan Baros.
Error-strewn Eagles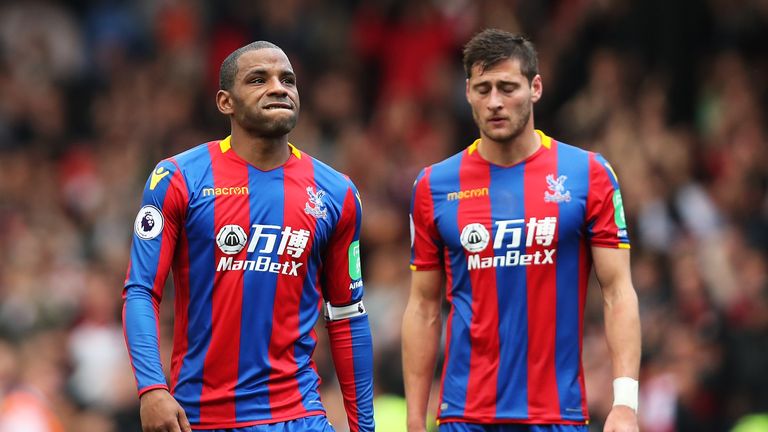 #TylersTeasers Which team has conceded the most goals that have come directly from errors from defenders in the last two seasons? (hint:@LFC) James Godlonton
MARTIN SAYS: We asked Opta to answer this question. They can't do it specifically for defenders - but they can tell us the side that has made the most errors leading to goals in that time - and the answer is not Liverpool!
It's Crystal Palace who lead the way since the start of the 2016/17 season. The Eagles have made 13 errors leading to goals, one more than West Ham and Liverpool (12). Liverpool have made far more errors leading to goals than any other team who finished in the top six.
Swansea have made nine while Watford, Tottenham and Arsenal are all on eight.
Of the teams to have played 47 league games since the start of 2016/17, Leicester rank lowest with just two errors leading to goals in that time, while Burnley have only made three.
It's worth noting that some goals have more than one error attached to them by Opta.
Super Son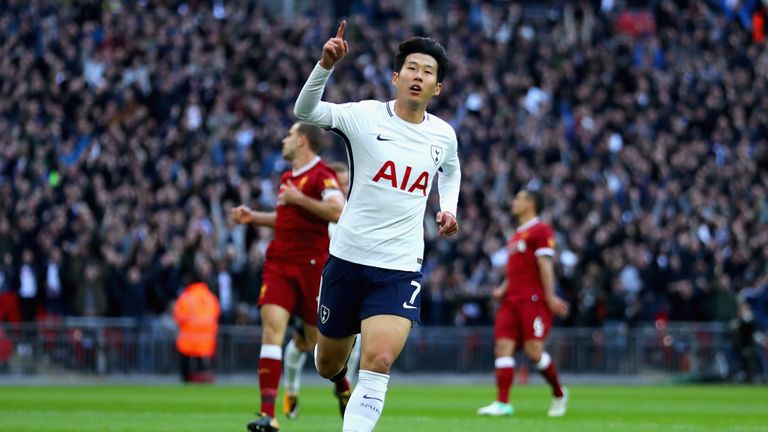 Have any Asian players scored more PL goals than Heung-Min Son? Verinder
MARTIN SAYS: Son's goal against Liverpool on Sunday saw him move level as the leading Asian scorer in the Premier League, alongside his fellow South Korean Park Ji-Sung on 19 goals.
Park scored 19 league goals in 134 appearances for Manchester United and won the Premier League title four times. If Son scores against Manchester United on Saturday, live on Sky Sports, he will overtake Park to become the leading Asian goalscorer in Premier League history.
Another South Korean, Ki Sung-Yueng, is third on the list, having scored 13 goals during his time at Swansea and on a season-long loan at Sunderland. He is still looking to add to that tally.
Leicester's Shinji Okazaki is fourth with 12 goals, ahead of Crystal Palace's Lee Chung-Yong, who has eight Premier League goals.
Newly-promoted problem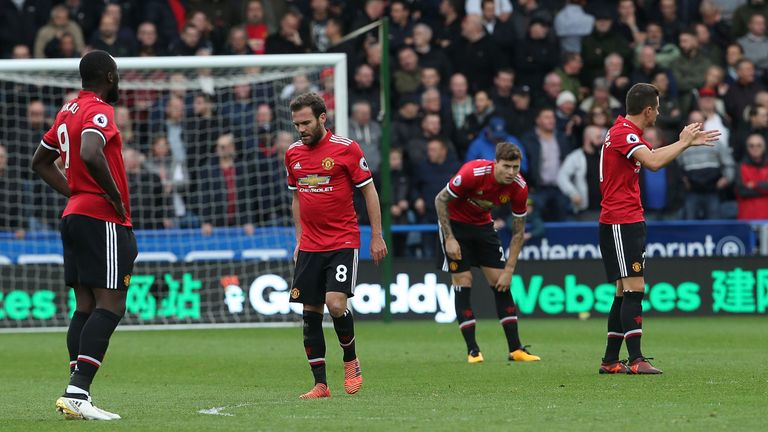 How many times have Manchester United lost to a newly-promoted Premier League side? Jan
MARTIN SAYS: Thanks to our friends at Opta, I can tell you that Huddersfield Town's victory on Saturday was the 15th time a newly-promoted side have beaten Manchester United in the Premier League - more than you might expect.
It's been almost two years since United last tasted defeat to a newly-promoted side, with Norwich claiming a 2-1 win at Old Trafford in December 2015 - and in fact they also lost to newly-promoted Bournemouth the weekend before that!
United's last three defeats to promoted sides have been all been 2-1, and that scoreline accounts for seven of the 15 defeats. Interestingly, the first three of those defeats - against Ipswich in January 1993, Nottingham Forest in December 1994 and Sunderland in March 1997 - were also 2-1 defeats. Ten of the 15 defeats have come in away games.
Manchester United defeats to newly-promoted sides:
30/01/93: Lost 2-1 to Ipswich Town (a)
17/12/94: Lost 2-1 to Nottingham Forest (h)
08/03/97: Lost 2-1 to Sunderland (a)
05/04/97: Lost 3-2 to Derby (h)
19/12/98: Lost 3-2 to Middlesbrough (h)
20/10/01: Lost 2-1 to Bolton (h)
09/11/02: Lost 3-1 to Man City (a)
17/01/04: Lost 1-0 to Wolves (a)
17/04/04: Lost 1-0 to Portsmouth (a)
09/04/05: Lost 2-0 to Norwich (a)
19/08/09: Lost 1-0 to Burnley (a)
21/09/14: Lost 5-3 to Leicester (a)
12/12/15: Lost 2-1 to Bournemouth (a)
19/12/15: Lost 2-1 to Norwich (h)
21/10/17: Lost 2-1 to Huddersfield (a)