Real Madrid will improve against Tottenham after dreadful Girona loss, Guillem Balague warns
Last Updated: 01/11/17 8:35pm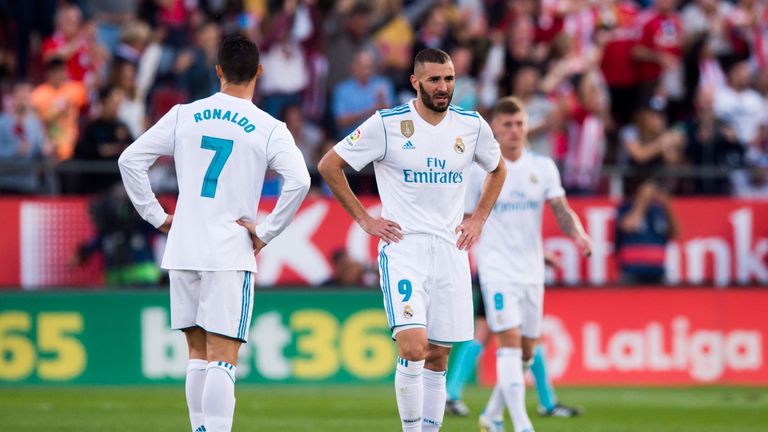 After their "dreadful" showing at Girona, Guillem Balague has warned Real Madrid will be "a completely different team" when they take on Tottenham at Wembley.
The Spanish champions suffered a shock defeat of the season at the weekend as La Liga newcomers Girona came from behind to claimed an historic 2-1 victory.
After handing the initiative to Barca in the La Liga title race, Real will hope to have more success as they continue the defence of their Champions League crown.
The reigning European champions head to Wembley for the very first time on Wednesday, and Balague believes Real's performance will be in stark contrast to that seen in Girona.
"You will see a different Real Madrid," the Sky Sports Spanish football expert said. "The same guys that played so poorly at Girona will raise their game.
"Real Madrid have never played at Wembley and the game is being billed as one of the games of the week after Spurs' impressive display at the Bernabeu.
"Spurs were a little unlucky at Manchester United, the game could've gone either way, especially if Dele Alli had scored.
"It will be a serious encounter, it cannot be any other way."
Though Balague expects to see a Real Madrid with renewed focus in north London, he admitted there have been "obvious problems" at the Bernabeu.
"The defeat at Girona was on the back of four wins in the league, so they were doing OK, but there have been obvious problems," Balague said.
"Cristiano Ronaldo has only scored one goal in six games and the players coming off the bench don't have the same impact as James Rodriguez, Alvaro Morata, Danilo or Pepe, so mistakes have been made in replacing those players.
"Real scored first through Isco but then their attitude was dreadful; they didn't want to play, the players didn't work hard enough to get the ball back and they were thinking, 'This is Girona'.
"The small stadium and passionate atmosphere probably made them think it was a cup game but they were surprised by a Girona side in a 5-2-2-1 formation with very mobile players.
"Zidane is not an expert on tactics, he is good at managing egos and changing - he did not know to change things against Girona and it was too late by the time he tried."