Football Commentator & Columnist
Martin Tyler's stats and facts: Premier League grounds and nationalities
Last Updated: 29/01/18 10:27am
How many Premier League grounds have Liverpool played at? Which team uses the most nationalities? Will Harry Kane become the quickest player to reach 100 Premier League goals?
Sky Sports commentator Martin Tyler has the answers to those questions and more.
Got a question for Martin? Tweet @SkySportsPL with #TylersTeasers and don't forget to have a go at his latest teaser on EFL Cup winning captains...
Martin's starting stats - Arsenal's semi success
Last Wednesday, I commentated on Arsenal's Carabao Cup semi-final win over Chelsea, the sixth time they have met in a League Cup tie.
Arsenal had previously only got through in their first meeting - that was in round four in 1976. In between, Chelsea enjoyed a two-legged win in the 1998 semi-final, a 5-0 win in November 1998, a 2-1 win in the 2007 final and a 2-0 success in the fourth-round match in October 2013.
All six of Chelsea's defeats in domestic competitions this season have come in London - including the Community Shield against Arsenal at Wembley. Last season Chelsea only played 47 matches in total, but this season they will play a minimum of 56.
Arsenal have won their last six League Cup semi-final second legs when the second leg was played at home. Arsenal have scored only six goals in five games to reach the final.
Willian and Pedro have played 27 games against Arsenal between them without scoring.
Arsene Wenger has now played 62 matches against Chelsea, winning 24, drawing 17 and losing 21. Excluding own goals, Arsenal have had 20 different goalscorers this season and nobody is in double figures. They have 68 goals from 37 games this season and Alexandre Lacazette is their top scorer with nine.
Ground force
When Liverpool go to Huddersfield next week, how many grounds will they have played at in the PL and is it a record? Also, which player has played at the most? Richard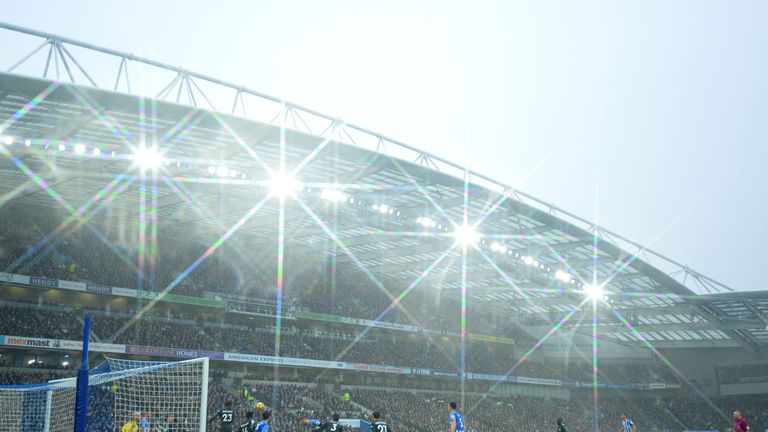 MARTIN SAYS: On Tuesday night, the John Smith's Stadium will become the 58th different stadium that Liverpool will have played a Premier League fixture at - equalling Chelsea's record for playing at every stadium that has been used for a Premier League game.
The John Smith's Stadium is one of three grounds to have joined the list this season, along with Brighton's Amex Stadium and Wembley Stadium, which is being used for Premier League fixtures for the first time this season. Chelsea were the first team to reach 58 when they visited Brighton earlier this month.
The 58 grounds to have been used in the Premier League are: Amex Stadium, Anfield, Ayresome Park, Baseball Ground, Bet365 Stadium, Bloomfield Road, Boundary Park, Bramall Lane, Burnden Park, Cardiff City Stadium, Carrow Road, City Ground, County Ground, Craven Cottage, DW Stadium, Elland Road, Emirates Stadium, Etihad Stadium, Ewood Park, Filbert Street, Fratton Park, Goodison Park, Highbury, Highfield Road, Hillsborough, John Smith's Stadium, KCOM Stadium, King Power Stadium, Liberty Stadium, Loftus Road, London Stadium, Madejski Stadium, Maine Road, Molineux Stadium, Oakwell, Old Trafford, Portman Road, Pride Park, Reebok Stadium, Riverside Stadium, Roker Park, Selhurst Park, St Andrew's, St James' Park, St Mary's Stadium, Stadium of Light, Stamford Bridge, The Dell, The Hawthorns, The Valley, Turf Moor, Upton Park, Valley Parade, Vicarage Road, Villa Park, Vitality Stadium, Wembley Stadium and White Hart Lane.
Arsenal will complete the set when they visit Huddersfield on the final day of the season, Spurs will do so when they go to Brighton on April 21, Everton will do so when they go to Huddersfield on April 28 and Manchester United will do it when they play Brighton on May 5.
Our friends at Opta cannot say for sure which player has played at the most, but we are fairly confident it is Ryan Giggs who has played at 52 of the 58 grounds. He has not played at the Amex Stadium, the John Smith's Stadium, Wembley Stadium, the London Stadium or the Vitality Stadium as those grounds were only used in the Premier League after his retirement. He also never played a Premier League match at Sunderland's old ground, Roker Park.
Gareth Barry is not far behind, having now played at 49 grounds in the Premier League.
I have commentated at all of the above grounds, except for the John Smith's Stadium - but in my five years at Yorkshire Television, I commentated several times at Huddersfield's old grounds Leeds Road.
League of nations
Alexis Sanchez will become the first Chilean to play for Man Utd in the Premier League? How many nationalities have played for them in the Premier League and is it a record? Rafe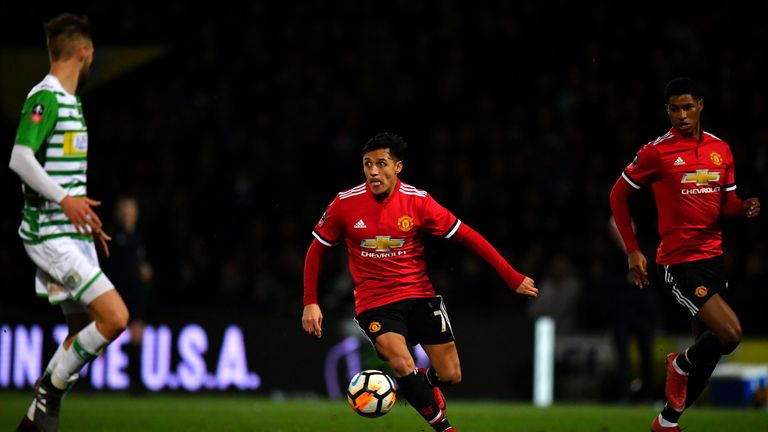 MARTIN SAYS: When Alexis Sanchez makes his Premier League debut for Manchester United, Chile will become the 40th nation to have had a player appear for the club in a Premier League game.
However, that's not a record. In fact, 15 clubs have used more than 40 nationalities in the Premier League:
West Ham (55)
Fulham (54)
Manchester City, Tottenham (52)
Sunderland (50)
Arsenal (48)
Newcastle, West Brom (47)
Chelsea (45)
Bolton, Everton (43)
Aston Villa (42)
Liverpool, Portsmouth, Southampton (41)
According to Opta, the following nations have all been represented by a player in a West Ham shirt in a Premier League game:
Algeria, Argentina, Australia, Austria, Belgium, Brazil, Bulgaria, Cameroon, Canada, Chile, Colombia, Congo DR, Costa Rica, Côte d'Ivoire, Croatia, Czech Republic, Denmark, Ecuador, Egypt, England, Finland, France, Germany, Ghana, Guinea, Hungary, Israel, Italy, Jamaica, Mali, Mexico, Morocco, Netherlands, New Zealand, Nigeria, Northern Ireland, Norway, Peru, Portugal, Republic of Ireland, Romania, Scotland, Senegal, Serbia, Slovakia, South Africa, Spain, St. Kitts and Nevis, Sweden, Switzerland, Trinidad and Tobago, Turkey, Uruguay, USA and Wales
That's in stark contrast to Oldham Athletic. Of all clubs to have played in the Premier League, they've had the least variety in terms of nationalities with only five countries represented during their two Premier League seasons (1992-94). Those nations were England, Scotland, Northern Ireland, Norway and the Netherlands.
They were represented by two Norwegians, two Scots and one Northern Irishman (captain Mike Milligan). However, their Dutch player - Orpheo Keizerweerd - only made one Premier League appearance!
Kane's century
When Harry Kane reaches 100 goals, will he have got to that total quicker than any other player? Adam (London)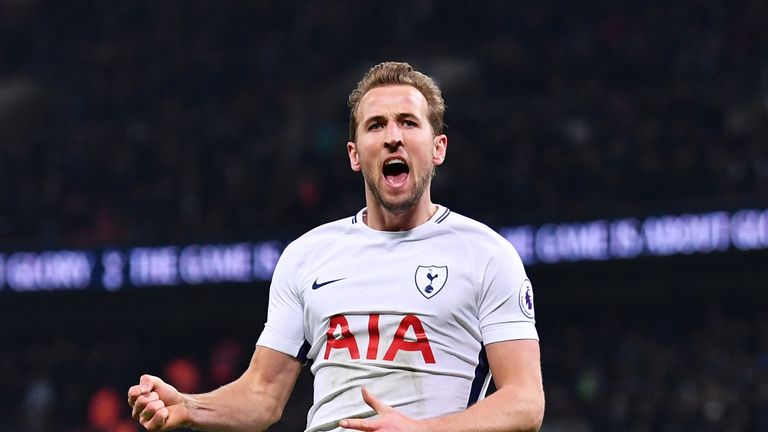 MARTIN SAYS: If Harry Kane scores his 100th Premier League goal against Manchester United on Wednesday night he will have reached that landmark in 140 appearances.
That will make him the second quickest to a Premier League century. In fact, he just needs to score once in his next six Premier League games to be the second quickest player to reach 100 goals. At the weekend, we hope to see him live on Sky Sports against Liverpool at Anfield.
The player to have done it in the fewest appearances is Alan Shearer. He needed just 124 appearances to reach 100. However, it is worth pointing out these weren't his first 124 top-flight appearances - as he'd played for Southampton in the old First Division before the Premier League was formed in 1992.
If Kane fails to score in his next seven matches, he will slip behind Sergio Aguero, who reached 100 Premier League goals in 147 games.
Below is a full list of the Premier League 100 Club and how many matches it took them to reach the tally. The slowest was Ryan Giggs (534 matches)
Alan Shearer (124)
Sergio Agüero (147)
Thierry Henry (160)
Ian Wright (173)
Robbie Fowler (175)
Les Ferdinand (178)
Michael Owen (185)
Andrew Cole (185)
Robin van Persie (197)
Jimmy Floyd Hasselbaink (200)
Didier Drogba (220)
Darren Bent (226)
Wayne Rooney (247)
Dwight Yorke (254)
Teddy Sheringham (254)
Robbie Keane (255)
Nicolas Anelka (258)
Matthew Le Tissier (266)
Dion Dublin (271)
Jermain Defoe (303)
Frank Lampard (406)
Emile Heskey (414)
Peter Crouch (419)
Paul Scholes (436)
Steven Gerrard (449)
Ryan Giggs (534)
Half-time table
What would the table look like if games finished at half-time this season? Ben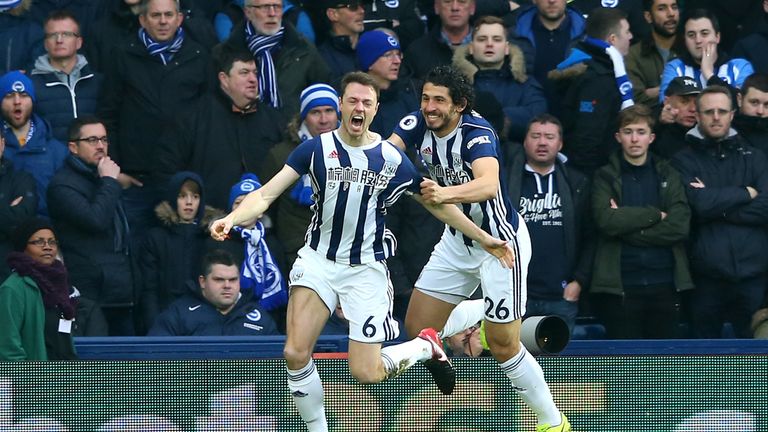 MARTIN SAYS: Our friends at Opta have worked out the first-half table for us and you can see it below.
The top eight would look exactly the same as the real Premier League table - although Manchester City's lead at the top would be just five points. City have been behind in three of their 24 games at half-time this season (Everton h, West Ham h and Huddersfield a) and have only been ahead in 14 - and yet they've won 21 in total. Only 25 of their 70 Premier League goals this season have come in the first half.
And yet the bottom would look quite different with Crystal Palace bottom and Brighton also in the relegation zone. West Brom, who are currently 19th, would be in the top half if matches finished after 45 minutes!
Premier League table if games ended at half-time
| Team | W | D | L | F | A | GD | Pts |
| --- | --- | --- | --- | --- | --- | --- | --- |
| Manchester City | 14 | 7 | 3 | 25 | 8 | 17 | 49 |
| Manchester United | 11 | 11 | 2 | 21 | 8 | 13 | 44 |
| Chelsea | 10 | 11 | 3 | 21 | 8 | 13 | 41 |
| Liverpool | 10 | 9 | 5 | 22 | 13 | 9 | 39 |
| Tottenham | 10 | 9 | 5 | 19 | 10 | 9 | 39 |
| Arsenal | 9 | 9 | 6 | 17 | 11 | 6 | 36 |
| Leicester | 8 | 12 | 4 | 20 | 13 | 7 | 36 |
| Burnley | 7 | 12 | 5 | 12 | 6 | 6 | 33 |
| Huddersfield | 7 | 11 | 6 | 12 | 11 | 1 | 32 |
| West Brom | 7 | 10 | 7 | 9 | 13 | -4 | 31 |
| Southampton | 7 | 8 | 9 | 11 | 16 | -5 | 29 |
| Watford | 7 | 7 | 10 | 13 | 22 | -9 | 28 |
| Bournemouth | 4 | 14 | 6 | 11 | 14 | -3 | 26 |
| West Ham | 5 | 10 | 9 | 11 | 18 | -7 | 25 |
| Everton | 4 | 11 | 9 | 10 | 17 | -7 | 23 |
| Stoke | 5 | 8 | 11 | 11 | 22 | -11 | 23 |
| Newcastle | 3 | 13 | 8 | 8 | 14 | -6 | 22 |
| Swansea | 4 | 10 | 10 | 6 | 14 | -8 | 22 |
| Brighton | 3 | 12 | 12 | 6 | 14 | -8 | 21 |
| Crystal Palace | 3 | 10 | 10 | 9 | 22 | -13 | 19 |