Mousa Dembele a unique genius and irreplaceable for Tottenham
Last Updated: 20/02/18 12:04pm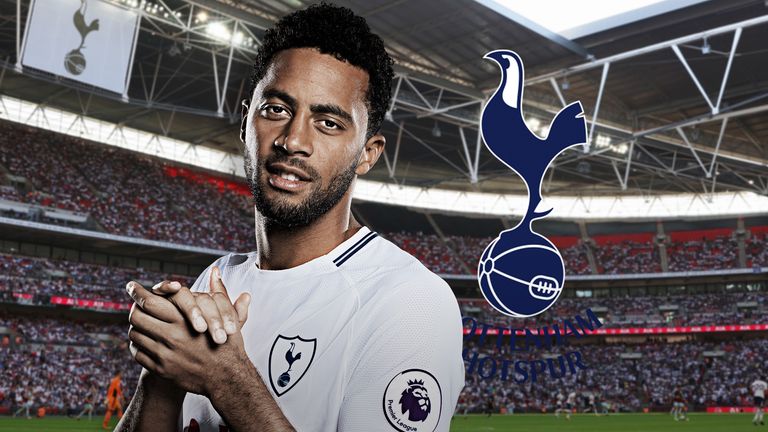 Tottenham's Mousa Dembele has qualities that no other Premier League player possesses. Adam Bate looks at why the midfielder is irreplaceable for Mauricio Pochettino…
It was after a north London derby in November 2016 that Mauricio Pochettino first used the word in public. "He is a genius, no?" the Tottenham boss asked the reporters in the room. Mousa Dembele was the man he was referring to and the midfielder has given his manager plenty of reason to repeat the line since that afternoon against Arsenal.
Pochettino was at it again after the latest derby earlier this month when reflecting on another Dembele masterclass at Wembley. "I have told you many times," he began. "For me, he is a genius. An unbelievable player." Dembele's subsequent display in Tottenham's comeback draw with Juventus in Turin only underlined the form that he is currently in.
La Gazzetta dello Sport had talked him up beforehand as a key player who sets the rhythm for his side but someone who could be stopped if pressed. Nobody got close. Time and again he was away with a drop of the shoulder as he proceeded to control the game. No Juve player made more than 10 passes in the opposition half. Dembele completed 73.
It is true to say that he makes Pochettino's team tick. Certainly, it is no coincidence that Tottenham have found their best form just as Dembele has started five consecutive Premier League games for the first time in almost a year. The Belgian brings things to this team that nobody else can - and not just this team. Dembele's skill-set is unique anywhere.
Even in the age of universality with defenders who can attack and attackers who can defend, he is a one-off - impossible to knock off the ball but with that rare ability to beat players in central areas. It shows up in the stats. He is the only player to rank among the top 20 players in the Premier League for both tackles and dribbles over the past three seasons.
It is not just the volume. He is better at it too. Of midfielders to have attempted 40 or more dribbles in the Premier League this season, Dembele has by far the best success rate - evading his opponent 88 per cent of the time. As more teams opt for a pressing style of play, this ability to glide beyond players is a great asset, opening up the game for his side.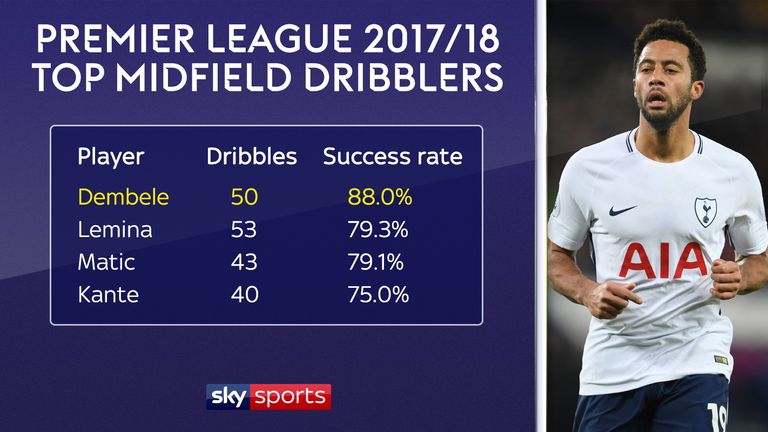 Asked earlier this month to name the best player in the Tottenham squad, young midfielder Harry Winks did not pick out Harry Kane and he explained exactly why. "Mousa Dembele for me," Winks told Sky Sports. "He has got sheer power, pace, his strength and his technique as well. The way he can beat any player facing them up, for me he is the best player."
Just as significantly, when Dembele has faced up his marker and beaten the press, he can pick out passes better than the rest too. His pass completion rate in the opposition half is superior to that of any other midfielder in the Premier League. He is the only midfield regular to have found a team-mate with more than 90 per cent of such passes this season.
Pochettino, of course, is well aware that Dembele is a player who does things differently to everyone else. The Argentine roomed with the great Diego Maradona and played with the Brazilian magician Ronaldinho, but he was happy to rank Dembele alongside them when reflecting on the most extraordinary players that he has come across in his career.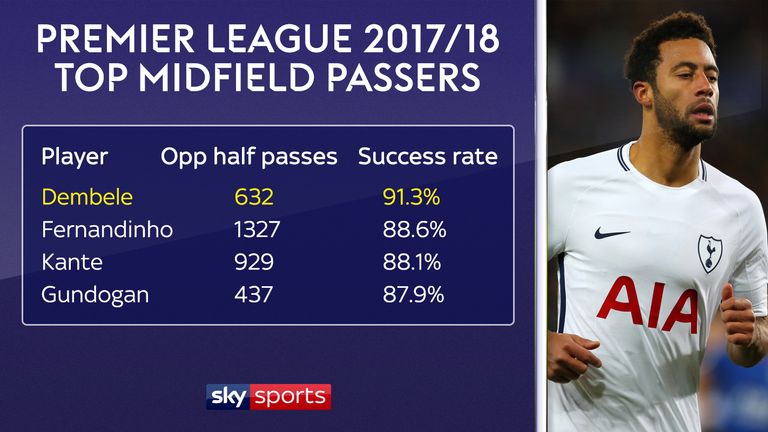 "In my book he will be one of my genius players that I have been lucky to meet," he said in March. "One was Maradona, the others Ronaldinho, [Jay-Jay] Okocha and [Ivan] de la Pena - he was a genius too - and Mousa Dembele. We always told him that if we had taken him at 18 or 19 years old, he would have become one of the best players in the world."
It is difficult to miss the hint of regret in that statement. The sense of an opportunity wasted. Dembele began his career as a forward, one who idolised Patrick Kluivert and was even likened to him in his youth. He won the Eredivisie after scoring 10 goals in 23 games playing as part of the front line for Louis van Gaal's AZ Alkmaar team of 2009.
It was only under another Dutchman, Martin Jol, that Dembele was eventually switched to midfield. He had bounced around between positions until Jol - who described him as "the best player on the ball" that he'd ever seen - deployed him in the centre of the pitch for Fulham away to Chelsea on Boxing Day of 2011. But, by that stage, Dembele was already 24.
No wonder Pochettino wishes that he had got hold of him a decade before he did. That game against Juventus, that dominant display against one of European football's super powers, was the 30-year-old Dembele's first Champions League appearance in the knockout stages of the tournament. It is a stage that he should have enjoyed far earlier.
He is making up for lost time now, but that big frame remains a concern. "We must be careful about his fitness," Pochettino warned earlier this month. An ankle injury disrupted Dembele in pre-season and only now is he beginning to find his best form again. It has taken lots of work with the sports science department to get him strong and fit once more.
The recent matches against Arsenal and Juve show just how important that Dembele still is to this Tottenham team. As La Gazzetta dello Sport pointed out, he remains "one of Pochettino's irreplaceables" and that is not merely due to the money it would cost to do so. It is because there is simply nobody else in the game who plays it quite like Mousa Dembele.
Watch Crystal Palace v Tottenham live on Sky Sports Premier League HD live from 11.30am this Sunday.