Ref Watch: Man City had 'certain' penalty against Man Utd, says Dermot Gallagher
Last Updated: 09/04/18 3:37pm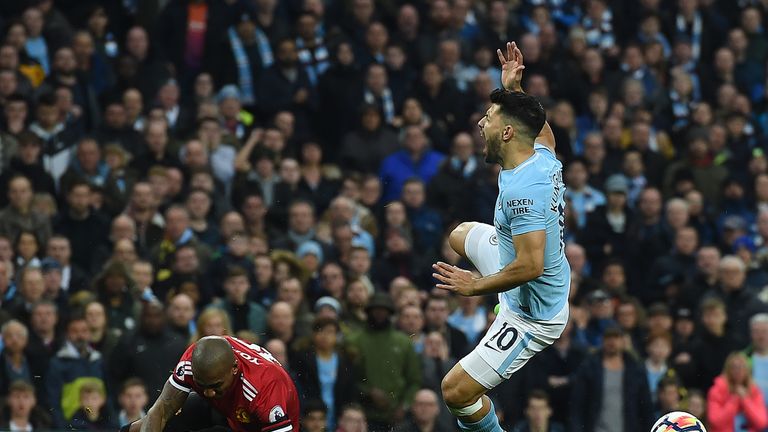 Were Manchester City unlucky not to have been awarded a penalty against Manchester United? Could Ashley Young have seen red? Should Chris Smalling's winner at the Etihad have stood? Dermot Gallagher has his say in this week's Ref Watch.
As always, there were a number of hotly-disputed decisions in the Premier League over the weekend. Not to worry, though, as we have Dermot here to run his eye over those big calls.
So whether it is spot-kicks not given, disputed sending-offs or tight offside calls, the former top-flight official gives us his verdict...
INCIDENT: Ashley Young brings down Sergio Aguero in the box
DERMOT'S VERDICT: Penalty and yellow card
DERMOT SAYS: It is certainly a penalty and once you give the penalty, you make your own mind up (about which card to give). Many people said 'red card', but the fact he [Young] gets the ball would influence the ref to go yellow card. If you watch it, Martin [Atkinson] cuts the assistant out very quickly, saying 'I'm not giving it'. And at that point, he has closed his options.
INCIDENT: Young handles the ball in Manchester United box
DERMOT'S VERDICT: No penalty, accidental handball
DERMOT SAYS: He [Young] has gone with his head first of all and slipped. And the fact it has hit him like that and he is on the ground, I think the ball has hit him, his arm is already there and I do not think he can take it away.
INCIDENT: Smalling scores United's winner
DERMOT'S VERDICT: Just onside
DERMOT SAYS: What I would say in defence of the assistant - and I do not have to defend him because I believe he has got it right - is that everybody watching it would say that there is no way an assistant can be convinced he [Smalling] is offside. And that is the difference. You have to be convinced he is offside and in that situation you cannot be 100 per cent convinced he is.
INCIDENT: Jack Wilshere clashes with Jack Stephens after Arsenal midfielder pulls Southampton defender's shirt
DERMOT'S VERDICT: Yellow card
DERMOT SAYS: He [Wilshere] has stopped a promising attack, that is all Wilshere is guilty of and that is a yellow card offence.
INCIDENT: Marko Arnautovic goes down in the area under a challenge from N'Golo Kante
DERMOT'S VERDICT: Penalty, but impossible for the referee to give from his position
DERMOT SAYS: Toughest decision of the weekend for a referee. The argument is, does he [Kante] get the man first? I think he does get Arnautovic and then he plays the ball to the left. But because of where the ball travels, the referee is convinced that Kante has played that ball. Everything the referee sees tells him that Kante got that ball.
INCIDENT: Davy Propper is given a red card for a tackle on Jonathan Hogg
DERMOT'S VERDICT: Red card
DERMOT SAYS: He [Propper] has been given a red card because he has gone sideways and then caught him [Hogg] with his studs on the ankle. Both players slid in and I spoke to some other referees over the weekend and that was the conclusion - he got a red card because he went in with his studs showing and caught him on the ankle.
INCIDENT: Harry Maguire is shown a yellow card after an altercation with Dwight Gayle
DERMOT'S VERDICT: Only a caution
DERMOT SAYS: The law was changed and it has to be what is deemed malicious or brutal and that is regarded as an aggressive push. Referees see it as that and that is what he [Stuart Attwell] decided.
INCIDENT: Paul Dummett trips Riyad Mahrez in the box
DERMOT'S VERDICT: Penalty
DERMOT SAYS: I do think this is a penalty. He [Dummett] gets the man first. The ball just rolls away, he [Mahrez] is clever, he moves the ball slightly to the right and Dummett can't get it and I think he trips him.