Premier League grades: Top marks for Liverpool, but Man Utd 'could do better'
Last Updated: 16/04/18 11:17am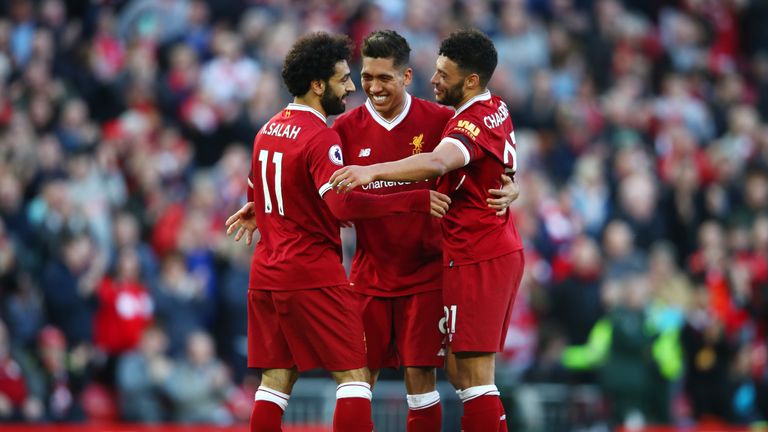 Who was top of the class in the Premier League at the weekend, and who needs to do more homework? Danny Mills gives us his grades...
Liverpool - A
Liverpool were outstanding yet again. After their incredible win in the Champions League, the Merseyside derby draw, all of those things with the emotion that has been going on, another 3-0 win is just brilliant. They didn't dip in their quality on Saturday which was good to see.
West Brom - A
Darren Moore - unbelievable. A lot of people say what a great guy he is, but he genuinely is a really good lad. You don't mess with him, he's about 6ft 9in and 19 stone of muscle so he's not the sort of manager you're going to argue with if he tells you to do something.
There aren't many teams that go to Old Trafford and win so to go there and get that result when you're bottom of the league, just taken over and it's your first managerial appointment as such, it's an outstanding result. Absolutely brilliant from Darren Moore.
Burnley - A
Burnley are just outstanding aren't they? It's a straight A, simple as that. They are two points behind Arsenal which is absolutely brilliant for a smaller club with such a small budget. Sean Dyche gets a triple A for the work he's done. Without him, what would Burnley be? That would be their only concern.
Manchester City - B+
For Man City to potentially lose four on the spin was always highly unlikely with the quality that they've got although they clearly have one or two issues. Sergio Aguero didn't start the game and John Stones is being left out for whatever reason, but Man City are a great side. They are absolutely superb, and to bounce back from disappointments to effectively get the job done for the Premier League title, even though they didn't know, it was superb.
Newcastle - B+
Newcastle have done a phenomenal job. What Rafa Benitez has done with a restricted budget and his recruitment is great. He got them up last year and into the Premier League, and Sunday's result against a quality Arsenal side is fantastic.
Crystal Palace - B+
It was a fantastic win for Crystal Palace. We looked at them at the start of the season and you're thinking 'that's it, they're gone, they've got no chance of staying up', but Roy Hodgson has somehow managed to get them to the brink of almost safety and they're nearly there.
They did concede a couple of goals though, so I think a B+ is fair.
Huddersfield - B+
They are similar to Burnley, what David Wagner has done there, he has transformed the club. They're not the most glamorous club in the world or the most aesthetically pleasing but they are getting the job done and once again, they are so close to safety with a good win on Saturday.
Chelsea - B
Chelsea were the opposite to Southampton, they started off quite badly but improved. The half-time school report was 'must do better' and they did in the second half.
Swansea - B
A steady result for Swansea, it keeps them in the hunt to avoid relegation and just outside the bottom three. I think they deserve a B because of the magnitude of the game.
What always happens, and there's no rhyme or reason behind it or data to say why it will happen, but every single season, somebody out of the blue will win two or three of their last five games and get themselves out of trouble. It is just one of those strange anomalies that happens and Swansea have put themselves in a really decent position to get out of it but I think it will be touch and go towards the end of the season.
Leicester - C+
Leicester are a steady team, they have good games and bad games. We all talk about what happened two or three years ago now when they won the Premier League, but they are now a steady, mid-table side and were kept out well by Burnley.
Tottenham - C
Spurs against Man City flattered to deceive at times. Man City dominated for long spells and they did manage to get themselves back into it through Christian Eriksen with a fortunate goal, they had a little bit of luck with that, but even afterwards, Man City really dominated and it was a real chance for Spurs to cement their place.
Brighton - C
Just on the weekend's performance, I'm going to go with a C because they scored two goals which is good for them but to concede three, even though it was away from home, it is a little bit disappointing. But they are nearly safe and any other week, scoring two and not winning the game, they may have got a little bit less.
Watford - C
Watford are up and down, similar to Leicester. They haven't won in their last five Premier League games which will be a concern but I don't see them being dragged into a late relegation battle.
Everton - C-
Sam Allardyce has done an unbelievable job. He came in and was told he had to keep Everton in the Premier League - he's done that - and then the expectations grow a little bit. It hasn't been quite attractive enough for Everton fans, but he has done a job. Give him next season and things might change, but at the moment, they have got better players than some of their results are showing at the moment.
Against Swansea, you'd be hoping to win that game with the quality they've got in the side after a good battling draw last week in the Merseyside derby, you'd be hoping for a little bit better.
Arsenal - D
Their away form has been terrible. I assume they are starting to concentrate on the Europa League, that's their only hope of getting back into the Champions League although they have a very difficult draw against Atletico Madrid, but with Sunday's performance against Newcastle, you have to give them a D.
Manchester United - D
I think Man Utd are looking at other things. It will be the FA Cup for them now and they put all their effort into last week. The last thing they wanted was for Man City to win the title against them, they put all their efforts into that, and it's almost like they've lost a little bit of interest in the Premier League. It's a 'could do better' for them against the league's bottom side.
Southampton - D
Southampton started off absolutely brilliantly. For the first half of the game, they were an A but sadly, by the end of 90 minutes, you've got to say that they dropped down to a D. To concede three goals like that is quite bad and really poor.
Bournemouth - D
On the weekend's performance, you'd have to give Bournemouth a D. They didn't really put up much of a fight at all but of course, across the season, they've done much better than that and it looks like another season in the Premier League for them which is great.