Real Madrid want to sign Harry Kane, says former club president Ramon Calderon
Last Updated: 25/04/18 10:23am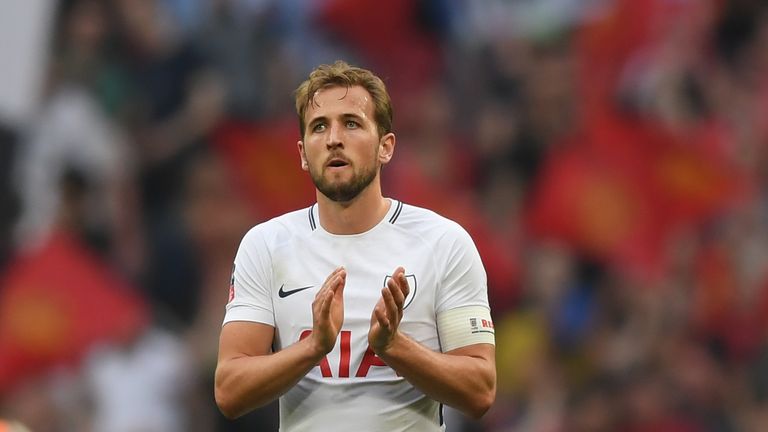 Tottenham striker Harry Kane is a transfer target for Real Madrid, according to the Spanish club's former president Ramon Calderon.
Kane is under contract with Spurs until 2022, but has been touted as a potential signing for Real.
Former Real president Calderon believes Kane is on their wishlist, along with Bayern Munich striker Robert Lewandowski.
"The objective for Real Madrid, no doubt, is Kane," Calderon told The Sun.
"If they want a player for the next five or six years they are going to go for Kane but [Spurs chairman Daniel] Levy is going to ask a fortune for him.
"As far as I know, Tottenham is not willing to let him go but Bayern also say Lewandowski is not going anywhere.
"[Bayern chief executive Karl-Heinz] Rummenigge has said he can bet that he will be in Bayern next season but we have heard that so many times, and in my experience it is the player who has the final decision of where to go."
Calderon also told Sky Sports: "Any team would like to have Harry Kane...But first of all the player must want to leave and then his club must be willing to let him go. I find that difficult knowing Tottenham are a rich club and are going to have a new stadium, so it's not easy for anyone who tries to get him."
Lewandowski, who has scored 44 goals in 47 games for club and country this season, comes up against Real in the semi-finals of the Champions League on Wednesday night.
Ex-Bayern midfielder Stefan Effenberg has said that he thinks Lewandowski should be allowed to leave for Real if he wishes.
"When Robert says he wants to leave, the club will have to open the doors," he told AS.
"What he wants is to win the Champions League and at Bayern he has every chance of doing it."