Dermot Gallagher
Former Premier League referee
Ref Watch: Timothy Fosu-Mensah and Joe Ralls should have seen red, says Dermot Gallagher
Last Updated: 24/09/18 4:04pm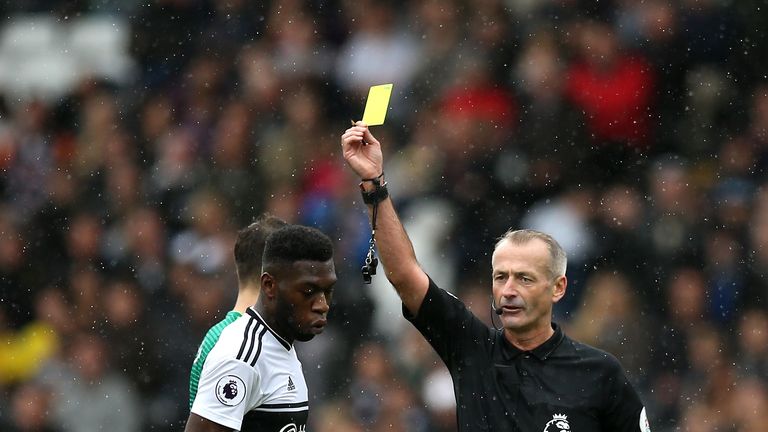 Dermot Gallagher returns with the latest edition of Ref Watch where he looks at Mohamed Salah's offside goal plus red card incidents at Fulham and Cardiff.
It was another tricky weekend in the Premier League for referees with incidents from Tottenham's win at Brighton and Arsenal's 2-0 victory against Everton also dissected.
Here, former Premier League referee Gallagher gives his verdict on some of the big decisions...
INCIDENT: Timothy Fosu-Mensah tackled Troy Deeney, sending the Watford captain to ground, clutching his shin. Replays show that the Fulham defender dragged his studs down Deeney's leg, but referee Martin Atkinson only gave Fosu-Mensah a yellow card.
DERMOT'S VERDICT: Incorrect decision.
DERMOT SAYS: It should have been a sending off and in Martin's defence, his vision is blocked by Jean Michael Seri. Sometimes you're lucky, sometimes you're unlucky. At Brighton, Chris Kavanagh was in a great position but here, whatever Martin did, he wouldn't have been able to get round to the right position - it's impossible. When you see it, Seri is directly in front of him, he knows the tackle is not good which is why he gives a yellow card but he hasn't seen the full outcome.
INCIDENT: Joe Ralls tackles Ilkay Gundogan having come from a long distance, sticking out his leg and catching the Man City midfielder with his studs up. It sent Gundogan flying over but referee Michael Oliver only showed Ralls a yellow card.
DERMOT'S VERDICT: Incorrect decision.
DERMOT SAYS: It did warrant a red card and there's no doubt about it, it's not a nice tackle. He's seriously endangering Gundogan's welfare. For whatever reason, Michael hasn't realised. Whether he is on top of it and hasn't got a view of how far he's come or the speed, I don't know. He'll look at it this week and look at the root cause and remedy. How did you arrive at this decision and how can we make sure that, if this decision happens again next week, it is dealt with better? It's not just for Michael, it's for everybody.
INCIDENT: Mo Salah got away down the right before putting the ball back into the box. He is out of play as James Milner sees two shots blocked by the Southampton defence before Salah came back into the six-yard box to slot home. However, he is flagged for offside and the goal is ruled out.
DERMOT'S VERDICT: Correct decision.
DERMOT SAYS: It is a brilliant spot by the assistant. He is off the pitch so therefore he is deemed on the goal line. As he comes back onto the field, he actually is offside as there is only one defender in line with him so it is a brilliant spot.
INCIDENT: As Kieran Trippier delivered a free-kick for Tottenham, it hit the arm of Glenn Murray before going wide. Referee Chris Kavanagh pointed to the spot to award Spurs a penalty for handball.
DERMOT'S VERDICT: Correct decision.
DERMOT SAYS: It's handball, his arms are up. What's really interesting is that at the start of the season, the referees go into the clubs and explain what they are going to penalise and what they won't. One thing they say, before that free-kick is taken, Chris Kavanagh will say to people in the wall 'if you raise your arms like this, I'm going to give a handball'.
The referee has taken the perfect position, behind the kicker so he can see where the ball is angled in. he has got a clear view of that and has made the correct decision. He has a face on view and it is an absolutely perfect line.
INCIDENT: Pierre-Emerick Aubameyang scored the second goal for Arsenal, but was clearly offside as Aaron Ramsey played him the ball. However, it was not spotted by the officials and the goal stood.
DERMOT'S VERDICT: Incorrect decision.
DERMOT SAYS: If you look at the assistant just before that, he was slightly out of position so he's looking across and hasn't got the right angle. It's a momentary blip of concentration. Those incidents, I say it week in and week out, you've got to take a photo in your mind of where was he when the ball was last played so when that ball is played by Ramsey, you think 'oh that's where he was'.