Mauricio Pochettino calls for clarity on VAR after Spurs' Champions League heroics
Watch Man City vs Tottenham live on Sky Sports Premier League on Saturday from 11.30am
Last Updated: 19/04/19 7:58am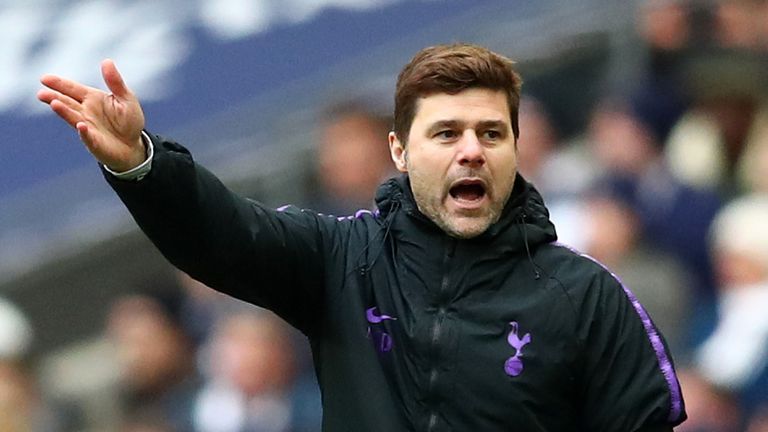 Mauricio Pochettino says there needs to be more clarity around the use of VAR in football.
The technology denied Raheem Sterling a late winner in Manchester City's Champions League quarter-final against Spurs, ruling his effort out for an offside in the build-up to send Pochettino's men through to the semi-finals on away goals.
Pochettino was an advocate for VAR even prior to Wednesday's game but says more work needs to be done for it to be embraced by the sport.
"Without VAR no one is going to check Sterling's goal," he said. "If you watch the linesman he was waiting to check the VAR.
"I am pro-VAR but we need to be knowing how we are going to use it. We need to make clear how and why the ref will check when we will use it.
"This is what needs to happen. I am all for technology helping the ref."
Pochettino says Spurs are in the Champions League semi-finals because they deserve to be, not because of VAR, but admits had Sterling's stoppage-time goal stood it would have ranked as the worst moment of his career.
"It was in the moment that I threw my jacket and I was a few seconds I had a few bad ideas and feelings," he said.
"In that moment it could have been the lowest moment. In that moment you start to think why and review the decision, so many things happen quickly in your mind."
Pochettino says steering Espanyol clear of relegation in 2009 - in his debut season in management - remains his "best emotional achievement" but thinks Tottenham's victory over Manchester City could prove a major moment in the club's history.
"We were very happy, it was a fantastic moment, massive happiness sharing this achievement," he said.
"I don't believe [it is a turning point], there is still a lot of work to do it.
"We want to get to the level we dream to be but this is a great way to build our reputation and our history."