Saha - We need to strengthen
Louis Saha says it is vital Tottenham strengthen their squad in the summer and not allow their best players to leave.
Last Updated: 30/04/12 10:54pm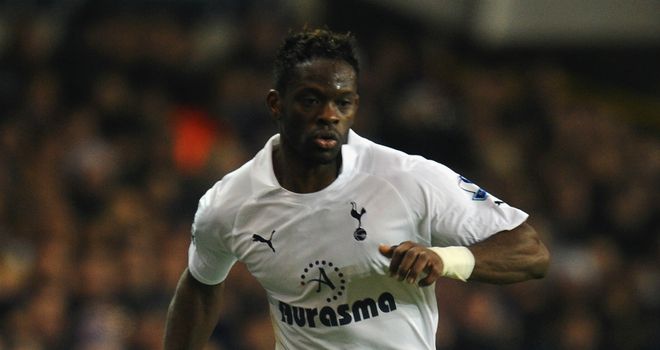 Louis Saha says it is vital Tottenham strengthen their squad in the summer and not allow their best players to leave.
Gareth Bale has hinted that he would look for a summer move away if Spurs fail to qualify for the UEFA Champions League, whilst Luka Modric could also be tempted to leave for a club playing in Europe's top club competition.
The French striker, who completed a surprise move to White Hart Lane on deadline day, says it is "very important" that Tottenham's squad is stronger, not weaker, next season.
"Especially when you're trying to win the championship," he added at the launch of his autobiography.
Saha knows what it takes to win the title, having lifted the trophy three times during his time at Manchester United, and he believes Tottenham have the potential to be champions of England.
"I fully believe that," he said.
"I've been in some squads now and I haven't seen as much potential - a growing club, changing facilities next season, and I think there are many good players.
"If things stay in the same dynamic, I'm more than positive."
Harry Redknapp looks set to stay with Spurs after the FA approached Roy Hodgson about becoming the new England manager, and that is sure to delight Saha, who was full of praise for his new boss.
"It's massive when you have a manager who believes in you and makes you grow very quickly as a player," he said.
"Confidence wise, it was amazing - that's for sure.
"He's got his eyes on trophies, he wants us to perform and to make sure that the club's winning things.
"So, when you've got that, you can expect things to move in the right direction."
That direction is a return to the Champions League, a competition Saha has not played in since missing the 2008 final in his last season at Old Trafford.
The pain of being forced to sit out United's Moscow triumph through injury is what is fuelling Saha's desire to get back in the big time next season.
"The low (in my career) is that night in the Champions League where I missed the final," said the striker, who is hoping to be offered a new contract when his six-month deal expires this summer.
"I'm a very ambitious person. I don't play to participate only.
"I want to win the biggest competitions if it's possible. So if I can participate and win it in, I'll try my best."
Fourth-placed Spurs have three games left to secure a Champions League spot, starting with Wednesday's trip to Bolton.
Saha said: "We need to win, that's for sure.
"We win three games, we are in it. That's simple.
"It's not trying to look at other teams and results.
"If you are focused on your quality and ability to win those games, it should be fine."