Tottenham 'irresponsible' for allowing Hugo Lloris to play on against Everton
Tottenham have been slammed as "irresponsible" for allowing Hugo Lloris to play on against Everton.
Last Updated: 04/11/13 12:25pm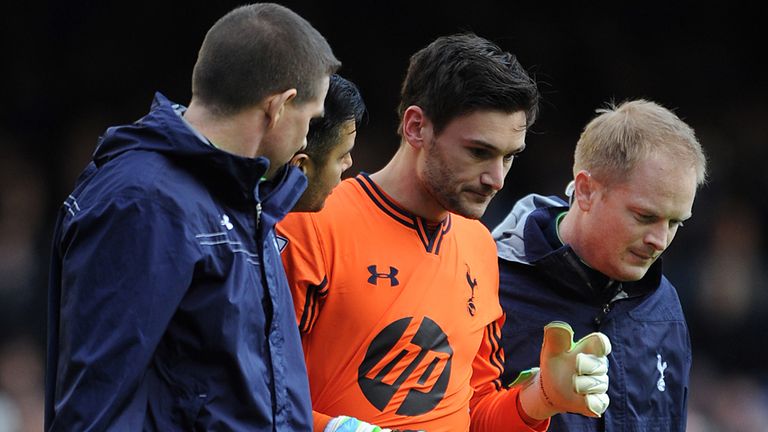 The France international was caught in the head when he collided with Romelu Lukaku late on in Sunday's goalless draw.
Spurs boss Andre Villas-Boas defended his decision to let Lloris continue after a lengthy delay, claiming the 26-year-old had seemed "focused and determined to continue".
But leading brain injury charity Headway said the club had displayed a "cavalier" attitude to the player's health, and that view has been supported by FIFA's chief medical officer.
Headway CEO Peter McCabe told Sky Sports News: "If someone has been knocked out on the pitch then they should be removed and properly assessed. Asking the player if he is ok is ludicrous, it seems to us.
"You risk so much - no-one can see inside somebody's skull. It is dangerous and irresponsible to leave someone in that situation."
McCabe said he is in no doubt who should have the final say on whether a player continues or not.
"It always has to be a medic. It can't be the player because the natural inclination of a footballer is that they want to continue. His manager described him as showing real character. To me that isn't a decision a player should make.
"He wasn't in a fit state to make that decision. It was quite apparent that some of his team-mates, having seen that sickening collision, were encouraging him to go off. And they had a perfectly adequate replacement waiting to come on. So it seems ridiculous that he should be placed in danger in that way.
"We think the FA needs to give clearer guidance to clubs. If somebody is knocked out we believe the FA should have a protocol that requires the player to leave the pitch and be properly assessed."
FIFA's chief medical officer, Professor Jiri Dvorak, agrees with Headway's stance, saying: "The player should have been substituted. The fact the other player needed ice on his knee means it's obvious the blow was extensive.
"It's a 99 per cent probability that losing consciousness in such an event will result in concussion."
Villas-Boas admitted after the final whistle that his goalkeeper had not remembered the moment of impact.
"The medical department was giving me signs that the player couldn't carry on, because he couldn't remember where he was," Villas-Boas, speaking after the stalemate, said.
"But he was quite focused and determined to continue, so when you see this kind of assertiveness it means he is able to carry on, and that is why it was my call to delay the substitution.
"You have to make a decision in situations like this but from my knowledge of Hugo he seemed okay to continue."
He added: "It was a dreadful situation. You can imagine the impact of a knee going against a goalkeeper's head.
"It happened unfortunately to Petr (Cech) so it is good that the players immediately went to him and it is very fortunate that it was nothing serious."