Emmanuel Adebayor faces a fight if he wants to play for another English club before January.
Sky sources understand he has been told that he cannot join another domestic team until the next transfer window, as he was registered with Tottenham at the start of this season.
The 31-year-old could appeal to FIFA, who would need to agree that there was a legitimate reason for his contract being cancelled by the north London club on Sunday.
If Adebayor wants to play club football immediately, however, he can join a team abroad straightaway.
The former Arsenal and Manchester City striker was told at the end of last season that he was not part of Mauricio Pochettino's plans at Spurs and the entire summer was spent trying to find him another club.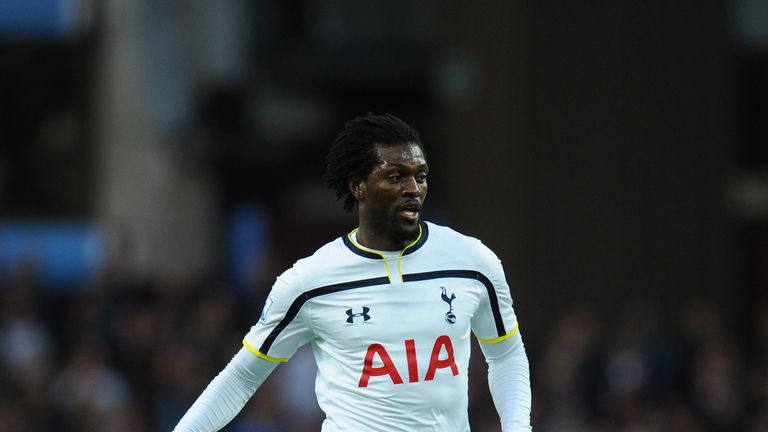 Sky sources understand he visited Aston Villa but turned down the chance to play under former Tottenham head coach Tim Sherwood, and then a deadline day move to West Ham also broke down.
Adebayor was not named in either Tottenham's Premier League or Europa League squads and, with just a year left on his contract, he was released by mutual consent
Adebayor, who signed for Tottenham after a year-long loan spell from City in 2012, released a statement which said: "I can confirm that I have reached an agreement with Tottenham Hotspur to terminate my contract.
"I wish to thank the club and the fans for my time there and I wish them well for the forthcoming season."
And a statement from Spurs read: "We can confirm that we have reached a mutual agreement with Emmanuel Adebayor which will see him released from his contract with the club. We wish Emmanuel well for the future."
Villa boss Sherwood said last week that he "would not hesitate" to sign Adebayor if the chance resurfaced but, pending any interference from FIFA, he will have to wait until the New Year to explore the idea.
Sherwood said: "If he had the desire to want to come and play football again, I would have taken him in a heartbeat, but we still have to respect his decision, whatever he makes. It's his - I can't influence it.
"I'm disappointed for him because he's not going to play. He's too good a talent - I've seen that first hand - to not play any football, but unfortunately I don't think there's any window open for him now.
"If he wanted to play in Qatar, he would have gone there a long time ago. It's hard to say. I was going to say he's not in it for the money but, genuinely, he wants to play at the top level.
"It's not financial. It's easy to say that when you're on his money, but he would genuinely play for nothing. It's not his fault he's not part of their plans."