Harry Kane has similar mindset to Alan Shearer, says Tony Gale
By Liam Grace
Last Updated: 01/05/18 12:30pm
Harry Kane has a goalscoring mindset similar to that of Alan Shearer during Blackburn's title-winning season, says Tony Gale.
Kane scored his 27th Premier League goal of the season in Tottenham's 2-0 win over Watford on Monday, but trails Mohammed Salah, who leads the Golden Boot race with 31 goals for Liverpool.
The England striker was the subject of online ridicule for claiming a goal in Spurs' away win at Stoke in April, which was approved by the goal accreditation appeals panel after Christian Eriksen's free-kick appeared to brush his shoulder.
Gale, however, defended Kane and compared his attitude to that of former team-mate Shearer during Blackburn's 1994-95 title-winning season.
"Salah is the firm favourite but Kane won't give up," he told Premier League Daily. "He loves scoring goals and he's very conscious that he wants to win it.
"I played with Shearer. When we won the league that year, Shearer had the hump because Chris Sutton was ahead of him early on in the season.
"I used to wind him up and say 'Sutton's two ahead' and he would say 'but I've got more assists' and it was like that. Shearer ended up going ahead but they still got a lot of goals between them.
"Kane doesn't have a striking partner but he has two wide players and one from deep, Dele Alli. Kane is the focal point of it all. He just wants to score goals and you've got to have that selfishness."
Tottenham have tightened their grip on another top-four finish thanks to Kane's exploits - having opened up a five-point lead over fifth-placed Chelsea on Monday night - but manager Mauricio Pochettino has come under fire for not delivering a trophy since he took the reigns in 2014.
"I think he'll stay," Gale said. "There's been a lack of appreciation for what he's done so far.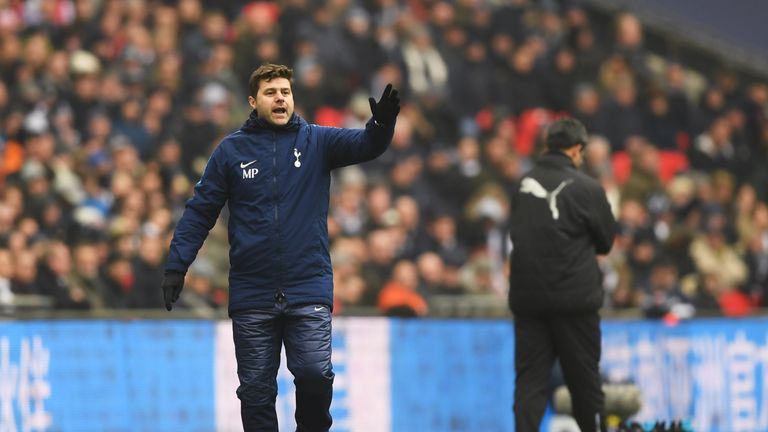 "Because Tottenham haven't won trophies everyone's getting on his back but Spurs are a much better club since he arrived.
"That consistency, playing badly last night for example, and still winning the game. That's what you've got to be if you're a good team.
"He's proved that he can bring in Kieran Trippier and Ben Davies [to replace Kyle Walker and Danny Rose] and not affect the side too much.
"I think he's a quality manager. If Spurs don't pull out all the stops for him, not just for him but for what he needs in terms of his team, then they'd be crazy."