Aston Villa have dismissed manager Tim Sherwood after just eight months in charge.
Andre Ayew's late winner for Swansea on Saturday condemned Villa, who had taken the lead, to their sixth consecutive Premier League loss and eighth in 10 league games.
The 2-1 defeat left Villa on four points with a trip to Southampton in the Capital One Cup coming up on Wednesday.
A statement on the club website read: "The board has monitored the performances closely all season and believes the results on the pitch were simply not good enough and that a change is imperative.
"However, the club would like to place on record its sincere thanks to Tim for all his efforts during a difficult period last season and for the many positive contributions he has made to the entire football set-up during his time with the club.
"We wish him well in the future. A search for a new manager has commenced and the squad will be managed in the interim by Kevin MacDonald."
The club added that assistant manager Ray Wilkins, first-team coach Mark Robson and performance analyst Seamus Brady had also left with immediate effect.
Sky sources understand Villa have approached former Lyon manager Remi Garde, but he's one of several candidates being considered.
It is also understood that the club are not in a rush to appoint a Sherwood successor with MacDonald taking charge for Wednesday and possibly against Tottenham next weekend.
Sherwood remained typically defiant on Saturday evening and insisted the club had the quality to turn around their fortunes. He also stayed calm concerning a perceived lack of support from the Aston Villa hierarchy.
However, Villa's defeat seems to have been the final straw and news of his departure was announced at Sunday lunchtime.
Sky Sports football pundit Alan McInally, who played for Villa from 1987-89, told Sky Sports News HQ: "I don't see any leaders in that team and that's the problem. 
"It's a big football club. I think Tim thought from the players there, that there was quality on the team regardless of the money spent. 
"But there's not a lot of quality at Aston Villa and that's why he's left. He said all the right things but I didn't ever believe it."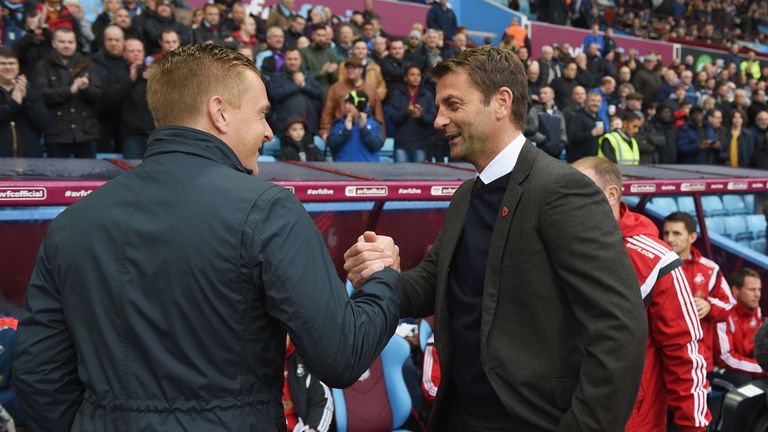 Sherwood arrived at Villa Park on February 14, signing a contract until the summer of 2018. He replaced Paul Lambert after a winless run of 10 league games in which they scored just two goals.
He started his managerial career at Tottenham, stepping in for the sacked Andre Villas-Boas in December 2013, but was dismissed at the end of that season.
After losing to Swansea, Sherwood stated he had not had any contact with Villa's owners and that he would continue working flat out to improve the team's situation.
The 46-year-old said: "We're in a difficult moment, but I believe we will get out of it and this club will be in the Premier League next season. They have got to improve surely, they have got to improve and I'm expecting them to improve to keep us in the league.
"We survived last season and went to the [FA] Cup final and nobody spoke to me then. So I'm not expecting anybody to speak to me now."
Sherwood also joked he would avoid a call from the board if it wanted to sack him. "I'll just turn my phone off," he said.