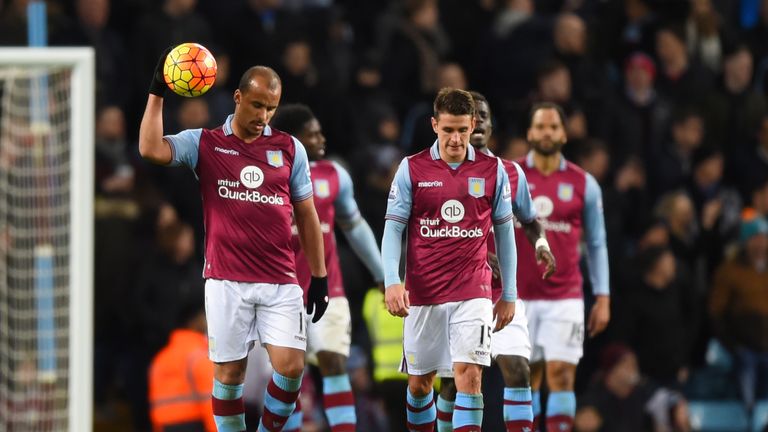 Gabriel Agbonlahor has been thrown an Aston Villa lifeline by new manager Steve Bruce.
The striker has spent his entire career at Villa, save for two early loan spells, and has scored 73 Premier League goals.
But the 30-year-old has not played for the club since March and was training on his own under Roberto Di Matteo before the Italian's sacking.
That will not be the case under Bruce, who has wiped the slate clean as he prepares for his first game against Wolves, live on Sky Sports on Saturday.
Agbonlahor will not be fit for that, but Bruce said: "I'm not really interested in what has happened in the past. As far as I'm concerned this is under my remit.
"Of course managers get problems to deal with but at this moment in time I've got none. I've only been here for 24 hours and as far as I'm concerned the slate is wiped clean for all of them.
"We start again tomorrow. That obviously means Gabby too. He's had his problems and it's fair to say he and I have got to get him into some condition, but that applies to him too."
Bruce was interviewed for the England job earlier this summer but was overlooked for Sam Allardyce and again following the ex-Sunderland boss' abrupt exit last month.
"I didn't quite make it and I've never really thought about it," he said. "When the opportunity came with a phone call from there then it was one of those where the opportunity comes and you take it.
"You can't really look in a crystal ball at what's going to happen. It is all about timing in football. I was flattered and enjoyed the interview, didn't quite get it, but in the future, who knows?"
You can watch Liverpool v Man Utd, plus England's tour of Bangladesh and the British Masters on Sky Sports. Upgrade now and enjoy six months at half price!