Premier League grades: Man Utd stumble, Man City continue to dominate
Last Updated: 12/02/18 10:34am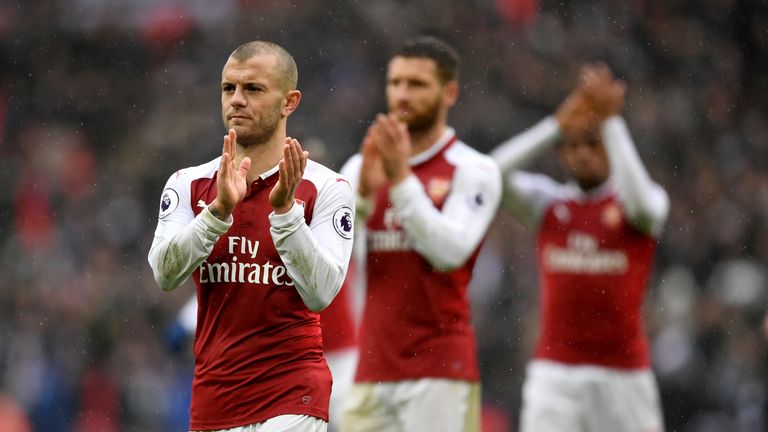 Who was top of the class in the Premier League at the weekend, and who needs to do more homework? Tony Cottee and Tony Gale give us their grades...
Tottenham 1-0 Arsenal
Tottenham: A-
Tony Cottee: The only reason it's not higher is because they didn't score more goals, I thought they were excellent.
Harry Kane could have had three or four to himself. It was a very, very good team performance.
Arsenal: D
TC: I don't think I can give them any higher than that. They were OK defensively in the first half and looked relatively solid for an Arsenal team.
But in the second half they just fell to pieces and were all over the place. They didn't really look like scoring a goal until Lacazette came on and he should have equalised at the end.
These are worrying times for Arsenal, at home they are fine but away they have got a lot to do.
Everton 3-1 Crystal Palace
Everton: B
Tony Gale: I didn't think it was a particularly good game. They edged it and should have won anyway as Palace have so many injury problems.
Sigurdsson was effective again and Rooney as well coming back, I think those two together is the way forward for Everton. Not having both in the team, I can't understand it. When Sigurdsson and Rooney play, Everton are a better team.
Crystal Palace: C
TG: They lost and they lost pretty convincingly but I feel for Roy at the moment. Obviously the new striker (Alexander Sorloth) came in to play with Christian Benteke but they've got Wilfried Zaha and Ruben Loftus-Cheek out and they are probably his two most creative players.
Stoke City 1-1 Brighton
Stoke City: B+
TG: This was a great game, I did the commentary on it and it was such a big ending with Charlie Adam missing the penalty and Jese trying to get the ball off of him which was bang out of order.
Stoke played well in the second half. Bearing in mind they were at home, they should've got the result and didn't get it.
Brighton: A
TG: Brighton, I think, edged it over the 90 minutes. They were the better team. I was particularly impressed with Dale Stephens in midfield, he was excellent.
If he wasn't at an unfashionable club I think we may be talking about him in international terms at the moment.
If Brighton went down I'd think one of the big clubs should go in for him. He went down to non-league and has come back again and he's good player.
Swansea City 1-0 Burnley
Swansea: A
TG: I can't understand how they are getting all these results! Swansea seemed to turn the corner against Watford at Vicarage Road and since then they haven't looked back.
Carlos Carvalhal is obviously doing it with a bit of a smile on his face, he's just given them a bit of a change of scene.
I have to give them an A as Burnley are difficult to beat at the best of times.
Burnley: B
TG: They're just dropping off at the moment and you sense that once they got to a certain number of points they eased off a little bit.
I don't think Sean Dyche would admit to it but the performances and results have dipped a little bit and there's not the intensity there.
West Ham 2-0 Watford
West Ham: A
TC: They needed it, they've got some tough games coming up. I don't think it was a vintage performance from West Ham but they did enough to win on the day.
Arnautovic makes the difference for them. It was a fantastic performance from him.
Watford: C-
TC: I watched them against Chelsea and they were so good. Maybe it was a case of after the Lord Mayor's show for them.
I don't want to be too harsh on them as they have been so good in certain games but it wasn't a good performance.
Man City 5-1 Leicester
Man City: A
TC: We've run out of superlatives for Manchester City. I think in the first half they spluttered a little bit but when you've got a world-class goalscorer, if not the best goalscorer in the world at the moment in Sergio Aguero, you've always got a chance.
His goal record is unbelievable and his fourth was phenomenal. No A+ because they conceded the goal.
Leicester: C
TC: They are just going through a little spell at the moment where they have decent games and bad games.
Not a particularly good result for them considering they conceded five but at least Jamie Vardy managed to score.
Huddersfield 4-1 Bournemouth
Huddersfield: A
TG: The intensity of their game shone through. Recently they've just been trying to defend and have been trying to nick a point here and there.
But it looks like they targeted this game, they pressed right in on Bournemouth and made it difficult. Bournemouth were good last week but again they tailed off.
The pressing, in particular, was very good and it put Bournemouth under pressure.
Bournemouth: C
TG: They just dropped off the pace and it just goes to show that if you do that against anyone in the Premier League you will be punished.
Newcastle 1-0 Man Utd
Newcastle: A
TC: They worked really hard, had a couple of chances and they had the best player on the pitch in Jonjo Shelvey who played very well. His passing was excellent.
They scored a really good goal, it was a lovely little flick from Dwight Gayle and a nice finish from Matt Ritchie. It was a big win for them as they've been on a poor run.
Man Utd: C
TC: In a way they were a little bit unlucky as they had a lot of chances. If one of those early chances goes in it is a completely different game.
Martial missed a couple, Sanchez had a big chance too so if they took those chances they would've no doubt gone on to win the game.
I still think they are spluttering at the moment, the build-up is just too slow and ponderous.
Southampton 0-2 Liverpool
Southampton: C
TG: They didn't really put Liverpool under pressure, they allowed them to cruise. With Champions League football coming up for them in midweek I always think it's a good time to play those teams but they didn't have any intensity in their game and didn't really pose them any questions.
Liverpool: A
TG: Salah and Firmino's link-up and combination play was excellent, they looked solid at the back and didn't give many chances away.
But it was a game they cruised through. Liverpool, like Spurs, are just coming good at the right time.