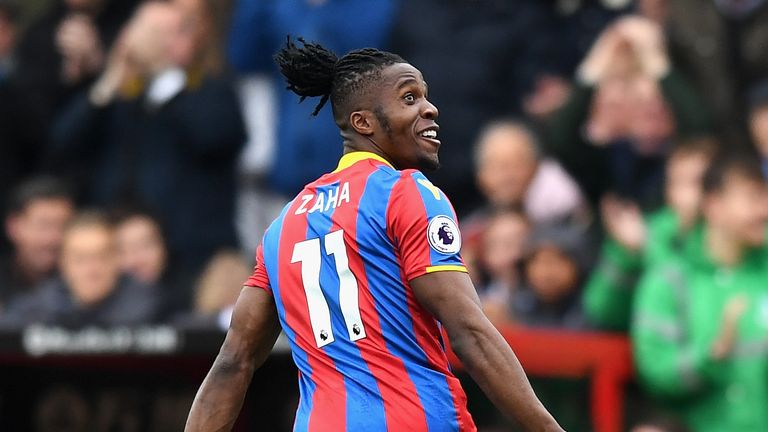 Who were the top performers and who let themselves down in the Premier League this weekend?
We asked Sky Sports News guest Dean Ashton to offer his verdict on the weekend's top-flight action, with the former West Ham striker grading each club on their display.
So, how did YOUR club fare - did they top the class with an A*, does an F show there's room for improvement, or are they somewhere in between? Read on to find out...
Liverpool - C
Liverpool's eyes are obviously on the Champions League, but Klopp still tried to mix things up by playing some of the players who would play in midweek with some fringe players, so you would've expected them to do a lot better. They just never got going, and Mo Salah missing a chance early on did not help.
Stoke City - B
Stoke came to frustrate and get something on the break, and it panned out exactly as they would have liked aside from them scoring. You would have to say it was a decent performance from Stoke's point of view. They've just drawn too many games - you're better to win-lose, win-lose when you're down there. It will help the confidence but it doesn't do much for the table.
Burnley - D
If anyone had more than one goal in this one then you were certainly going to be wide of the mark. The result didn't surprise me, the teams are quite organised, but there wasn't a lot of ambition and Burnley were the home side. With the position they're in and the season they've had, you'd expect them to be a bit more expansive. They're just very set in the way they play.
Brighton - D
Brighton will have done what they expected and set out to do, and generally I've been really impressed with the way Chris Hughton has got his team playing. But both these teams just needed more ambition. I watched a lot of Hughton's Norwich team and that was incredibly negative, but he's got a bit more flair and threat at Brighton without losing that defensive unit.
Crystal Palace - A*
It's a result they have been capable of - they've got players who can hurt you, Wilfried Zaha especially is hard to handle. He's very unpredictable and any team in the league would struggle to handle him. Ruben Loftus-Cheek and Christian Benteke can be hard to handle on their day. Maybe it's justified Roy Hodgson saying earlier in the season about their injuries, and with players coming back getting that result.
Leicester - F
The players have to take a lot of flak for the capitulation. Claude Puel will, obviously, but to go down 5-0 at this stage of the season is not really acceptable. You can accuse them of being on the beach already when you see performances like that, and they've had other games where they've shown no ambition recently too. It's obvious that with nothing to play for they're taking the easy route.
Huddersfield - C
Huddersfield are suffering, low on confidence and not scoring a lot of goals. They just look frightened. I wouldn't say the result was anything too bad for them, it's difficult down at the bottom. They've given it a go this season with the players they've brought in, but look at their squad - it would be an unbelievable achievement if David Wagner keeps them up.
Everton - A
This result didn't surprise me. Everton are in decent form and I expected them to go there and be relaxed, and you saw that with Theo Walcott and Cenk Tosun and the way they play. They've got some players back recently, Seamus Coleman and Leighton Baines, they've got the quality but they've not been as relaxed during the season as they would had liked. It makes a big difference.
Newcastle - C
They're safe and while I don't think Newcastle necessarily went off the boil, they had some chances and it wasn't through a lack of effort, but having taken the intensity away from their play it's all it takes to get beaten in the Premier League.
West Brom - B
You've got to give Darren Moore a lot of credit. He's changed the attitude of the players, but you've got to ask why they can be so poor under one manager and then so good under another. It says a lot about their mentality and how they approach games. Maybe it's too little, too late, but Moore has given himself a great chance of having a look at the job.
Southampton - A
The one thing you need to do in the bottom three is win games, not draw, because it puts nerves into the teams above you. Swansea will just be thinking about how one more defeat could put them in the relegation zone all week. It was a fantastic result, and they've got players who can hurt you.
Bournemouth - D
Defensively Bournemouth looked really poor, they have one of the worst defensive records this season and it's something Eddie Howe has to address. They can't go along playing lovely football and shipping goals. They're a real yo-yo club and need Eddie, who has been very loyal to the players who have got them to where they are.
Swansea - C
You could tell with how they conceded the goal they were nervous, and lacking confidence. They didn't press, they sat off, and I thought it could be three or four after the first half-hour. They came back into the game well, but even with the Ayew brothers they don't look like they're going to hurt teams at the moment. They'll be looking over their shoulders now.
Chelsea - B+
You see teams who can just enjoy it a bit more when they look like they're out of it, and maybe Chelsea are one of those. With the FA Cup final coming up, all the players will be at their most intense because they want that starting spot. That'll play into their hands, I think. It was more like the Chelsea of last season, and they looked strong defensively.
West Ham - F
They were really, really poor. Obviously Man City were superb, but you've got to show more fight and have better organisation. One of the goals was four City players against two West Ham defenders. That's just not good enough. Part of their issues are game management, but the way they approach games you have to look at the manager too. There's a lot of things that need addressing.
Manchester City - A
Pep doesn't weaken his teams much for any game and I love that. They want to beat records, obviously, but it's like he can't bear the thought of his teams being beaten easily. They are superb and just don't let up.
Manchester United - C
In the first 20 minutes, half an hour, they were really good. They got the goal and could've had another couple, but then they went back into their very slow, methodical play which is frustrating to watch and easy to defend against. But Jose Mourinho won't care - he stuck Marouane Fellaini on, got the goal and the win.
Arsenal - B
I was impressed with them. When Manchester United eased off I thought their youngsters thought they had them contained and tried to hit them on the counter, which I thought they did well. I think they'll take a lot from the game. [Ainsley] Maitland-Niles was magnificent, but I've been impressed with him for a while. The senior players' approach was good too - Henrikh Mkhitaryan played very well.