Premier League: 10 games to go, 10 things to know - title race, Europe, relegation and more
By Gerard Brand and Jack Wilkinson
Last Updated: 01/03/19 2:41pm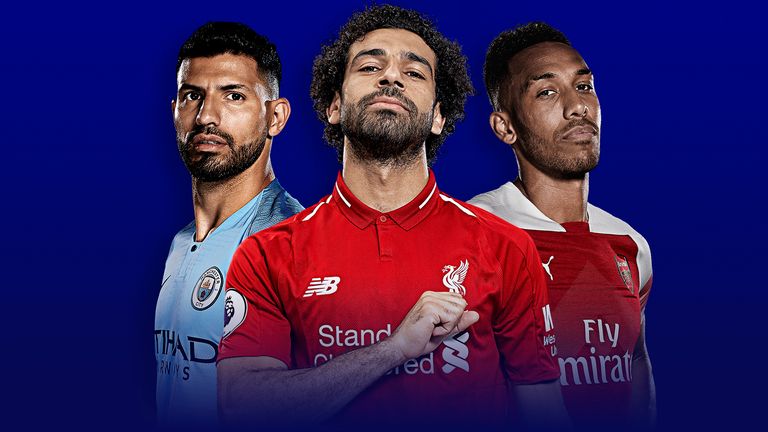 As we approach the final 10 matchdays of the Premier League season, we look at 10 key things you need to know.
From the Premier League title race and the battle at the bottom to the Golden Boot and a potential seventh heaven, there is still plenty to be decided between now and May 12.
Here, we run through the key questions to keep an eye on, how each team is faring going into the run-in, and where you can watch the biggest fixtures...
Live Premier League fixtures on Sky Sports
Where's the title going?
Liverpool's first title since 1990, or will Manchester City retain the Premier League for the first time?
The location of the Premier League trophy on May 12 is anyone's guess, with Liverpool a point above City, who do have a superior goal difference.
Liverpool fixtures
Man City fixtures
Average position of remaining opponents
| | |
| --- | --- |
| Liverpool | 12.7 |
| Man City | 12.1 |
Looking at the fixtures, Liverpool face two of the top six, Tottenham and Chelsea both at home, while City have Tottenham at home and the small matter of an away Manchester derby on April 24. All four of these huge games will be live on Sky Sports.
Their Champions League progress could be key; if Liverpool reach the last eight, they host Chelsea on April 14, sandwiched in-between their first and second leg, while City would be at Palace in that busy period.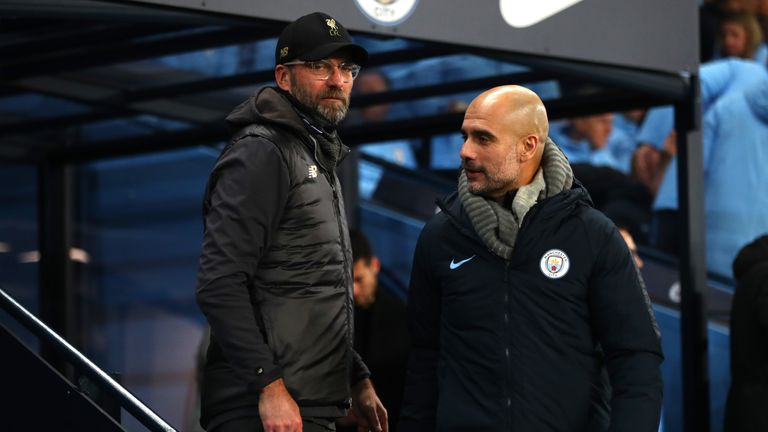 City, of course, also have an FA Cup run to contend with, and progression to the semi-final if they beat Swansea would mean their home match with Cardiff is postponed. Not the worst fixture to play midweek towards the end of the season.
Here, from 10 to 1, we bring you the best stats...
10 Premier League games to go
9 Premier League goals for Roberto Firmino
8 Pep Guardiola is looking to win his eighth league title
7 previous sides to have 69 points (Liverpool's current tally) after 28 games have won title
6 Man City have a +6 goal difference over Liverpool
5 fewer goals conceded by Liverpool than City this season
4 top-half teams for Liverpool to play
3 top-half teams for Man City to play
2 draws for Man City this season
1 point separates the two sides
Top-four fight
Just like the title race, this is extremely difficult to call. Arsenal lead the way at present on 56 points ahead of Manchester United on 55, and though Chelsea have 53, they do have a game in hand.
Clues are difficult to take from the run-in, too. For all three the average position of their remaining opponents is around 10th, United have six home games but face three of the league's top six, while Chelsea and Arsenal both have six away games but face only two of the top six.
Tottenham fixtures
Arsenal fixtures
Man Utd fixtures
Chelsea fixtures
Average position of remaining opponents
| | |
| --- | --- |
| Tottenham | 10.5 |
| Arsenal | 10.1 |
| Man Utd | 10.1 |
| Chelsea | 10.8 |
Arguably, all three have a bounce about them. United are flying under Ole Gunnar Solskjaer, Arsenal have won five out of six in the Premier League, and Maurizio Sarri's Chelsea have looked extremely solid against top opposition in the last two games.
There are two 'six-pointers' in this period - Arsenal vs Manchester United on March 10, and Manchester United vs Chelsea on April 28 - both on Sky Sports Premier League.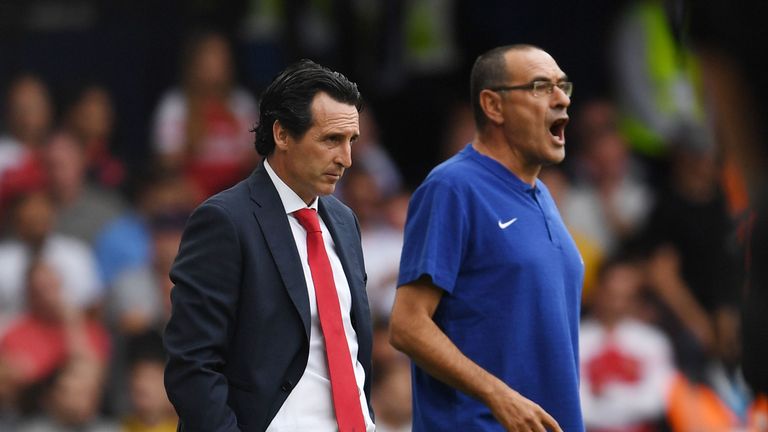 But will three become four? Sarri mentioned dragging Tottenham into the battle after Chelsea's win on Wednesday night, and it wasn't just a passing comment from the Italian. Spurs face both Liverpool and Manchester City away before the end of the season and they are only four points clear of Arsenal right now.
Live Premier League fixtures on Sky Sports
Who will go down?
With 10 games to go, it's fair to say only one relegation spot is to be decided, barring miracles from Fulham (10 points adrift) and Huddersfield (13 points adrift).
Cardiff sit 18th, two points off safety, and those five clubs up to Newcastle in 13th will be looking over their shoulder. Let's assess their form and fixtures…
Average position of remaining opponents
| | |
| --- | --- |
| Newcastle | 11.3 |
| Crystal Palace | 11.2 |
| Burnley | 8.4 |
| Brighton | 10.5 |
| Southampton | 9.5 |
| Cardiff | 9.5 |
Seventh heaven
As we approach the final months of the season, the discussion around Europa League places intensifies for clubs in the middle bunch.
At present, Europa League qualification goes to the fifth and sixth-placed teams, but if one of the top six teams wins the FA Cup - at this stage it would have to be either Manchester City or Manchester United - seventh place will qualify for the Europa League second qualifying round.
Of course, Watford, Crystal Palace, Swansea, Millwall, Brighton and Wolves will all fancy themselves in the FA Cup as we enter the quarter-final stage, but assuming either of the Manchester clubs are victorious at Wembley in May, the battle for seventh in the Premier League could be dramatic.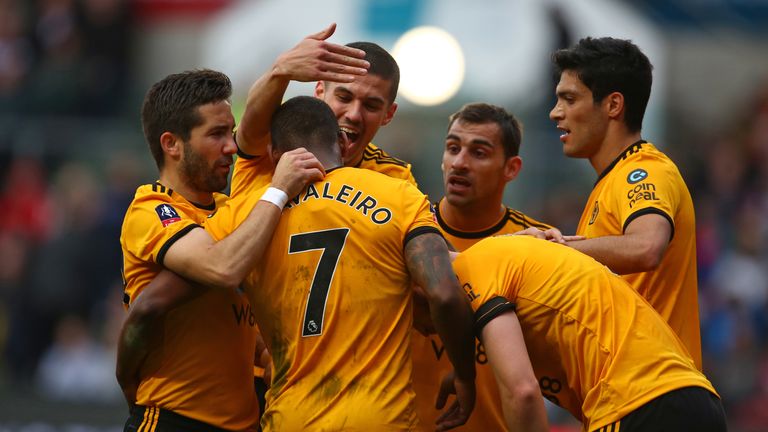 Wolves currently sit seventh on goal difference, one goal ahead of Watford, while just two points separate Everton (9th), West Ham (10th), Leicester (11th) and Bournemouth (12th).
Though Everton, West Ham and Leicester have all played European football in recent years, fans of Bournemouth would be watching their side on the continent for the first time.
It would also be a huge achievement for Wolves, who last played in the UEFA Cup in 1980/81, and Watford, who reached the UEFA Cup third round in 1983/84 under Graham Taylor.
Live Premier League fixtures on Sky Sports
The form guide
If the Premier League had started when Jose Mourinho was sacked, Manchester United would be top. They're top of the form table in the last 10 games, taking 26 out of a possible 30, though they have faced just two sides from the top six in that time.
Premier League form guide in last 10 games (top six)
| Position | Team | Points |
| --- | --- | --- |
| 1 | Man Utd | 26 |
| 2 | Man City | 24 |
| 3 | Liverpool | 21 |
| 4 | Arsenal | 19 |
| 5 | Tottenham | 18 |
| 6 | Burnley | 18 |
Will their momentum be telling in the race for the top four?
Manchester City are second on 24 points, followed by Liverpool (21 points) and Arsenal (19 points).
Newcastle's up-turn in form has them ninth, while Burnley are up in sixth after five wins out of 10.
Premier League form guide in last 10 games (bottom six)
| Position | Team | Points |
| --- | --- | --- |
| 15 | Cardiff | 11 |
| 16 | Leicester | 10 |
| 17 | Bournemouth | 8 |
| 18 | Fulham | 7 |
| 19 | Brighton | 6 |
| 20 | Huddersfield | 4 |
Down the bottom, Cardiff are 15th in the form table after winning three and drawing two of their last 10, while Fulham (7 points), Brighton (6 points) and Huddersfield (4 points) occupy the bottom three.
Golden Boot
The race for the coveted Golden Boot is hotting up, with just six goals separating the top eight strikers as we enter the final 10 games of the season.
Sergio Aguero, the spearhead of Manchester City's title defence, leads the way with 18 goals, one clear of Liverpool forward Mohamed Salah, who won the accolade last year.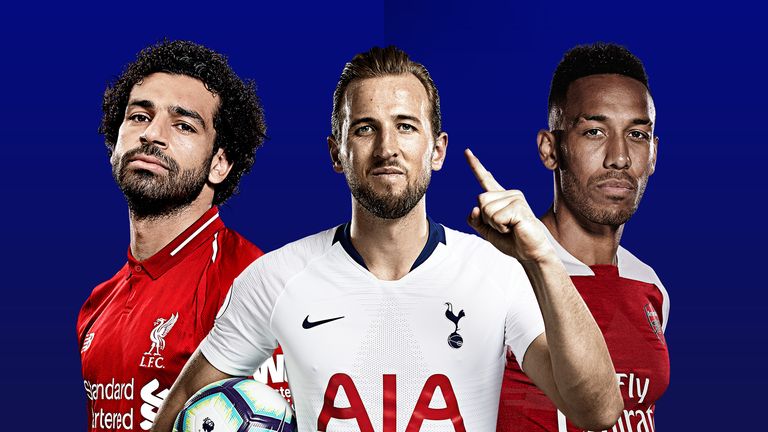 Pierre-Emerick Aubameyang is in with a very good chance after 16 goals so far this season, as is Harry Kane who is three off the lead in his bid for a third Golden Boot - not bad considering he missed five matches injured in January and February.
Sadio Mane's double against Watford on Wednesday took his tally to 14 for the season, two clear of Eden Hazard, Raheem Sterling and Alexandre Lacazette who are bunched together with a dozen goals apiece.
Live Premier League fixtures on Sky Sports
PL Golden Boot: As it stands
| Player | Apps | Goals | Mins/Goal |
| --- | --- | --- | --- |
| Sergio Aguero | 24 | 18 | 97.94 |
| Mohamed Salah | 28 | 17 | 139.76 |
| P.E. Aubameyang | 27 | 16 | 130.81 |
| Harry Kane | 24 | 15 | 137.8 |
| Sadio Mane | 26 | 14 | 156.5 |
| Alexandre Lacazette | 27 | 12 | 152.83 |
| Eden Hazard | 26 | 12 | 173.25 |
| Raheem Sterling | 25 | 12 | 166.25 |
| Gylfi Sigurdsson | 28 | 11 | 205.27 |
| Paul Pogba | 25 | 11 | 191.73 |
| Heung-min Son | 22 | 11 | 138.45 |
Golden Glove
There's only one place to start in this season's race for the Premier League's Golden Glove and that's with Liverpool goalkeeper Alisson. Three quarters of the way through his debut season in English football and the Brazilian has already vindicated his huge transfer fee with 16 clean sheets for the Premier League leaders.
A 17th this weekend in the Merseyside derby, live on Sky Sports, would move Alisson to within one clean sheet of David de Gea's winning tally last season, and there's still a possibility the Liverpool stopper could surpass Petr Cech's all-time record of 24 clean sheets in a Premier League season - just the nine to go!
Alisson's closest challenge comes from compatriot Ederson. The Manchester City goalkeeper has three fewer clean sheets at 13 and is on course to at least match last season's tally of 17.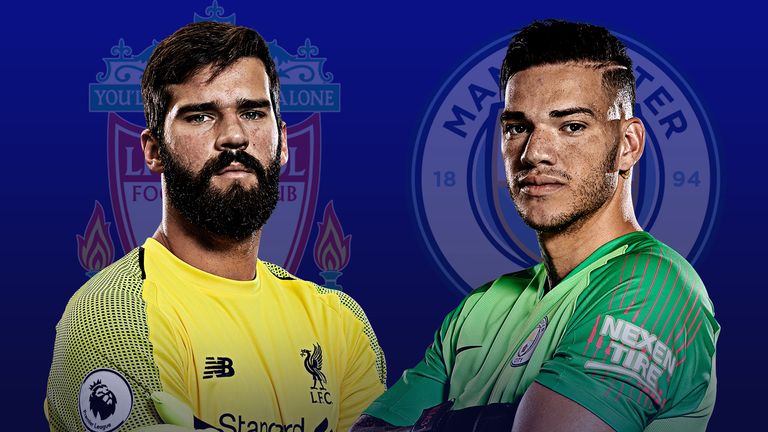 Kepa Arrizabalaga's maiden season in the Premier League has yielded an impressive 11 clean sheets since Chelsea broke the world-record transfer fee for a goalkeeper, while Martin Dubravka and Hugo Lloris have nine apiece.
Last season's Golden Glove winner De Gea is trailing in joint-sixth place alongside Neil Etheridge, Kasper Schmeichel, Jordan Pickford and Ben Foster with seven shutouts. If the United goalkeeper managed not to concede in the final 10 games of the season, a tally of 17 clean sheets does little to concern the likes of Alisson and Ederson, who are already within touching distance of that tally.
PL Golden Glove: As it stands
| Player | Starts | Clean sheets | Ratio |
| --- | --- | --- | --- |
| Alisson | 28 | 16 | 0.57 |
| Ederson | 28 | 13 | 0.46 |
| Kepa Arrizabalaga | 26 | 11 | 0.42 |
| Martin Dubravka | 28 | 9 | 0.32 |
| Hugo Lloris | 24 | 9 | 0.38 |
| Neil Etheridge | 28 | 7 | 0.25 |
| Kasper Schmeichel | 28 | 7 | 0.25 |
| Jordan Pickford | 28 | 7 | 0.25 |
| Ben Foster | 28 | 7 | 0.25 |
| David de Gea | 28 | 7 | 0.25 |
Record Premier League season?
A number of clubs are on course for their highest-ever finish in the Premier League. The focus will understandably be on Liverpool should they end their 29-year wait for the title in May after their highest-ever finish in the competition, but there's a case that achievement could be matched further down the table.
Wolves, currently seventh in the table with 40 points, have the chance to smash their highest finish in the division, in the season immediately after they gained promotion from the Championship.
Wolves finished 15th in 2009/10 but Nuno Espirito Santo's side already have two points more than that season's points tally with 10 games to spare. And, as mentioned above, their highest Premier League finish could bring European football back to Molineux for the first time in 38 years.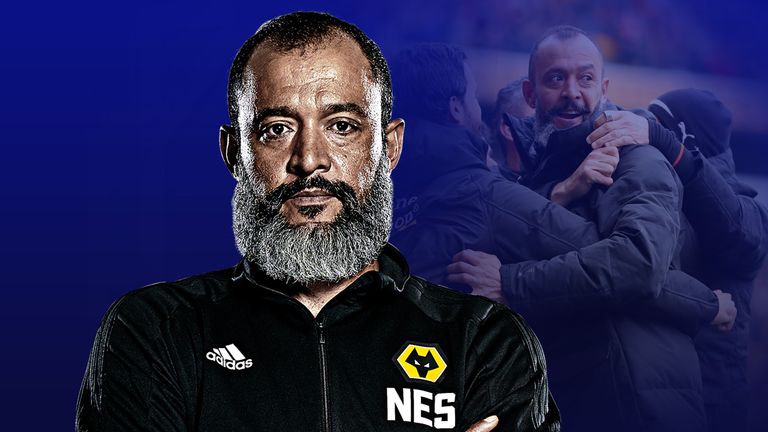 It's a similar story for Watford, who sit just behind Wolves in the table. The Hornets' 13th-place finish in 2015/16 was their best in the Premier League era but they are well on course to better that this year and, who knows, a return to Europe could be the ultimate reward for Javi Gracia's men.
Further down the table are Cardiff City, who many earmarked for relegation before a ball had even been kicked. The Bluebirds finished bottom of the table in their only previous Premier League season back in 2013/14 but currently sit 18th, having only dropped into the relegation zone after the last round of results.
Cardiff have an 11 and seven-point lead over Huddersfield and Fulham at the bottom of the table so look set for their highest-ever finish, but that will be mere consolation if they are relegated.
Live Premier League fixtures on Sky Sports
Off the treatment table
All clubs are at the mercy of injuries at some stage of the season but, with so much at stake towards the business end, the return of key players could prove crucial in the home straight.
Here, with the help of physioroom.com, we look at who could benefit from the timely return to fitness of their star players…
West Ham (nine players out injured): The Hammers currently have the most players sidelined in the Premier League, but their injury woes are set to ease over the coming month, with Marko Arnautovic, Fabian Balbuena, Carlos Sanchez and Winston Reid due to return.
Manchester United (eight players out injured): United players have been dropping like flies in recent weeks but Solskjaer continues to dig out results. United's top-four bid, and his personal claim for the full-time job at Old Trafford, will be strengthened by the return to fitness of Anthony Martial, Nemanja Matic, Matteo Darmian and Antonio Valencia in the coming fortnight.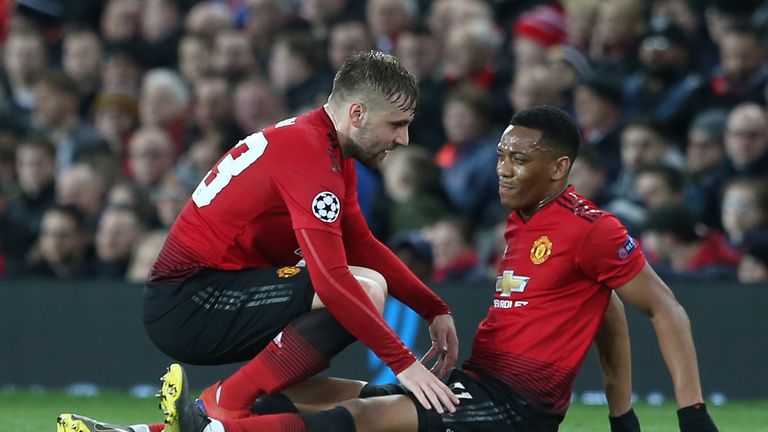 Manchester City (six players out injured): The champions are set to receive a timely boost in the title run-in, with Fernandinho, Aymeric Laporte, John Stones and Gabriel Jesus all expected to recover from their recent injuries by mid-March.
Tottenham (three players out injured): Spurs by no means have the most injuries with 10 games remaining but the depth of their squad means they are most hard hit when a crisis strikes. Dele Alli and Jan Vertonghen are expected to return to fitness in the coming weeks, too late for their title challenge but a welcome boost in the race for the top four.
Liverpool (four players out injured): Liverpool have coped with a flurry of injuries to keep their Premier League title bid on track this season. Now, ahead of the run-in, they will be strengthened by the return of Roberto Firmino and Dejan Lovren in early March, while long-term absentees Joe Gomez and Alex Oxlade-Chamberlain could be back in time for a title coronation.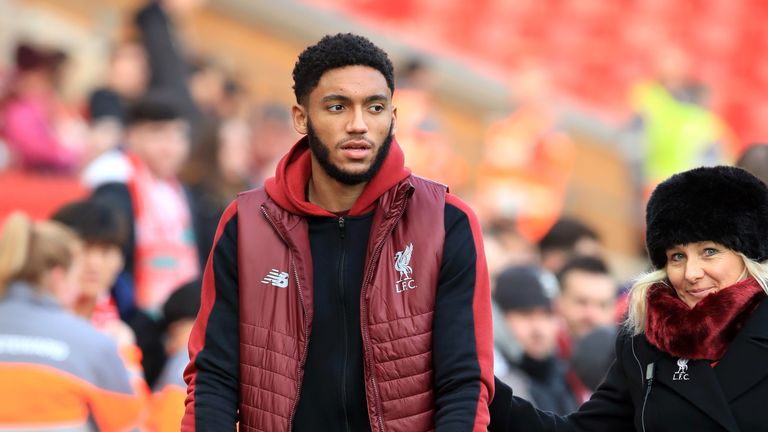 Critical period for managers
The final 10 games could be telling for several top-flight managers.
Scott Parker has been handed a 10-game job interview by Fulham, after the Claudio Ranieri experiment went badly wrong at Craven Cottage.
Ole Gunnar Solskjaer's own job application continues. He's passed the first interview stage with flying colours, and some believe he's already got the job, but there's still plenty of time for it to go wrong, and top four is still the main aim.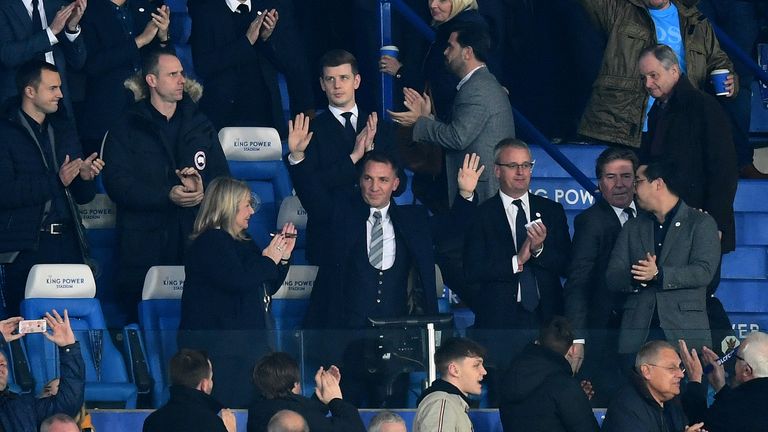 Depending on their progress in the Champions League, Mauricio Pochettino may feel it's time to leave Tottenham, particularly if United or Real Madrid come calling, though their move to the new stadium may keep him on board for another year at least.
Brendan Rodgers takes over Leicester with 10 games to go, looking to move them into the top seven and a potential European spot, while Rafael Benitez remains tight-lipped on where he sees himself next season.