Dermot Gallagher
Former Premier League referee
Ref Watch Special with Dermot Gallagher: Final-day decisions, Mike Dean, VAR and more
The former Premier League referee also talks through all big rule changes for the 2019/20 season
Last Updated: 14/05/19 11:02pm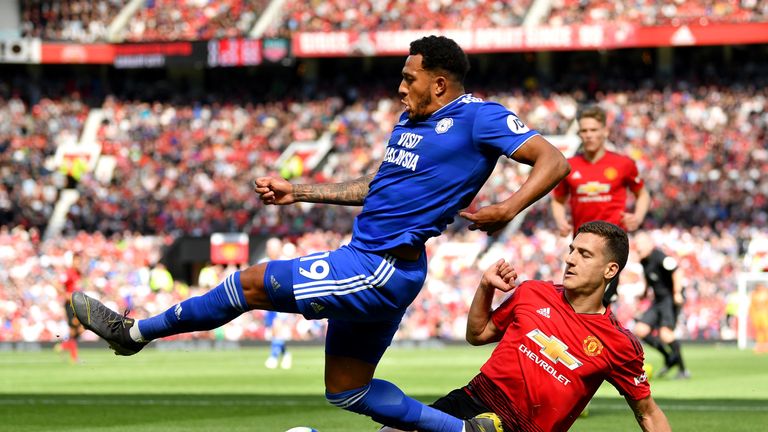 For the final time this season Dermot Gallagher runs the rule over the referees in the Premier League.
The former Premier League referee looks back at decisions from the final day of the season before taking a look at the best and worst of ref watch from the entire campaign.
Mike Dean's celebrations in the away end at Tranmere are also on the agenda, while Gallagher also talks VAR and what we can expect when the video technology is introduced into the Premier League next season.
Finally, he runs through all big rule changes for the 2019/20 season before giving his three suggestions going forward and commenting on your suggestions for future rule changes...
INCIDENT: Cardiff are awarded a penalty after winger Nathaniel Mendez-Laing goes over under Diogo Dalot's sliding challenge.
DERMOT'S VERDICT: Incorrect decision
DERMOT SAYS: "The referee [Jonathan Moss] has got the wrong position, he is staring down the barrel. He is looking straight behind the player, he sees the player kick, he sees the ball move away and presumes he has taken his ankle. But it is an air kick, he misses the ball and Dalot took the ball. It is just unfortunate that the start position of the referee was all wrong and the illusion that he got was that it was a penalty, when it was not."
INCIDENT: Jose Holebas is shown a red card after he was adjudged to have tripped Michael Antonio as the West Ham attacker broke forward. The FA has since confirmed Watford successfully overturned the decision on appeal.
DERMOT'S VERDICT: Incorrect decision
DERMOT SAYS: "There's only one thing you've got to ask yourself, is it a foul? Whether it's a red card or not is totally immaterial. It's all about whether you think Holebas has committed a foul. The referee thinks he did. I did at the time but I think no now when I see it on a replay. The referee, from his position, thought that he flicked his heel. If he gives a foul then he's got to send him off, that's the only certainty in there. It got overturned because the commission wasn't convinced it was a foul, but that's the only decision to make."
INCIDENT: The offside flag stays down as David Silva's flick releases Sergio Aguero in behind the Brighton defence and the Argentine striker scores Manchester City's crucial equaliser.
DERMOT'S VERDICT: Correct decision
DERMOT SAYS: "Fantastic! Again, I talk about start position and this is all about start position. If the assistant isn't in the right position, which he is, he doesn't get it right. He's right in line with the last defender which allows him to get the decision spot on. We've spoken all season about this, this is the major plus in refereeing this season and it's the assistants' judgement of offside."
INCIDENT: The offside flag stays down again as Sadio Mane gets in behind the Wolves defence to head home Trent Alexander-Arnold's cross.
DERMOT'S VERDICT: Incorrect decision
DERMOT SAYS: "I've just shot myself straight in the foot. It's tough but the clue here is the line. The line would suggest he was offside."
The best and worst of Ref Watch
INCIDENT: Willy Boly scored the opening goal of the game for Wolves in the 57th minute, appearing to use his hand to turn the ball home from a Joao Moutinho cross. The officials did not see the handball and the goal stood.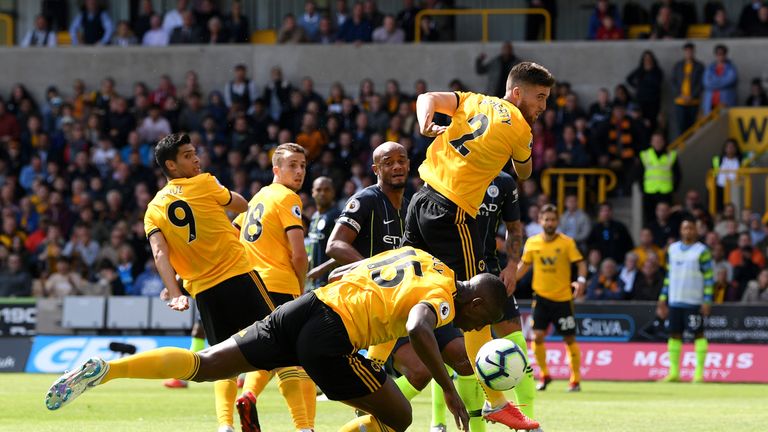 DERMOT'S VERDICT: Goal should have been disallowed.
DERMOT SAYS: This will never happen again because from August VAR will say it has definitely gone in off his hand and the rule change will also say it can't be a goal, so it will be disallowed.
INCIDENT: Charlie Austin thinks he has put Southampton 2-1 up against Watford, only for his goal to be ruled out for offside.
DERMOT'S VERDICT: Wrong decision, onside.
It was a decision that led to an astonishing rant from Austin towards the match officials…
DERMOT SAYS: "If this was the tipping point to convince clubs to vote for VAR then good has come out of bad. It should have been a goal, we all know that. But what I would say is it will never happen again. It will be eliminated so if that interview was a catalyst so be it.
INCIDENT: Mike Dean initially awards Cardiff a penalty after Ben Mee heads a ball onto his arm in the penalty area. He then consults his assistant referee Darren Cann and the decision is overturned.
DERMOT'S VERDICT: Correct decision.
DERMOT SAYS: This for me is not only the best bit of teamwork I've seen this season but it's also one of the bravest calls I've seen. For an assistant in the other half to say to his referee you have to trust me because I can tell you quite categorically that the ball has struck his hand and he has not moved his hand towards the ball, that's brilliant teamwork. Tremendous credit has to go to Ian Hussin because it really took courage to do that and he got the right decision.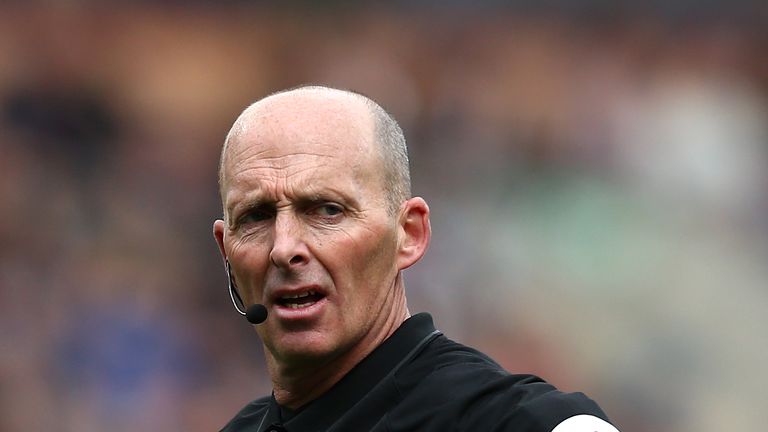 Essential stats
It's been another busy season for referees in the Premier League...
Watford were shown most Premier League yellow cards - 77
Leicester received the most reds - 5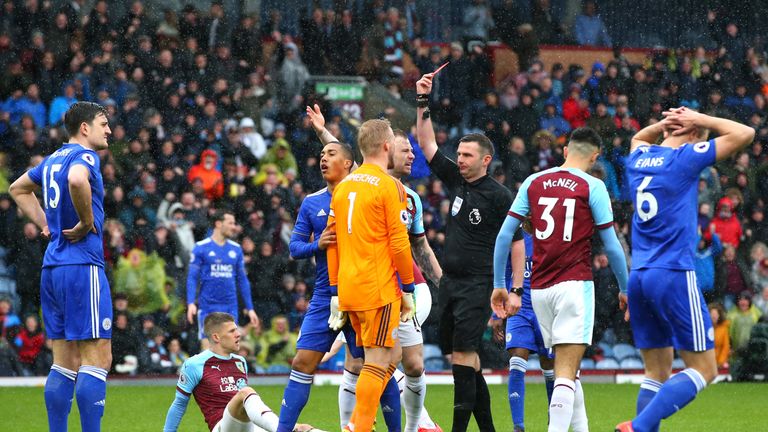 Meanwhile, Maurizio Sarri's Chelsea didn't have a man sent off during the season - 0
Manchester United were awarded the most penalties - 12
And finally, Chelsea forward Eden Hazard was the Premier League's most fouled player!
Mike Dean's celebrations
Speaking of Mike Dean, the Premier League referee was spotted passionately celebrating Tranmere's play-off semi-final victory over Forest Green Rovers in amongst the away fans.
WATCH the celebrations below...
Was he right to do it?
DERMOT SAYS: "He'll now be going down to Wembley and he'll be hoping for the same result!
"He's been a boyhood Tranmere fan, that's no secret. He goes to matches and there's nothing wrong with it."
What can we expect from VAR next season?
The Premier League will introduce video technology from next season, but what can expect?
Is this the biggest change in refereeing you've seen in your time?
DERMOT SAYS: "Yes, it's a huge change. It's going to completely change refereeing, there's no doubt about it. The introduction of something that will safeguard the big, big decisions that we've seen all season. Assisting referees to get more decisions right has got to be the way forward."
Mike Riley, the general manager of the Professional Game Match Officials Limited, says it takes on average 29 seconds to complete a check with eight checks in a game.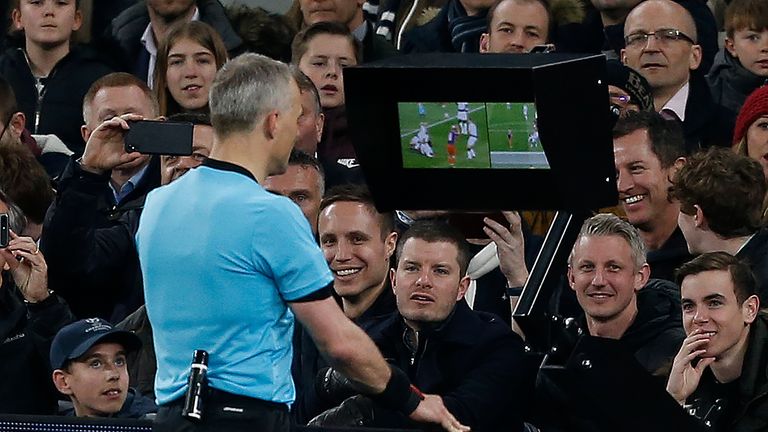 These don't affect the game but an average review Riley says takes 90 seconds. Is that too long?
DERMOT SAYS: "When you see the stakes, it's not too long if you get the right decision. But bear in mind they will be few and far between. The 29-second checks will go unnoticed. Every goal is checked so that might take 29 seconds but in the meantime they are ready to kick-off after their celebrations so it's gone unnoticed.
"The 90-second check would be for a major decision where the referee has to stop the game, check the incident and get the right decision. There wouldn't be too many of them over the course of a weekend."
What about the fans? Does it detract from the theatre and drama of football? Will it make the sport too robotic?
DERMOT SAYS: "I don't think so because goal checks won't take 90 seconds and it's instinctive that a fan leaps out of their seat to celebrate, especially at the stage of the Manchester City vs Tottenham game in the Champions League."
WATCH: Will VAR work?
Rule changes for next season?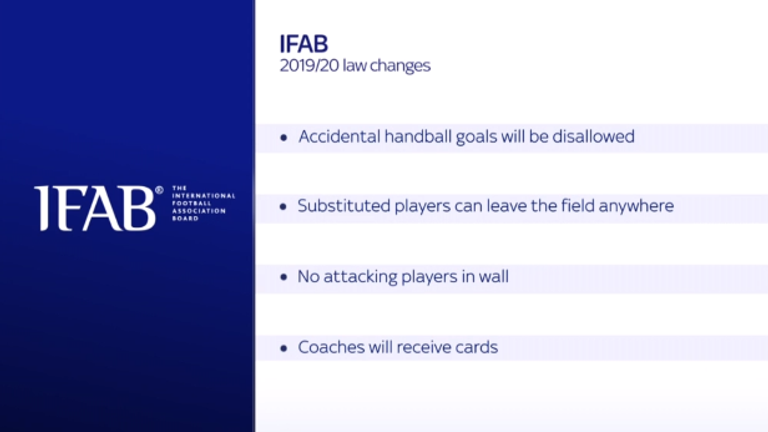 Accidental handball goals will be disallowed
DERMOT SAYS: "There were three in the Premier League this year: Sergio Aguero against Arsenal, Willy Boly against Manchester City and Nathan Redmond against West Ham. I welcome this change because everyone feels it doesn't sit right.
Substituted players can leave the field anywhere
DERMOT SAYS: "We see it so many times that a player has been substituted and he is on the far side of the field. It irritates people, so this is a good move. If a player is close to the line he can still go off at the centre if he can get him off quickly."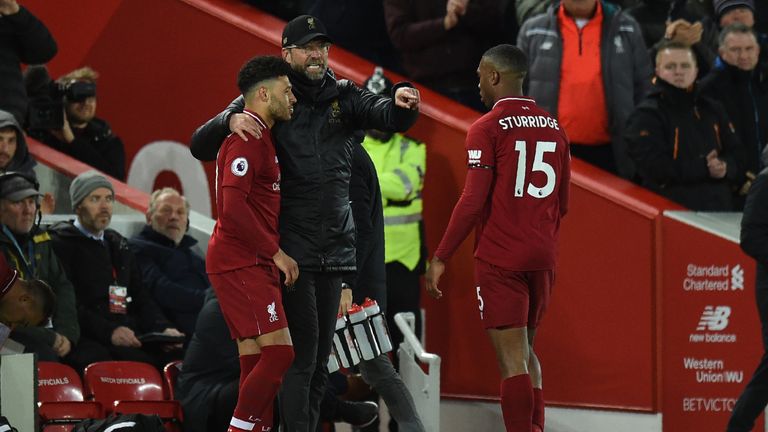 No attacking players in a free-kick wall
DERMOT SAYS: "It stops all the pushing and shoving and the arguments that arise there but this is a rule that I didn't see coming in. I can understand why it's come in though because it will eliminate any doubt about all the pushing that goes on in the wall."
Coaches will receive red cards
DERMOT SAYS: "There have been incidents in the Premier League where I've had to contact the match manager. Has the coach got a stage one warning? It's easy when the manager has been sent to the stands because we all know he's got a final warning. But if he gets a stage one warning, which is a yellow card, we'll be aware of it at the time rather than having to go and find out.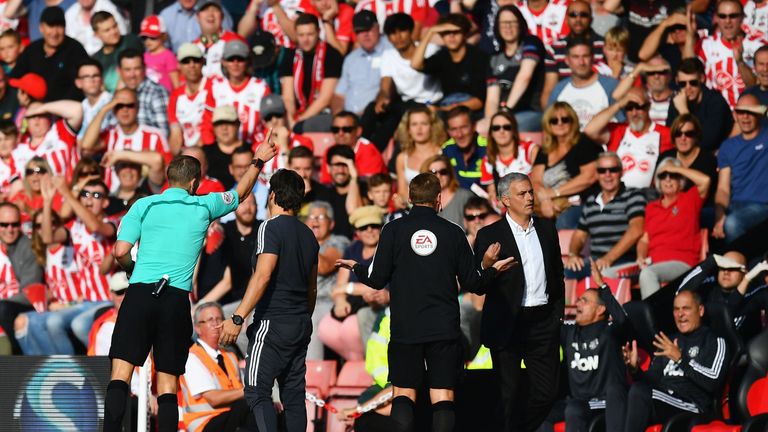 Gallagher's potential rule changes
And what would Gallagher change...
Time keeper stopping clock
DERMOT SAYS: "Play 35 minutes a half and stop the clock when the ball is out of play. We'll play 70 minutes of football and that isn't too far away from what we have now but at least it will be transparent. Everyone would be able to see it, especially at the end of a game. If the clock is stopped there would be no discrepancy."
"I want to keep the game flowing. This is nothing new for me because it's something I've said year after year after year. It may come, it may never come."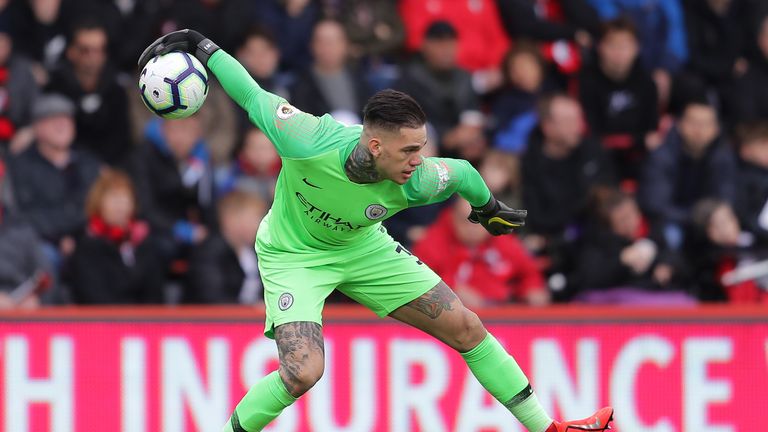 Nearest player to ball takes throw in
DERMOT SAYS: "It's not rocket science to take a throw in. I know there are players that can throw the ball a lot further but there are occasions when two or three players think about taking it. Why can't the first player just take the throw in?"
Goalkeeper can hold ball 10 seconds implemented
DERMOT SAYS: "This gets highlighted to me every week that the rule says six seconds. For whatever reason the rule has been washed away. If we said 10 seconds that's a decent amount of time and then we could implement it and that's it. It would be more effective that way in my opinion."
Your suggestions…
DERMOT SAYS: This was one of mine from last season for the simple reason it's always a winning team that does it. It serves no purpose but to delay the restart and the momentum. I wouldn't allow a substitute in that time and somebody said what if there's a serious injury? If you say seriously injured and a player is substituted in that time then they cannot play for two weeks.
DERMOT SAYS: "This has been mooted for a long, long time. The referees have microphones for themselves but I think what is said between the referees should stay between the referees.
Sin bin. Simple as that. Managers can take a player getting a booking but they won't want to be without one for ten minutes. Sin bin would be for diving, kicking the ball away, answering the ref back, swearing, All the annoyances in the game. Nice one.

— Worthington (@Worthington_PNE) May 14, 2019
DERMOT SAYS: "This has been experimented with in the local leagues. The FA will monitor this and whether it has an impact remains to be seen. It may come in, it may not."
Tweak offside. Whole body needs to be over the line, like a goal. More goals, more entertainment

— Cameron (@Cameron2nd_) May 14, 2019
DERMOT SAYS: "Everything is simple with offside, isn't it? Everybody wants offside to be different. It doesn't matter what you say everybody has a different interpretation of the rule so it might be a good idea, maybe not. What he likes somebody else might not.