Pardew fears summer sales
Newcastle boss Alan Pardew admits he could lose some of his top stars this summer.
Last Updated: 12/05/12 2:04pm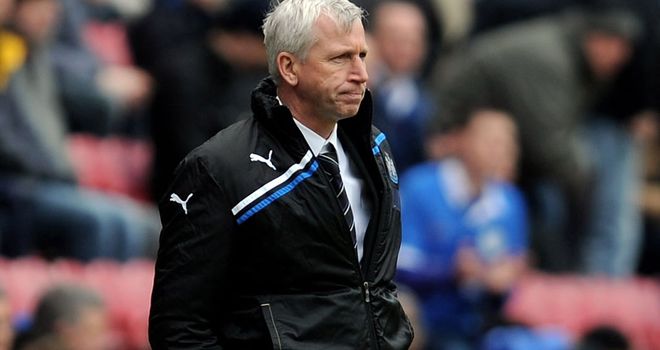 Newcastle boss Alan Pardew admits he could lose some of his top stars this summer.
The Premier League manager of the season has picked up the likes of Yohan Cabaye, Papiss Cisse and Demba Ba on bargain deals and the Magpies have been transformed from also-rans to top four contenders.
Pardew expects their success will lead to big-money bids for his key players, but he hopes Newcastle owner Mike Ashley will not easily agree to any sales.
"It's impossible to restrict Real Madrid, Barcelona, Chelsea, Manchester City from coming in for one of our players," said Pardew.
"We have players who are not on the salaries these top clubs can offer.
Money
"The one security I have is that Mike Ashley is a difficult seller. He is not going to let someone go for £7million. He is going to want top, top money.
"But if Yohan Cabaye gets a call from Manchester United and they tell him he is going to be the next Paul Scholes, I am not going to be able to stop him.
"It is going to cost Manchester United a shedload of money, but until we have Champions League football, and we might have that by this weekend, we cannot compete with that."
Meanwhile, Pardew is in relaxed mood ahead of Newcastle's final game of the campaign at Everton on Sunday.
While Arsenal and Tottenham are desperate to achieve a top-four finish, and with it UEFA Champions League football, qualification would be a bonus for Pardew and his players.
Pinnacle
Touted as potential relegation fodder at the start of the season, the fifth-placed North East club could cap a magnificent campaign by booking their place in European football's elite club competition with a win at Goodison Park.
"This is where you want to be," said Pardew. "The pinnacle of the game is the Champions League.
"To actually be competing for it is more than we imagined and to have that opportunity is something that doesn't come along very often, and we want to try to grasp it.
"It's been a magnificent achievement by everyone at this football club, and we can't wait for Sunday to unfold."