Transfer News: Newcastle and PSG agree deal for Yohan Cabaye
Sky sources understand that Newcastle midfielder Yohan Cabaye is to have a medical ahead of a move to Paris St Germain.
Last Updated: 28/01/14 7:00pm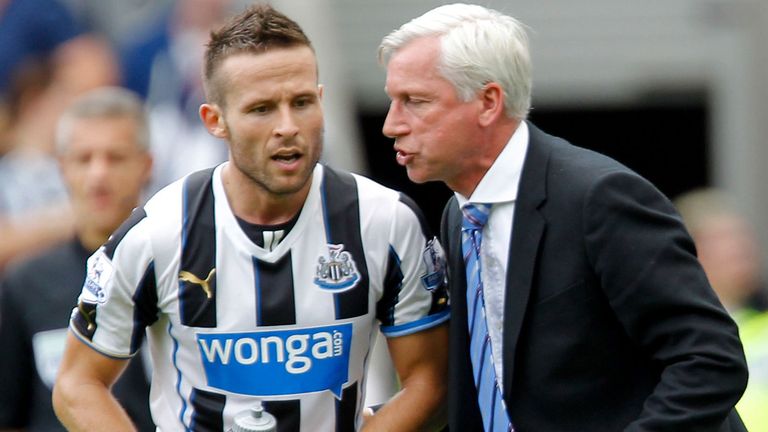 The Magpies rejected a £14m bid from PSG on Sunday, but the French club's most recent offer is believed to be significantly higher.
Speculation has been rife that France international Cabaye would be leaving St James' Park during this transfer window with Manchester United also believed to be interested in the player.
Cabaye's desire to play Champions League football - he had a taste at his former club Lille - is believed to have led Newcastle to decide that they should cash in on the Frenchman now.
Earlier on Monday, Newcastle boss Alan Pardew admitted he was worried that he would lose the 28-year-old, who has scored seven goals in 20 appearances for United this season.
Asked if he was confident Cabaye would remain a Newcastle player after Friday's 11pm deadline, Pardew evoked the situation in 2011 when the club sold striker Andy Carroll to Liverpool for £35m late in the window.
"You are talking to someone who lost Andy Carroll with eight hours to go, so am I confident? No, I'm not confident and I don't think any team not in a Champions League position or fighting for a Champions League position could be," said Pardew.
"I don't want him (Cabaye) to go. We have not indicated for one moment here from the owner down to any of my staff that we want him to go, not one iota."
Pardew added: "We know we have got a club interested in Cabaye, a very wealthy club and a powerful club, and we are conscious of that.
"We are doing our best to protect Newcastle."
"Listen, we are a club that unfortunately at the minute, is not in a Champions League position, so therefore players can turn around to us and say they want Champions League, as Luis Suarez did with Liverpool.
"He stayed, Suarez, and they have got themselves in a position for the Champions league, but they wouldn't be there without him.
"It's a Catch 22 situation: you need to keep your best players to get in there and likewise, they want to play in there, so you have got to give them some hope.
"That's the position we really need to get ourselves into this year, or definitely next year or the year beyond.
"We have got big players, we attract good players, but we are not in a Champions League position or are able to say at the minute, 'We could be Champions League, stay with us and get the football here'.
"We are just a little bit off it. Maybe if we had got a couple more results in January, I could turn around to players and say, 'Well look, say until the summer and we could be Champions League ourselves'.
"But it's probably difficult to say that with the other teams who have just kept winning, unfortunately.
"He has been a great player for this football club, and I think he has got better in this role that I have given him this year. He's playing number 10 for us and he's really taken to it.
"It's boosted his confidence and boosted his value as well, I think."
Cabaye joined Newcastle from Lille in July 2011 and has made 93 appearances for the club, scoring 18 goals.
He has 26 caps for France and represented them at the European Championship in Ukraine and Poland in 2012.