Pep Guardiola insists happiness for him "does not depend on titles", and Manchester City have not won silverware this season because they have "not been good enough".
With two games left to play in Guardiola's debut season in the Premier League, City are still not certain of a top-four finish.
They could take a significant step towards reaching next season's Champions League if they beat West Brom on Tuesday, live on Sky Sports.
But although the lack of silverware has led to criticism of Guardiola, he says it's not all about titles.
"My happiness does not depend on titles," he told Sky Sports. "When I have won titles I was happy because we played the way I wanted to play.
"I am happy when I have a way to play and we play in that way, like every manager. I have won a lot of titles with the way I want to play.
"When we don't win it's because we are not good enough. We didn't win titles so that's not good enough, but I am happy we played the way I wanted to play. That was not enough to win titles, but the only thing we can do is improve and look to the next season."
Throughout the season there have been suggestions that Guardiola should change his playing style to "adapt" to the Premier League.
But he reiterated that will not happen: "I know you insist a lot, but I'm not going to change, unfortunately for you. No way.
"Why should I change? I like to play the way I do. The only power we have as managers is to play the way we want to play.
"If you don't win the other team was better, you shake hands, congratulate and improve to get better.
"Chelsea have played amazing - consistent, clinical in the box, solid - and Tottenham have been amazing too. They are a beautiful squad, a huge squad, which I love. Football is an emotion, it's not numbers, here it's always about statistics - when we talk about emotions it will be amazing."
Statistics-wise, City have created more "big chances" (Defined by Opta as "A situation where a player should reasonably be expected to score usually in a one-on-one scenario or from very close range") than any other team in the Premier League this season.
However, only Manchester United have scored fewer goals than City among the top six.
"We didn't take the chances we created," said Guardiola. "The best team was Chelsea, second best was Tottenham, but we created more clear chances - you have to take them, and we didn't do that.
"It's like a golfer making beautiful swings and getting on the green with a chance to make birdie, but every time it is par, par and par. Then it's bogey, double bogey. That has happened a lot, we have created chances but not taken them.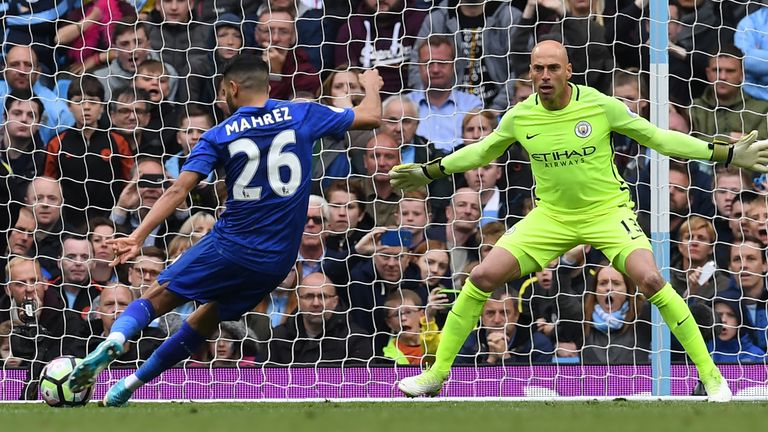 "When that happens it is the most difficult thing to solve. Maybe next season we will score more goals and suffer in other parts of the game, so we have to find the balance to keep going and be stable.
"Normally if you have 10 chances you have more opportunity to win the game than a team who has five chances. We were there. "
Reflecting on his impressions of City's season, Guardiola added: "The quality of the player is good. I was a player, I know they try and I am delighted with their behaviour.
"In a tough season, with high expectations, it's how they have handled the bad moments, dropping points in the league, when we didn't deserve to drop points, and the Champions League, it's how they reacted.
"I am glad with what they have done so I don't have regrets or complaints."
Watch Man City v West Brom live on Sky Sports from 7.30pm on Tuesday.