Pablo Zabaleta deserved special send-off, says Pep Guardiola
By Charlotte Marsh
Last Updated: 16/05/17 11:31pm
Pablo Zabaleta deserved a special send-off, says manager Pep Guardiola, as the defender bid farewell to the Etihad Stadium.
The Argentinian announced on Saturday that he would be leaving Man City at the end of the season, and came on as a second-half substitute in his last home game at the club on Tuesday.
Guardiola's side produced a winning performance for their team-mate with a 3-1 victory against West Brom, with plenty of tributes and goodbyes for Zabaleta at the full-time whistle.
Speaking after the game, the Spaniard was full of praise for his player and said he deserved the send-off he was enjoying at the time.
"All the crowd stayed here to say goodbye to a legend," Guardiola told Sky Sports after the victory.
"Always with the big clubs, it depends on the quality on the human beings and how long the player has been there and you see how many people cry for Pablo and what he has done.
"It was a perfect day for what we did, the performance and the victory and for the three points to help us be close to our target, plus it is a special day for Pablo. He deserves absolutely everything and we are very happy for that.
"They arrived once and scored one goal so we are lucky that they didn't arrive more. I don't know how many chances we created or how many times we arrived.
"We put in a good performance against one of the most physical teams in the Premier League and we were compact so the players once again showed me how they are."
Gabriel Jesus again caught the eye after he scored the opening goal at the Etihad, but Guardiola was particularity impressed with the performance of fellow striker Sergio Aguero.
The result leaves Man City needing just one point from their final game away at Watford to seal their spot in the top four and the Champions League next season.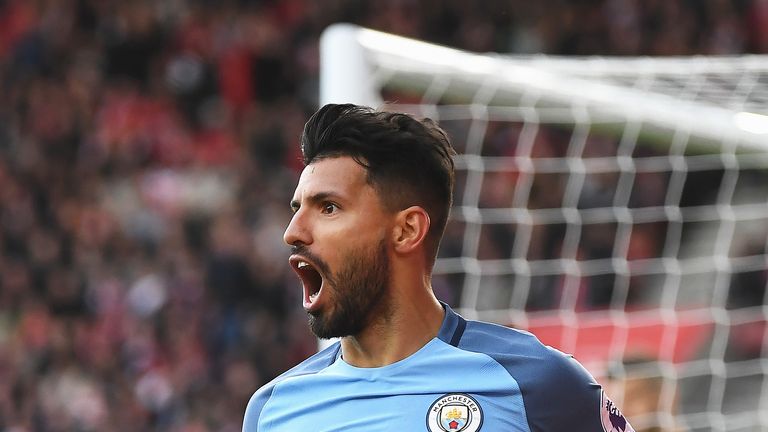 "Gabriel was amazing but I have to say, I think the key player up front was Sergio," Guardiola added.
"He didn't score but he helped us play the third man, he had two or three assists and he put in an amazing performance. It was like 'wow' that for a long time I didn't see.
"Now we are third so it is in our hands to finish there. Now we are going to travel to Watford... to win the game and finish third."
See if Man City can finish in the top four on the final day of the Premier League season live on Sky Sports on Sunday.