Manchester City manager Pep Guardiola has revealed Benjamin Mendy's knee injury is worse than originally feared and he is already considering bringing in a replacement in the January transfer window.
Mendy, who joined from Monaco from £49.2m, injured his right knee in City's Premier League win over Crystal Palace on Saturday and will fly to Barcelona on Wednesday to see a specialist.
City are still not certain the full extent of the knee injury but Guardiola nodded when asked if his absence would be measured in months.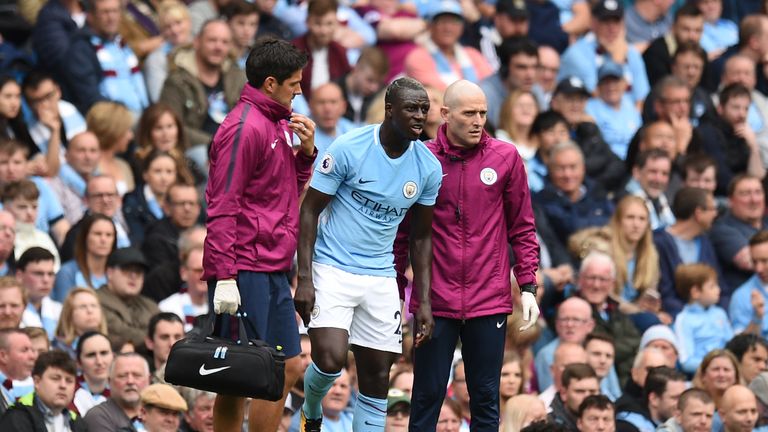 "He is travelling to Barcelona and we are going to see what he has," said Guardiola after City had continued their unbeaten start to the season with a 2-0 Champions League win over Shakhtar Donetsk on Tuesday.
"Our first impression is that it will it be a little long, longer than we expected which is unfortunate. But I am pretty sure it will be longer than we would like.
"It's very frustrating for him, first as a person but, like what happened with (City midfielder) Ilkay Gundogan, I feel really sad for him.
"The way we want to play, we will miss him a lot. He is a unique player, the joy he gives on and off the pitch. I think it is a major setback."
It is now standard procedure for Manchester City to have injuries assessed in Barcelona, with both Kevin De Bruyne and Vincent Kompany travelling to Catalonia to receive treatment from Dr Ramon Cugat last season.
Guardiola, who spent £130m on three full-backs in a 10-day period over the summer, also conceded that the injury could force his club into the transfer market in January for a replacement.
"We will see in January," he said. "We thought next summer we would look for another left-back but we will see what we will do.
"We have alternatives in the squad - Danilo, (Fabian) Delph, Fernandinho can play there. We will see as we go along."
Mendy is City's only out-and-out left-back. Delph filled in against Shakhtar, with Danilo expected to be the long-term solution this season.