Pep Guardiola wins tactical duel with Antonio Conte as Manchester City beat Chelsea
Last Updated: 01/10/17 8:08pm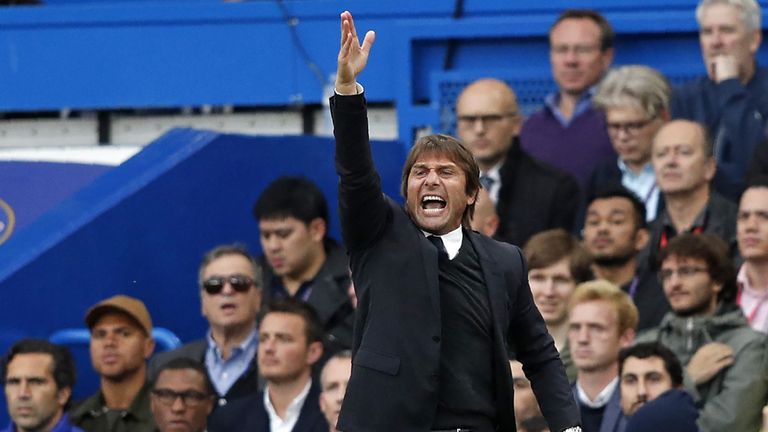 Did Antonio Conte's tactics cost Chelsea in their 1-0 defeat at home to Manchester City? Peter Smith examines the contest...
Antonio Conte has proven himself to be a master tactician. His Serie A dominance with Juventus, time in charge of Italy and Premier League title triumph with Chelsea were all marked out by exceptional strategic planning. He even underlined that status with a superb Champions League win at Atletico Madrid on Wednesday.
But he lost his battle with Pep Guardiola on Saturday.
Conte had steered his Chelsea team to home and away victories over Guardiola's Manchester City last season.
Chelsea had given up over 60 per cent of possession to their opposition in those games, but came away from the Etihad Stadium in December with a 3-1 win before clinching a 2-1 triumph at Stamford Bridge four months later.
Yet, there was a clear sense of trepidation in Conte's starting line-up this time around - and that seemed to set the tone for this contest.
The Italian paid City respect by fielding the more conservative Cesar Azpilicueta at right wing-back ahead of the more forward-thinking Victor Moses and Davide Zappacosta, who looked on from the bench.
With N'Golo Kante, Tiemoue Bakayoko and Cesc Fabregas charged with forming a tight trio in front of three centre-backs, it was clear Conte's first priority was to be solid, even if that meant isolating forward pair Eden Hazard and Alvaro Morata.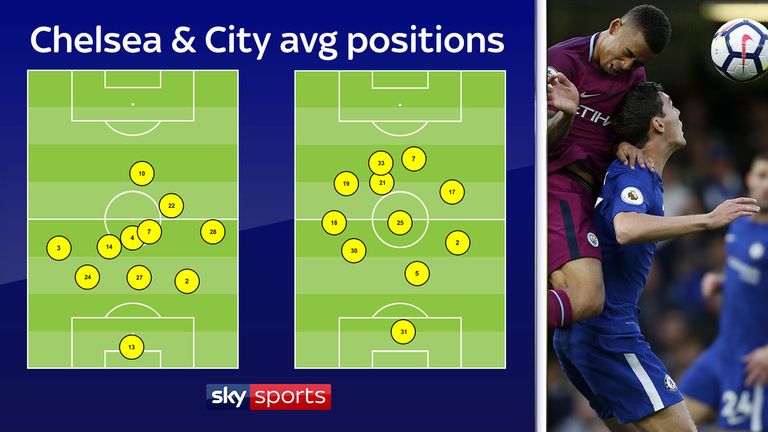 After the match, Conte pointed to the efforts his side had put in to securing the win in Madrid on Wednesday night as a contributory factor to his approach. "For sure, when you have to play another massive game only two days later you must consider the fatigue in the legs of your players," he said. "It is impossible to press box-to-box because after 30 minutes you have no energy to continue to play this game.
"In this type of game when you play against City or this type of team, they like to have possession of the ball and you have to consider two tactical aspects. Either you go very high to press and play a game of great intensity but you must do this for the whole game. In the other case, you must be disciplined and try to close the space, and then try to exploit the space behind their defenders."
Conte opted for the latter. There's no fault in that - after all, his side executed that method at Wembley earlier this season in their 2-1 raid against Tottenham, when Spurs had 67 per cent of the ball. But should the defending champions not have shown more ambition at home?
Blue at the Bridge
Chelsea have dropped eight points in four Premier League home games - two more than in the whole of 2016/17
City were encouraged, firing off five attempts inside the first 20 minutes as they took charge of proceedings. Morata may have had a good headed chance, but it was City pressing the issue, as Gabriel Jesus' block on Thibaut Courtois' clearance on the edge of the goalkeeper's six-yard box demonstrated.
On 35 minutes there came another key moment. Morata was forced off with what appeared to be a hamstring problem but rather than replace him with substitute striker Michy Batshuayi, Conte turned to Willian.
"It was a simple tactical decision," explained Conte afterwards. "In this type of game I thought that Willian with Hazard was a good decision, a better decision, to try to exploit the space behind defenders." It didn't pay off.
Morata's presence and pace had provided Chelsea with a reliable outlet when they countered City's attacks in the opening half an hour. When he went off, they lost that focal point.
Rather than Chelsea releasing Hazard and Willian behind the City backline as Conte planned, instead they struggled to move the ball far enough up the pitch to cause problems.
Hazard was visibly frustrated by a lack of options when he picked up the ball and looked to go forward. On the rare occasions Chelsea progressed down the flanks, there was no target in the box to aim at.
While Willian earned four free-kicks for his team, the Brazilian didn't manage a shot or key pass, demonstrating his struggle to find the space Conte had hoped he would.
On the flip side, Kevin de Bruyne - always motivated against his former club - ran the show for Manchester City, combining with the pacey Raheem Sterling to expose Marcos Alonso at left-back. The Belgian, named man of the match, was able to hook in 10 crosses, tee up six shots for team-mates and fire a fantastic long-range goal.
Afterwards, Guardiola praised the high line employed by his centre-backs John Stones and Nicolas Otamendi, which limited the space for Hazard and Willian, and the high press, which hurried and harassed Chelsea's players into playing long passes forward that Chelsea's attacking two had no chance of winning.
In all, Chelsea managed just one shot on target in each half. Their final possession total of 38 per cent was their second-lowest figure since 2003/04. They also faced 17 shots in total, the joint most Chelsea have faced in a Premier League game under Conte (also v Man City in April).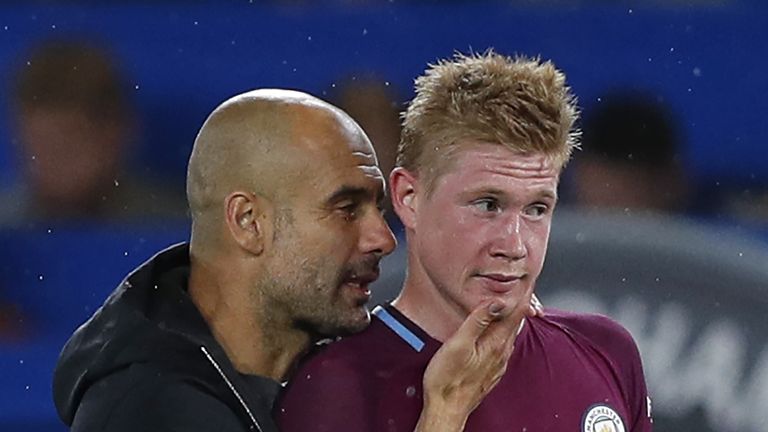 Conte was keen to praise his team's commitment and fight after the game. That was not in doubt, with Chelsea players throwing themselves in the way of no less than five Man City shots.
But Chelsea started the game on the back foot - seemingly by design - and at no point were they able to wrestle back a strong foothold, especially when Morata went off.
Had Moses been deployed at right wing-back, perhaps the threat of his attacks would have forced Leroy Sane to limit his forward forays. As it was, the City winger was camped in the Chelsea half.
Had Fabregas been encouraged to play further forward, he could have tested this City defence - the strength of which is still up for debate, despite five clean sheets in six games - with his trademark through balls.
And had Batshuayi been given more than 17 minutes perhaps Chelsea would have been able to gain more territory than they were ultimately allowed.
"Great compliments to Manchester City," said Conte, and he is right to praise a superb performance by Guardiola's side. But he may well reflect on his tactical calls in this game and wonder whether he could have done more.