Man City and Tottenham are Premier League's outstanding two - but don't write off Man Utd, say Sky Sports pundits
Last Updated: 22/10/17 8:02pm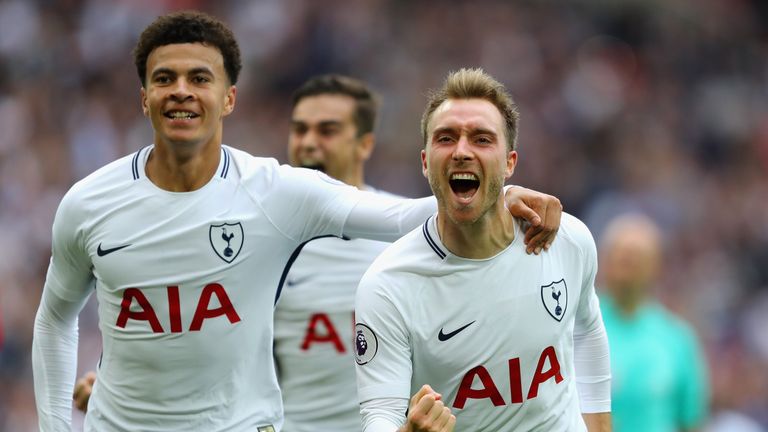 Jamie Redknapp believes Man City and Tottenham are the Premier League's two outstanding teams but Graeme Souness and Thierry Henry say you cannot write off Manchester United just yet.
Spurs beat Liverpool 4-1 on Nissan Super Sunday while Premier League leaders Manchester City saw off Burnley 3-0 at the Etihad on Saturday.
Both teams capitalised on Manchester United's 2-1 defeat at Huddersfield to gain ground in the title race, with Spurs now behind second-place United on goal difference.
"When you talk about Tottenham you need to look at the players they didn't have playing today, Moussa Dembele, Eric Dier and Victor Wanyama," Redknapp said. "It didn't have any effect on the team whatsoever.
"They are one of two outstanding teams and two outstanding coaches, Pep Guardiola and Mauricio Pochettino.
"I don't know what effect Manchester United's result on Saturday will have on them mentally but I think Tottenham and Man City will go head to head."
Fellow Sky Sports pundit Souness agreed, adding: "Right now I would not argue against that. Manchester United have people missing. We are not mentioning Zlatan Ibrahimovic coming back at Christmas.
"That will give United a lift, the effect he will have on the dressing room. I can imagine that's enormous so don't write Manchester United off. Nobody will roll them over.
"They will be among the big teams and cause them problems as well but right now if you are asking anyone, it's Tottenham and City."
Spurs face Manchester United live on Sky Sports Premier League next Saturday and Henry believes that game will help separate the main title contenders.
"We will get a good answer next weekend," Henry said. "Don't write Man Utd off yet, it's still early.
"What's important for me is this is the first time Spurs have won a big game at Wembley. The way they won the game today, if I'm watching it I'm saying, 'I don't want to go to Wembley anymore'.
"Before you wanted to go but not anymore because that was a team performance. They didn't give anything away in terms of the way they played. They were superb."