Man City showed character to match their quality against Huddersfield
Last Updated: 27/11/17 6:16am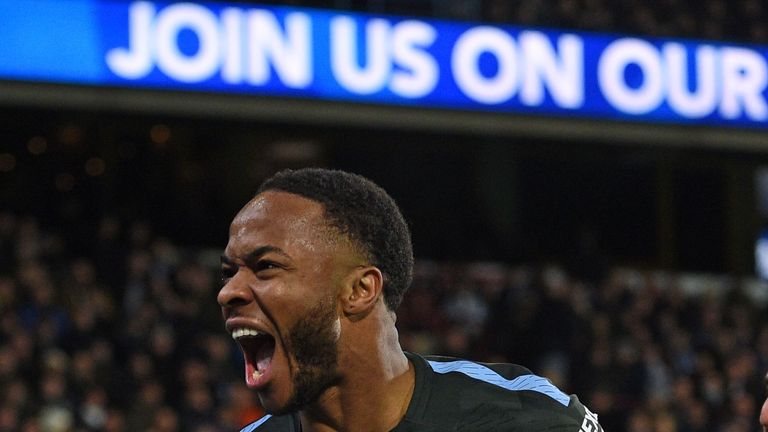 Manchester City showed mettle to match their quality as they came from behind to beat Huddersfield 2-1 on Super Sunday. Having blown so many other opponents away, the hard-fought victory showed they can grind it out too, writes Nick Wright.
The records keep tumbling for Manchester City. Sunday's victory made them the first English side in top-flight history to win 11 consecutive away games, and with 37 points from a possible 39, Pep Guardiola's men have now made the best-ever start to a Premier League campaign.
From thrashing Liverpool to outclassing Arsenal, there have been plenty of highlights along the way, but their latest victory was probably the most significant yet. David Wagner's side were dogged, disciplined and difficult to break down. But on the ground where Manchester United came unstuck a month ago, City dug deep and found a way to win.
The scale of the task ahead was obvious from the early stages. Huddersfield, buoyed by the vociferous home crowd, switched from their usual 4-2-3-1 to a 4-5-1, with Jonathan Hogg joining Danny Williams and Aaron Mooy in central midfield. They put up two lines of defence in front of their penalty box, closing the spaces in dangerous areas and aiming to hit the visitors on the counter-attack.
For long periods it worked. City did not muster a shot on target until the 38th minute - their latest all season - and while David Silva showed flashes of inspiration, Huddersfield's extra man in midfield certainly made life difficult for him and Kevin De Bruyne. Having previously created three chances each per game, they only managed two between them across the 90 minutes.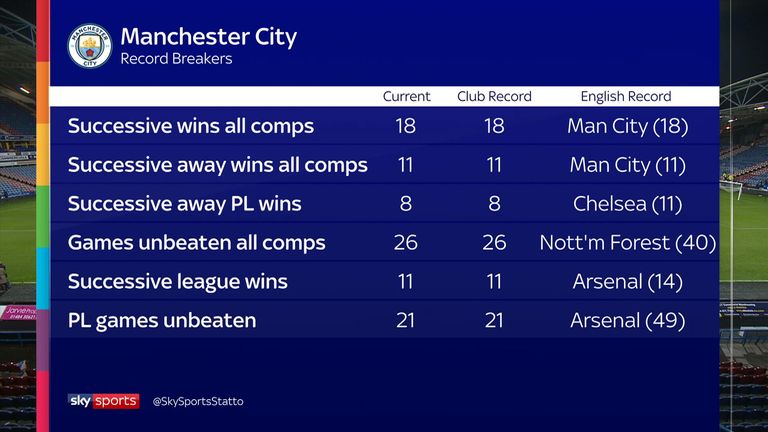 City needed someone else to step up and in the end it was Raheem Sterling who made the difference, winning the penalty for the equaliser and scoring the winner himself. The finish was fortuitous, but it rewarded his determination to get into the box whenever possible.
Sterling's performance earned him the man-of-the-match award but City's collective response to falling behind was even more impressive. The own goal just before half-time was a deflating blow which might have knocked the stuffing out of another side, but City showed the kind of steel not always associated with Guardiola's side.
"It was good to have that experience," Guardiola told Sky Sports afterwards. "We want to win the title and you cannot expect easy games. You have to live these kind of situations. We spoke at half-time about how we were going to react. To not give up and be positive until the last second."
It answered any lingering questions about their character and it was all the more satisfying for Guardiola given that, in tough conditions and with time running out, City were able to clinch the win without compromising their style. In fact, they completed 336 passes to Huddersfield's 37 in the second half. Eventually, their persistence paid off.
"Last year people were having a go at him with the way he was trying to play, saying he should change it because he's in England now," said Sky Sports pundit Thierry Henry. "He's not changing anything. He's playing the same way with the same concepts. The personnel changed a bit but his philosophy and identity didn't. He will never change and he is being successful."
Guardiola marched onto the pitch at full-time, joining the celebrations and urging his players to stay behind and thank the travelling fans. Winning has become something of a habit this season, but it was clear to see that this time it meant more than usual.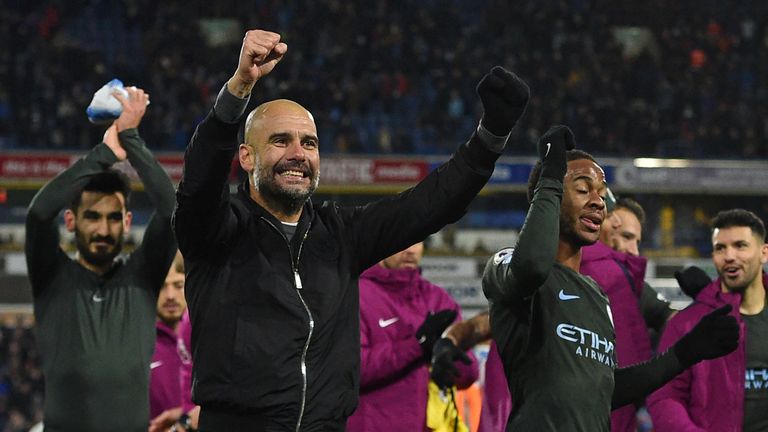 "We've probably learnt more about City in terms of winning the title today than in all the games when they have played brilliant football and scored five, six or seven goals," said former City midfielder Andy Hinchcliffe on Sky Sports. "That's why I think Guardiola and the team celebrated like they did. They know it's going to be tough in winter."
Guardiola insisted it will be "impossible" to go the entire season unbeaten, but City can prepare for the hectic schedule ahead knowing that even the toughest resistance might not be enough to stop them. The eight-point gap already looks ominous for the rest, and with home games against Southampton and West Ham coming next for City, there might be more records sent tumbling.
"They still do it their way," said Henry. "They don't stop. They keep pushing. And that's what makes champions."