Manchester City or Manchester United: Who are the late-goal kings?
By Peter Smith
Last Updated: 03/12/17 8:01pm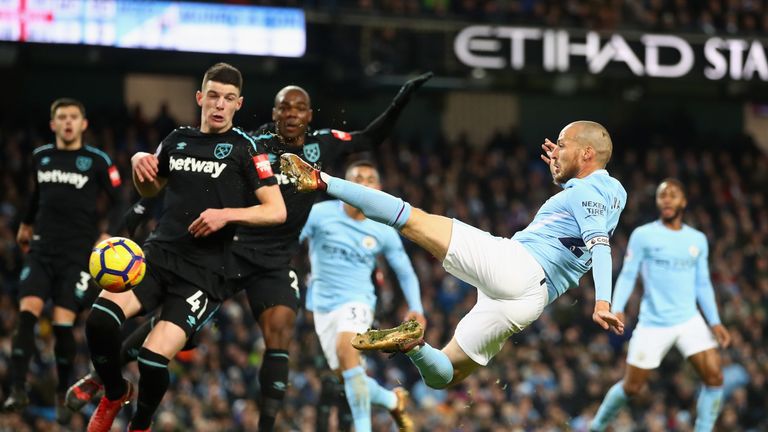 Manchester City hit their third late winner in a row to see off West Ham 2-1 at the Etihad on Sunday.
They still trail their rivals Manchester United in terms of total goals in the final 10 minutes this season, but it's the last-gasp interventions from Pep Guardiola's men which are earning more points.
After Raheem Sterling had hit decisive injury-time strikes against Huddersfield and Southampton in City's two previous Premier League games, David Silva was the hero against the Hammers, expertly steering in Kevin De Bruyne's superb chipped pass on 83 minutes to clinch the 2-1 win.
That takes City's tally of goals scored from the 81st-minute onwards to nine for this season - two fewer than Manchester United.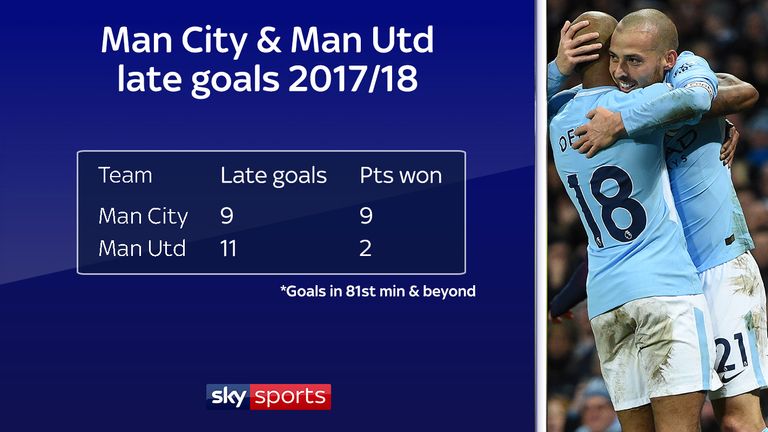 However, City have added nine points to their total with those goals, while United's have often simply added gloss or secured victories. Of United's 11 late goals, just one - Anthony Martial's winner against Tottenham - has added points to their tally.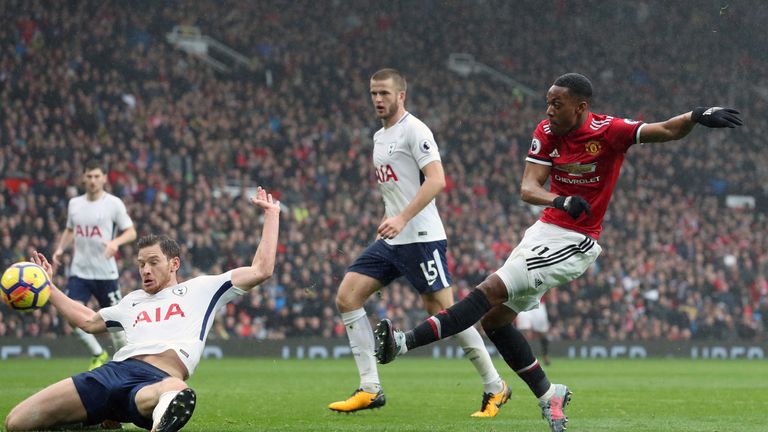 As well as Sterling's recent strikes, he has also earned points for his side with a late equaliser against Everton and winner at Bournemouth.
Man City's late goals - Premier League 2017/18
| Date | Player | Oppositon | Minute | Pts won by goal |
| --- | --- | --- | --- | --- |
| 21 Aug | Sterling | Everton | 82 | 1 |
| 26 Aug | Sterling | Bournemouth | 90 | 2 |
| 9 Sept | Sane | Liverpool | 90 | 0 |
| 16 Sept | Aguero | Watford | 81 | 0 |
| 16 Sept | Sterling | Watford | 89 | 0 |
| 23 Sept | Delph | Palace | 89 | 0 |
| 26 Nov | Sterling | Huddersfield | 84 | 2 |
| 29 Nov | Sterling | Southampton | 90 | 2 |
| 3 Dec | D. Silva | West Ham | 83 | 2 |
Man Utd late goals - 2017/18 Premier League
| Date | Player | Opposition | Minute | Pts won by goal |
| --- | --- | --- | --- | --- |
| 13 Aug | Martial | West Ham | 87 | 0 |
| 13 Aug | Pogba | West Ham | 90 | 0 |
| 19 Aug | Pogba | Swansea | 82 | 0 |
| 19 Aug | Martial | Swansea | 84 | 0 |
| 26 Aug | Fellaini | Leicester | 82 | 0 |
| 17 Sept | Mkhitaryan | Everton | 83 | 0 |
| 17 Sept | Lukaku | Everton | 89 | 0 |
| 17 Sept | Martial | Everton | 90 | 0 |
| 30 Sept | Lukaku | Palce | 86 | 0 |
| 28 Oct | Martial | Tottenham | 81 | 2 |
| 28 Nov | Lingard | Watford | 86 | 0 |
Late goals - Premier League 2017/18
| Premier League 17/18 | Goals in final 10mins |
| --- | --- |
| Man Utd | 11 |
| Man City | 9 |
| Arsenal | 6 |
| Chelsea | 6 |
| Watford | 6 |
| Everton | 4 |
| Burnley | 3 |
| Liverpool | 3 |
| Newcastle | 3 |
| Southampton | 3 |
| Bournemouth | 2 |
| Palace | 2 |
| Tottenham | 2 |
| West Ham | 2 |
| Brighton | 1 |
| Stoke | 1 |
| West Brom | 1 |