Paul Pogba absence will delight Pep Guardiola, says Leon Osman
By Alice Piper
Last Updated: 04/12/17 3:33pm
Paul Pogba's absence for Manchester United's clash against Manchester City on Super Sunday will delight Pep Guardiola, according to Leon Osman.
United's 3-1 win away to Arsenal on Saturday was soured by Pogba's second-half dismissal for a dangerous tackle on Hector Bellerin, which sees the midfielder miss the clash at Old Trafford, live on Sky Sports.
Guardiola's side sit eight points clear at the top of the Premier League after a top-flight record of 13 successive wins in a season, while United are second with five wins from their last six games heading into the clash.
Osman claims Pogba's absence in United's midfield will affect the game "massively".
He told Sky Sports News: "He [Pogba] is the key to Manchester United's style of play.
"The size of Manchester United, not many players can take the team on their shoulders and he's come back and done that. He's been the driving force behind that team.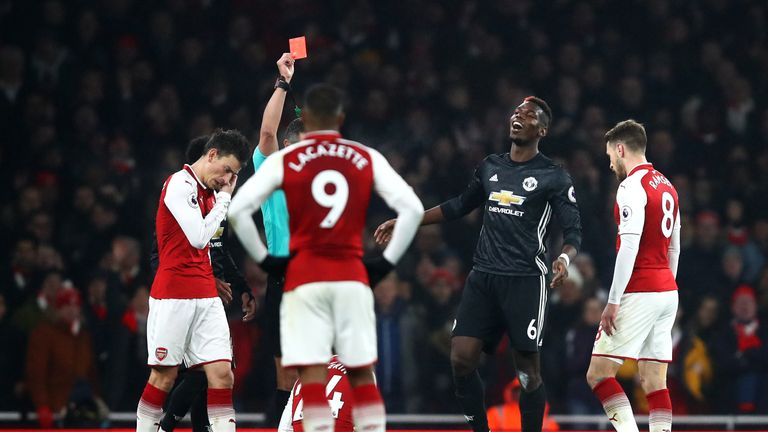 "To miss him will be huge. Pep Guardiola will be delighted."
For the third time in as many league games, City left it late to snatch a winner over West Ham on Sunday to add to hard-fought victories over Huddersfield and Southampton.
Osman feels teams are discovering an Achilles heel in City's play and says Jose Mourinho's side must work hard to exploit City's weaknesses.
"I think Manchester City have shown that set-pieces is a real thorn in their side at the moment," the former Everton midfielder said.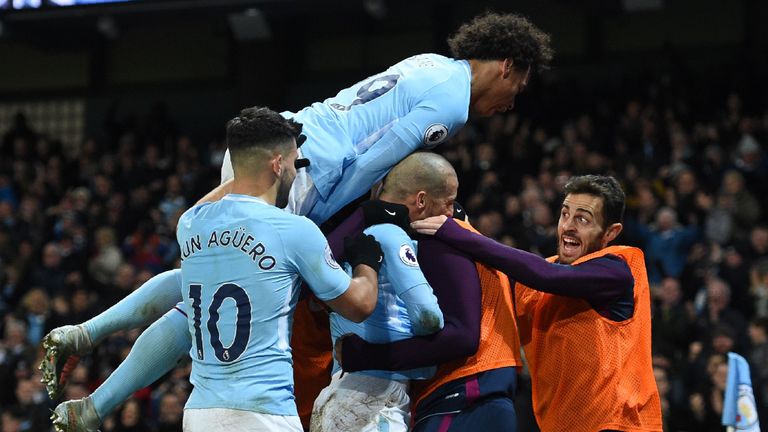 "West Ham scored one, Huddersfield scored one and Southampton looked dangerous in set-pieces against them.
"That is certainly an area he [Mourinho] will be targeting. Also on the counter-attack, West Ham showed that there were one or two opportunities there for them."
City had to come from behind against the Hammers, as Angelo Ogbonna gave the visitors a deserved lead in the first half.
City drew level through Nicolas Otamendi before David Silva netted the winner seven minutes from time but, despite remaining in the relegation zone, David Moyes' men produced a spirited display at the Etihad.
"If you sit deep against Manchester City and deny the pockets of space for Kevin De Bruyne and for David Silva to operate in, City find it tough," Osman added.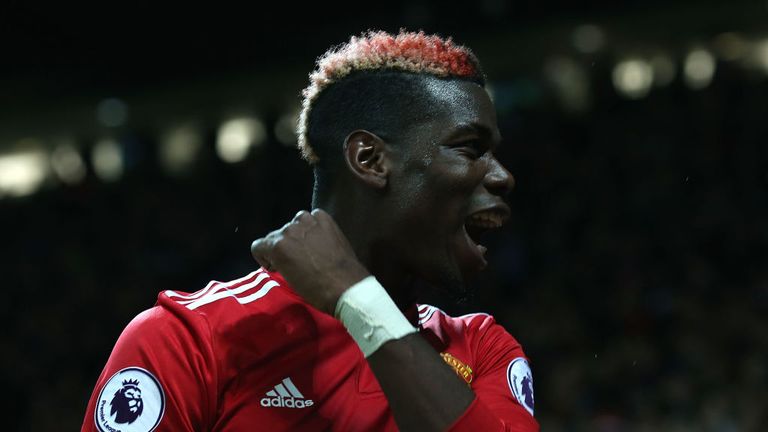 "In the last few games, I think Jose Mourinho's pattern and how he will play this week has been showing.
"Man City are very difficult to get the ball off. Jose Mourinho is a realist, he'll know that. He'll realise that Man City will be coming to Old Trafford and having more of the ball.
"So, to try and play them toe to toe, that's when you tend to come unstuck against Manchester City.
"He'll be clever. He'll have his defence defending deep, deny them the space, and then [Anthony] Martial and [Marcus] Rashford, [Jesse] Lingard, [Romelu] Lukaku, they do have pace to hit them on the counter-attack."
Osman is impressed at City's ability to alter their style of play to combat an opposition's tactics and highlighted the impact of Silva and De Bruyne.
"I think David Silva has been fantastic not only for Manchester City but for the Premier League," Osman said.
"It's very difficult to play against him and that is one of the reasons why you'd put him in the brackets of [Dennis] Bergkamp and [Thierry] Henry.
"Kevin De Bruyne has been probably City's best player this season with his involvement in goals and assists.
"If you're Manchester City and Pep Guardiola you're very pleased with the resilience your team have shown, with the way they're coming from behind and the patience they're showing and the goals they are getting.
"But if you're Jose Mourinho looking to go into the game at the weekend and you're looking for chinks in the Man City armour, maybe you're just starting to see some set-pieces they're conceding.
"Teams come and defend deep and maybe try and hit them on the counter-attack.
"There are opportunities there, but I think Pep Guardiola will be delighted with the way things have gone so far."