Leroy Sane has been one of the stars of the Premier League season so far and is likely to be a key figure in the Manchester derby on Sunday. But how did he become so good?
In talking to those who nurtured him at Schalke, Adam Bate retraces Sane's steps to discover a tale of good genes, great talent and an appetite to improve… if he is pushed.


Not everyone was convinced that Leroy Sane had made the right decision. Not even those who knew him well. Those who believed in his talent. Norbert Elgert had a special bond with the player, one that endures to this day. But Manchester City? For £46.5m? The man who had guided his early career in his role as Schalke's legendary youth coach had his doubts.
"I was not sure about the move to Manchester City," Elgert tells Sky Sports. "I thought it was a mistake. I thought it was too early. But I was wrong."
Sane has been sensational for City. He already has six goals and six assists this season - the only player in the Premier League to both score and set up that many. He has done it in style too. Pace and power. Skill and strength. Increasingly, it is his intelligent movement darting in off the flank that stands out too. He can get better. He is getting better.
Upbringing
Some stars are child prodigies but the clues to Sane's potential date back to before his birth. He is the second of three sons born to Senegal international Souleymane Sane and Regina Weber, a rhythmic gymnast who competed in the Olympics for West Germany. "He had the best genes in his body," Schalke's former sporting director Gerhard Zuber tells Sky Sports.
Of course, Sane's parents contributed more than mere genes. The young Leroy used to plead with his father to play football with him and older brother Kim, a fellow youth-team player at both Bayer Leverkusen and Schalke. Souleymane played the role of goalkeeper. As for mother Regina, her bronze medal at the 1984 Olympics remains a source of pride.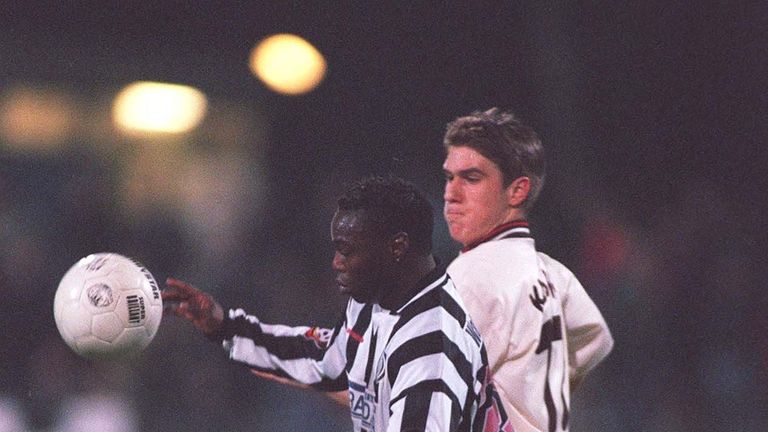 Crucially, both parents had the work ethic that comes with being a professional athlete at the highest level, something Elgert feels can hardly be overstated. "There are so many possibilities to help the players," he explains. "But the best player has that mental strength in himself very early because of his parents, his upbringing and his environment.
"It is clear that without real mental strength everything in professional sport is impossible. You can have the best technique and game intelligence, vision and awareness as well being good athletically with strength and speed. But if you do not have mental strength, by which I mean the capability of playing at your best when it matters most, you have no chance."
Early years
Sane needed that strength. He did not go to parties as a teenager. His only hobby was the ball. But he did go to Bayer Leverkusen at the age of 14 before returning to Schalke after two seasons. "Schalke made a lot of mistakes in the past but we managed to get him back," says Zuber. "It turned out to be one of the best decisions that we made."
Soon, the young Sane found himself under the care of Elgert. He was part of the Schalke team that became youth champions of Germany in 2015. Appropriately, his final game for the under-19 side came in his home town of Wattenscheid in front of 12,500 fans. Hoffenheim, coached by a young Julian Nagelsmann, were the beaten finalists.
Fond memories for Sane and fond memories for Elgert too. Now 60, the youth coach has been in his role for two decades, playing a pivotal role in the development of World Cup winners Manuel Neuer, Mesut Ozil and Julian Draxler. In other words, he has seen it all. He still regards Sane's talent as something out of the ordinary.
"His athletic ability is exceptional," he says. "His speed, his explosivity. It's fantastic. He has great talent and his attitude was always good. Leroy is a very open and extroverted character. We did have to work a lot during our time on his vision, his awareness and his positional play. But he was always prepared to listen."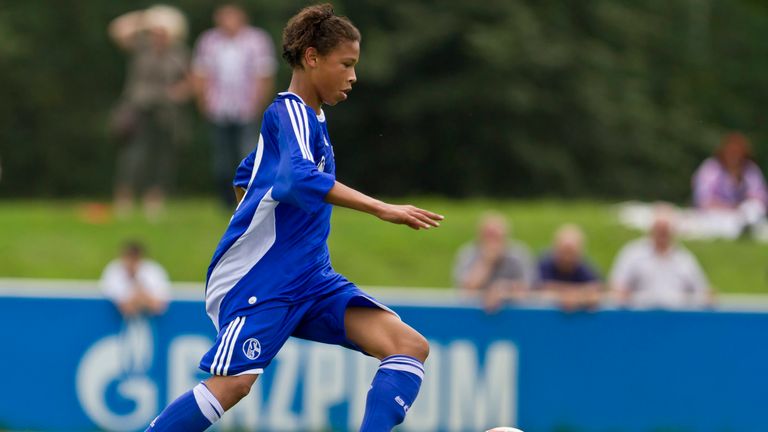 Curiously, this view of Sane's willingness to work is not unanimous. "He can be a little bit lazy," says Zuber. "Yes, he is someone who listens, but he needs someone to push him. If you do that, then he performs." Robert Di Matteo was the coach who gave Sane his full Bundesliga debut and it is this image of Sane that chimes most strongly with him.
"He had a bit of a chip on his shoulder," Di Matteo tells Sky Sports. "You could see he was a great talent. A raw talent. He had all the ingredients. I think it was just a question of time for him to develop and become the player he is today. In the beginning, it was a little bit like he knew he was good and he thought that he had already made it.
"I had to make him understand that one game is just the start not the end. He was only young, only 18, so it took a little while, a couple of months, for him to understand that if he wanted to become a regular player he needed to be more humble and learn. That was it. After that you could see the difference. He scored some amazing goals."
Breakthrough
Two strikes stand out for Di Matteo. The first was his curled effort against Real Madrid in the Champions League tie away at the Bernabeu. The second was the stunning solo run from his own half to score at Wolfsburg. "One was all about his positioning," Di Matteo explains. "The other was about his decision making and when to take the defender on."
But it was the following season, with Andre Breitenreiter having replaced Di Matteo, in which Sane really made progress. "Breitenreiter was the coach who gave him space on the pitch," says Zuber. "That is why the last year at Schalke was the most important for him. He played regularly, scored goals and was one of the best players in the team."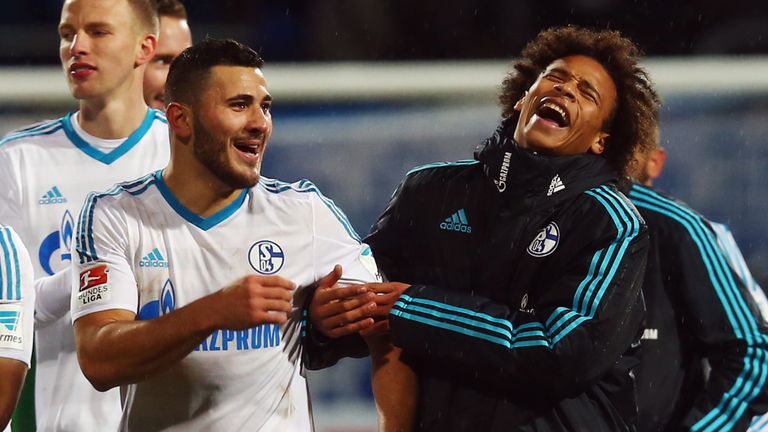 Arsenal's Sead Kolasinac had been in the Schalke team for Sane's first-team debut against Stuttgart and was also on the pitch for the winger's last game for the club when he signed off - just as he had for Elgert's under-19 side - with a goal in a win over Hoffenheim. "You could see immediately, that Leroy was very quick and talented," Kolasinac tells Sky Sports.
"Leroy is a very good and cheeky guy and we spent a lot of time together. We are still in close contact and I am extremely pleased that things are going so well for him at the moment. He has always been very keen to learn also. That is what helped him make the move to Manchester City."
The next step
There are still lessons for Sane to learn. He did not start the season in the City side, with Pep Guardiola even saying that the player "did not deserve" to play after failing to impress during pre-season. It was a reminder that Sane is someone who needs a push occasionally. What's happened since is a reminder that when he gets that push, he invariably responds.
Sane admitted as much in an exclusive interview with Sky Sports in October. "He helped me so much," he said of Guardiola's influence. "I can say he changed my game completely, I improved so much with so many issues, and he still tries to be perfect and to give me pressure. I think I need it too. He reminds me all the time to work more."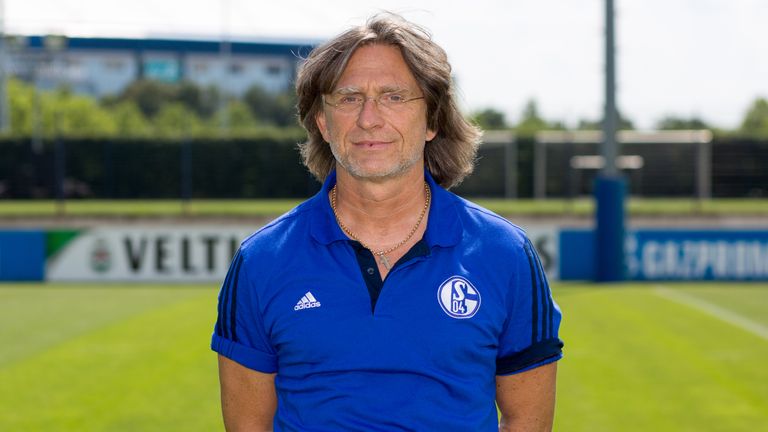 Whenever I talk to him he always speaks very admiringly about Guardiola.
These words are not just for the media. "I still have a good relationship with Leroy and whenever I talk to him he always speaks very admiringly about Guardiola," says Elgert. "Leroy is very clear and very open-minded. He understands the way forward. He knows he has made fast progress because he is working with one of the best coaches in the world."
Zuber shares that view and is tipping Sane for even greater things. "It is so good to see him doing well," concludes his old Schalke chief. "He is young and he needs to improve, for sure, but he is on the right path and he has the best coach to take his career to the next level. He just has to work hard. If he does that, he will be one of the best players in the world."