Pep Guardiola is vindicated by Manchester City's record run
Last Updated: 11/12/17 12:52pm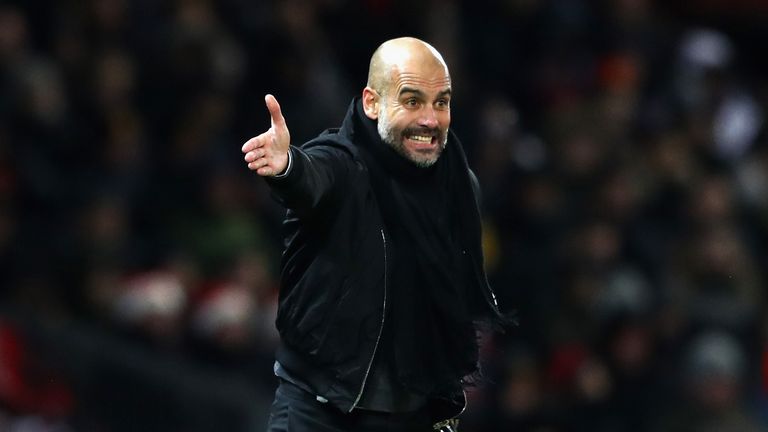 Manchester City beat Manchester United at Old Trafford on Sunday to make it a record 14 Premier League wins in a row. It is a run that justifies Pep Guardiola's decision to stick to his principles, writes Adam Bate.
Pep Guardiola's penchant for exaggerated praise in his post-match interviews is nothing new. His fondness for the 'so' adverb - so good, so happy - is now familiar; the references to draws at home to Liverpool and Everton a source of amusement - not least because they leave him with nowhere to go when his team produces something truly extraordinary.
No matter. The voice betrayed him when he spoke afterwards and the eyes told the rest of the tale. Everyone else's eyes had been transfixed on his team for the past 90 minutes as they saw Manchester City play Manchester United off the park in a 2-1 win that flattered the home side. The gap is now 11 points and such is the gulf in class it is only likely to grow.
There will be attempts to explain it all away. Jose Mourinho sought to frame the contest as a tale of one poor refereeing decision - frustrated by Michael Oliver's refusal to award a penalty for Nicolas Otamendi's challenge on Ander Herrera. Watch only the goals and City's victory came as a result of two set-pieces, both eminently stoppable by the home side.
But those United supporters who stayed to applaud Guardiola knew very well what they had witnessed. "We came to play," he said pointedly when speaking afterwards and that they did. Indeed, City enjoyed 65 per cent of the ball - the most possession by any team against United in a Premier League game at Old Trafford since Opta began collecting the data.
Possession is not everything but there were times on Sunday when it must have felt like it for the United players as they hurriedly cleared the ball upfield time and time again before dutifully returned to their posts to await the next wave of City pressure. Kevin De Bruyne controlled the game in a midfield that Mourinho never really got to grips with.
"Amazing," began Guardiola when speaking to Sky Sports reporter Geoff Shreeves afterwards. "We played outstandingly. To play here at Old Trafford and play the way we played with the ball. To be patient and wait for the right moment to attack, it was so clever. We controlled the counter-attack, the long balls, so I was so happy."
He added: "I am happy because with this kind of play we can do it in England. That's why I'm so happy, because people say the way we played in Barcelona, it is not possible in England. It is possible. Always it is possible to play football, to keep the ball and to have the courage to play. We did it." This, of course, was the wider context of this victory.
It is 14 of them in a row now for this Manchester City side in the Premier League, breaking the record of consecutive wins in the competition in a single season. But every one of those games can come to feel like a referendum on Guardiola's commitment to a unique style of play. Fortunately for him, it's a referendum he keeps winning.
Even on Sunday, with City dominant, came the accusations of overplaying. The suggestions that by seeking to pass the ball into the net they were searching for the perfect goal rather than merely maximising the chance of scoring. There was a time long ago when Guardiola himself wondered whether they might have had a point, as he admitted last week.
After failing to win two of his first three matches in charge of Barcelona's B team as an inexperienced 37-year-old coach, he had two days of doubts about whether his style of play could work. These were youngsters in the fourth tier of Spanish football being asked to play on small artificial pitches, after all. In the end, he decided to stick to his principles.
"It was so good because we were champions and promoted," he said. "In that moment I said if we were able to win and play quite good football on a small pitch, I could do it on a higher level with better players and better pitches." He's certainly done that and has maintained his faith in his methods ever since. Maybe it is time everyone else did the same.